A touch of musical magic
Usad Amjad Ali Khan, Pandit Ajay Chakraborty, and Nayan Ghosh in concert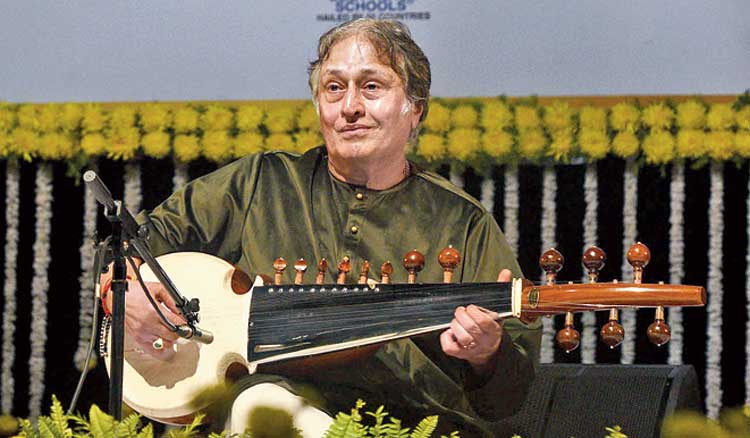 A moment from the concert at Kalamandir organised by the Buddhadeb Dasgupta Foundation
Source: Pradip Sanyal
---
Published 06.03.20, 09:43 PM
|
---
In the midst of a volatile political situation and the fear growing in the minds of the living, music is perhaps the only magic touch which can make all the difference. The Buddhadeb Dasgupta foundation took us back to our heritage and the repertoire of Indian classical music by organizing a concert at Kalamandir. The programme commenced with a tabla performance by Nayan Ghosh and his son, Ishan Ghosh, on teental. The artists demonstrated the different shades of khandajati, mishra jati and many other interesting compositions with able support on the harmonium by Hiranmoy Mitra.
The senior vocalist, Ajay Chakraborty, enriched listeners with his kheyals in Marwa. His performance was an experience of ecstasy which was completed by a bhajan and thumri rendition with the harmonium and tabla accompaniment provided by Gourab Chatterjee and Ishan Ghosh respectively. Ustad Amjad Ali Khan graced the stage and, as a tribute to the late Buddhadeb Dasgupta, he played the latter's favourite Raga Chhayanat. The soulful nature of the raga flourished in a madhyalay gat followed by a mesmerising alaap in jhinjhoti. Breaking all stereotypes, the rendition went on with an unusual chemistry between the keynotes.
Ustadji portrayed his emotions and aesthetic self with a prolonged rendition in Bagheshree, and the audience got a chance to discover the essence of this popular raga in an unconventional way. A self-composed tarana in Tilang enhanced the musicality of the atmosphere. The depth and expertise in the rendition of Raga Behari showed the melody of the raga even without using excessive mirs.
Ustadji concluded his performance with Charukeshi, aptly unfurling the beauty and intricacies of this South Indian raga. Shubhankar Banerjee beautifully assisted him on the tabla throughout. The musician said that while alaap-jor-jhala would go with the artist, the compositions would remain. As a teacher and a responsible artist for the next generation, he left the pieces of his artistic strokes and quenched the thirst for more.