Hear the music play
A digital presentation of western Rajasthan's desert songs organized by Google Arts and Culture and Banglanatak.com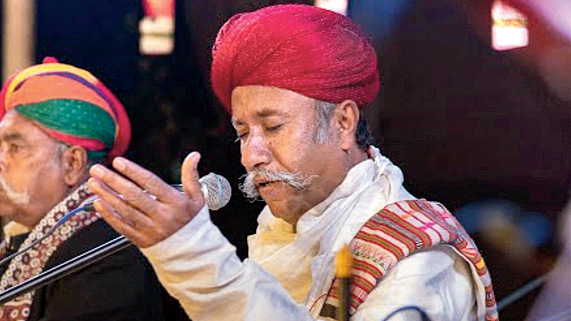 A moment from the event.
Samarjit Guha
---
Published 11.09.21, 12:50 AM
|
---
The amazing potential of instruments such as the kamaicha and the sindhi sarangi was amply evident during a digital presentation of western Rajasthan's desert songs organized by Google Arts and Culture and Banglanatak.com. These lovely string instruments, all played with a bow, added splashes of colour to the wide repertoire of songs — be it a barsaio (monsoon song) or a ballad — that is synonymous with this region, making each number unique. The essence of country lilt in these songs comes largely from these instruments.
The barsaio, "Balamji mara", was beautifully rendered by Sattar Khan in a bitter-sweet voice — he burst into the song which has contrasting tempos, creating myriad moods and showing absolute mastery over the technique. One could almost smell the rain during the time that he performed. Similar skill was exhibited in Anwar Khan Manganiyar's wedding song, which carried the key melody lines evenly throughout. He glided through the lyrics effortlessly, never letting go of the ambience the song was supposed to evoke. Ghazi Khan's "Nimbura" (also rendered in a popular Bollywood film) revealed direct influences of the region, adding depth to the artist's wide range.
A brief presentation by Sardar Khan sans any instrument left listeners spellbound. "Aaj toh hamaar ghar Mahadev aayo", moulded in the classical music format, was so finely honed in precision that it gave rise to an aura of the familiar, while still sounding novel. "Mir farida", sung by Mir Basu Khan, was racy with percussion instruments pulsating wondrously in the background. Of the two bhajans, the one dedicated to Krishna — "Maiya mori" — by Kasam Khan Langa was beautifully meditative and reflective.
This World Music Day presentation also dwelt on other aspects — the role played by music in bringing communities together, how children imbibe musical training as well as the varied landscapes against which such strong and true music is created.