Jaan Kumar Sanu launches first original single
The musician speaks to us on the eve of the release of his single 'Tu sandali' on YouTube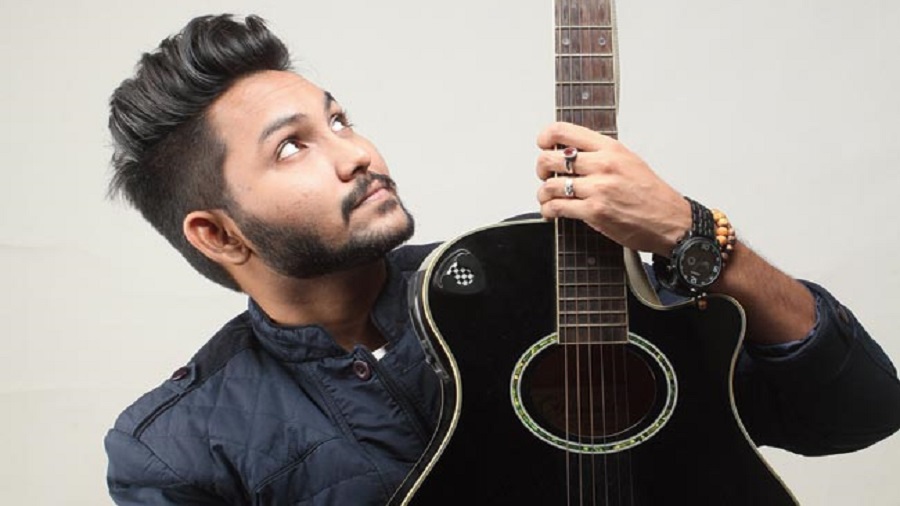 Jaan Kumar Sanu (right) with father Kumar Sanu on stage
Sourced by the Telegraph
---
Published 31.07.20, 09:04 PM
|
---
Jayesh Bhattacharya, 26, is trying to find a foothold in the industry where his father ruled in the '90s. And what better way to introduce himself than give himself a name that tells the world who his father is? Jaan Kumar Sanu speaks to The Telegraph on the eve of the release of his single Tu sandali on YouTube.

Why did Jayesh Bhattacharya become Jaan Kumar Sanu?
My daknaam is Jaan. Growing up, people in the industry knew me by that name. Since I am following in my father's footsteps, I decided to take his name.

Who trained you in music?
My first teacher was my Dadon, my mother's mother, Neera Dutta. She taught me so many Bengali songs. Then I learnt from Subhra Dasgupta. Now I am training under Pandit Ratan Mohan Sharma of Mewati gharana, a nephew of Pt. Jasraj.
 
How did this single happen?
I got invited to the launch of a studio of Aagaaz Entertainment. There Anjan bhaiya of Joy-Anjan duo told me we should do a project together. Then the lockdown happened and everything got pushed back. Two weeks back, I got a message from him, asking me to prepare this song Tu sandali in my own style. I was worried how the recording would be amid the lockdown. But Neeraj bhaiya (Neeraj Tiwari, the owner of Aagaaz Entertainment) and Anjan bhaiya handled everything so well, maintaining safety protocol.
What genre is this?
It is a nice soft romantic song. It has been arranged in a modern way.

How much influence does your father have on your music?
I always reach out to him when I have any doubt.

Do you stay together?
No. I stay in Andheri, Baba stays in Goregaon. I am the youngest of three brothers. The eldest, Jesse, is a teacher, the second brother, Zicco, is a graphic designer. He also produces music as a hobby. We stay with our mother Rita, who is also a very good singer.

You released a cover of the Kumar Sanu hit from Akele Hum Akele Tum, Dil mera churaya kyun in 2018. Was that your first release?
It was my first music video with Venus. Before that I did a remake of Chirodini tumi je amar in 2016 with them.

You played the piano in the Dil mera churaya video.
I play 10-15 instruments — harmonium, tabla, piano, guitar….

Have you got any help from your father in your career?
He believes I should get everything on my own. He says if I achieve something on my own, I will appreciate its value. My mother, too, taught me that lesson. My father's story of how he came into the industry on his own inspires me.

Did you meet his peers while growing up?
No, I did not get that benefit. But I'm glad I did not. I have learnt how tough it is to meet the legendary figures. I have met some on my own like Anu Malik uncle, Nadeem-Shravan uncle, Pyarelal uncle. I even sang in front of Kalyanji uncle as a
five-year-old. I have worked with Anandji uncle. When I meet them, they are shocked and say: 'So, you are Kumar Sanu's son? Why didn't you come before?'

You did some recordings as a child, didn't you?
My first recording was for Babul Bose uncle for the film Escape from Taliban. I was six or seven then. I had sung with Sonu Nigam sir. He is one of the reasons I became a singer. I had released an album at the age of eight years, titled Tomra Shunbe Toh. It got me into Limca Book of Records as the youngest singer. I also sung Bum bum bole in Taare Zameen Par.

How did you land the Taare Zameen Par song?
I am working since I was five. I used to do a lot of voiceovers in cartoons. I have worked with Shankar Mahadevan uncle, Shantanu Moitra dada, Antara Chowdhury didi. We had a child singers' group. That's how I got the contact.
 
At that age did you know how big a film it was?
I had no idea what we were singing for. It was only when Aamir (Khan) sir walked in that I realised that this was a big song. He recorded the start of the song — Chaka raka chi chai — that is in his voice. He had so much fun with us. We had dinner together. I regret not clicking a picture with Aamir sir that day.