It is raining tributes
On World Music Day, the musician duo, Sourendro and Soumyojit, organised a star-studded evening dedicated to Lata Mangeshkar at the Science City auditorium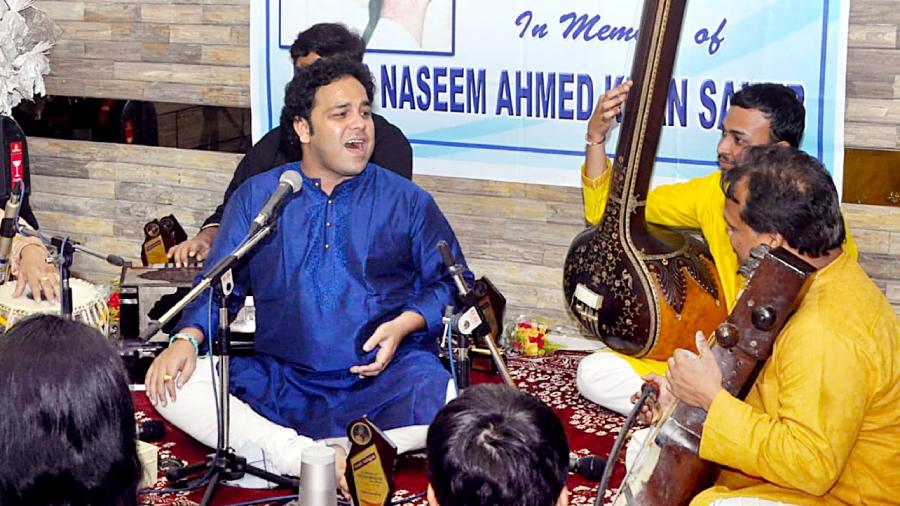 ---
Published 30.07.22, 03:29 AM
|
---
The Agra Gharana has a special place in Indian classical music. Enriching the tradition of this gharana is the vocalist, Waseem Ahmed Khan, who organised a musical event to pay homage to his father, the late Ustad Naseem Ahmed Khan, on the latter's 80th birth anniversary. The tribute commenced with Waseem Ahmed Khan's disciple, Shayri Dutta, performing Raga Multani. Dutta's melodious voice has great potential, which was evident in both the vilambit and the drut kheyals where she brought out the essence of the raga. Dutta ended with a bhajan.
The evening continued with a vocal recital by Arshad Khan (picture), who has a seasoned voice and chose Puriya Kalyan for his recital. His soulful rendering of the raga revealed depths and intricacies that added interesting elements to the familiar compositions in the vilambit and the drut kheyals. Arshad Khan also heightened the mood with a tarana in Hameer. The artists were assisted by Gourab Chattopadhyay on the harmonium, Ashok Mukherjee on the tabla and Sarwar Hussain on the sarangi. Samar Saha, Mashkoor Ali Khan and Shankar Prasad Garg shared memories of Naseem Ahmed Khan, making the audience nostalgic. On World Music Day, the musician duo, Sourendro and Soumyojit, organised a star-studded evening dedicated to Lata Mangeshkar at the Science City auditorium. The programme was inaugurated with a sarod recital by Ustad Amjad Ali Khan. He played Raga Ganesh Kalyan, which is his creation and was one of Mangeshkar's favourites. Although his performance was obstructed by the sound system, Amjad Ali Khan was still mesmerising. It was overwhelming to hear the two Tagore compositions, "Kon khela je khelbo kokhon" and "Jodi tor daak shune keu na ashe", on his sarod. He was ably accompanied on the tabla by Anindo and Anubrata Chatterjee. The magical performance of Amjad Ali Khan was followed by eminent artists like Usha Uthup, Shubha Mudgal, Hariharan, Ustad Rashid Khan, Subhamita, Papon and Anwesshaa singing some of Mangeshkar's most famous numbers. The organisers, Soumyojit Das and Sourendro Mallik, took active part in these recitals as vocalists and on the piano. Each artist added his or her signature style to these songs — Ustad Rashid Khan won hearts by imbuing "Mere naina sawan bhadon" with Shivaranjani compositions; Shubha Mudgal's "Yeh neer kahan se barse hain" left a mark with its robustness; Papon presented a wonderful amalgamation of the Bengali song, "Koto nishi gechhe", with the unforgettable "Lag ja gale". The best part of the programme, however, was a choral performance by children (picture).
Jodhpur Park Geetika Cultural Society recently presented a selection of Rabindrasangeet and classical pieces — the genres were thumri, dadra and kajri — dedicated to sawan. Pradip Dutta, Chandrabali Rudra Dutta and Deepabali Dutta sang compositions by Tagore along with Bharatanatyam, Mohiniyattam, Kathakali and Odissi performances with active participation from Kohinoor Sen Barat. Deepabali Dutta then rendered the ragas, Jhoola and Megh, with a Kathak presentation by Rudrava Niyogi. Najrulgeetis and old Bengali compositions by Chandrabali Dutta and Sanjib Ghosh were noteworthy too. The musicality of the event was enhanced by Biplab Mandal, Subrata Mukherjee, Shourya Ghatak, Sandipan Ganguly, Biswajit Mukherjee and the students of Geetika.