Experimenter's 'Gardens as Thought Form: Lexicons for Revolution' posits timely questions of resistance and ruminations
The exhibition that opened last month interprets the garden as a place of germination for a seed of idea that evolves into thought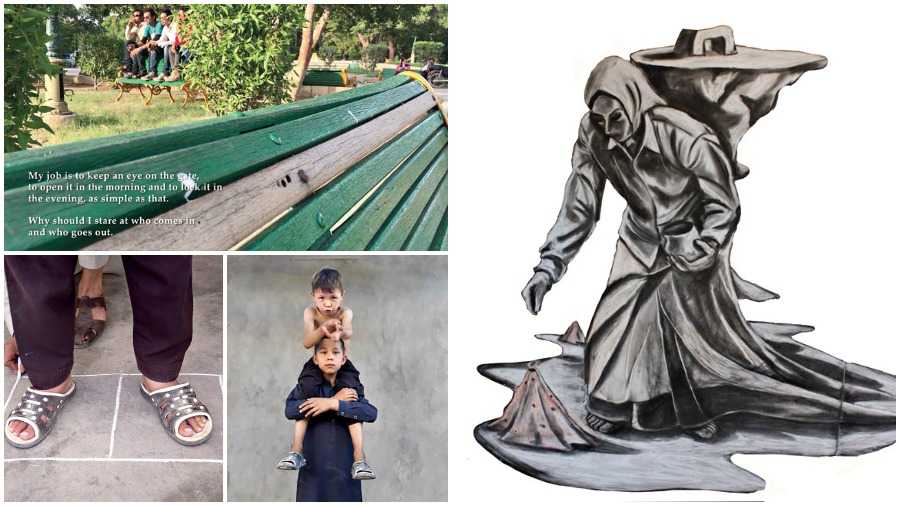 ---
Published 21.09.21, 02:42 AM
|
---
A garden has a myriad associations and interpretations for most. While some think of gardens fondly as spaces of recreation, some look at it as the last vestiges of nature within a concrete maze. Some lovers look at it as a welcome route of escapism while some look at it as a means to expansion. Drawing from the diversity of these meanings is 'Gardens as Thought Form: Lexicons for Revolution', presented by Experimenter to showcase the works of Aziz Hazara, Bani Abidi and Prabhakar Pachpute.
The exhibition that opened last month interprets the garden as a place of germination for a seed of idea that evolves into thought. Hazara looks at it through the lens of his childhood that was spent in Afghanistan in his video titled Rehearsal, where through a couple of boys, the artist showcases the deep psychological impact of a war-torn nation on its children. Mimicking gun fights with assault rifles is normal and Hazara seems to question the consequences that the nation faces — are the children looking for a revolution or refuge? An accompanying pair of photographs of an adult called Chalk Drawings posits questions of borders and conflict. Abidi's Locations in the Garden of Love, a five-channel moving image installation inspired by Karachi, unfurls the story of romantic love told through the perceptions of many, thereby putting across the strain that romantic love often suffers in the hands of society, speculation, scepticism and vague ideas of honour.
Pachpute, meanwhile, continues his work in the areas of the woes of the labour force and the forms of resistance available to them, which leads him to often use folklore to address these issues faced by miners and farmers. Anthills uses the metaphor of ants coming together to portray the idea of assimilation for resistance, while Asylum Seeker shows an emaciated animal that has been prey to farming and the intervention of mechanisation, yet she perseveres with the hope of finding another "home".
The exhibition is on till October 31 at the Hindustan Road gallery space of Experimenter.
Pictures courtesy: Experimenter