Zee and Sony to merge businesses, create $2 billion media powerhouse
The merger will give the promoters of Sony India a 52.93% stake in the merged entity and the right to appoint a majority of directors on the board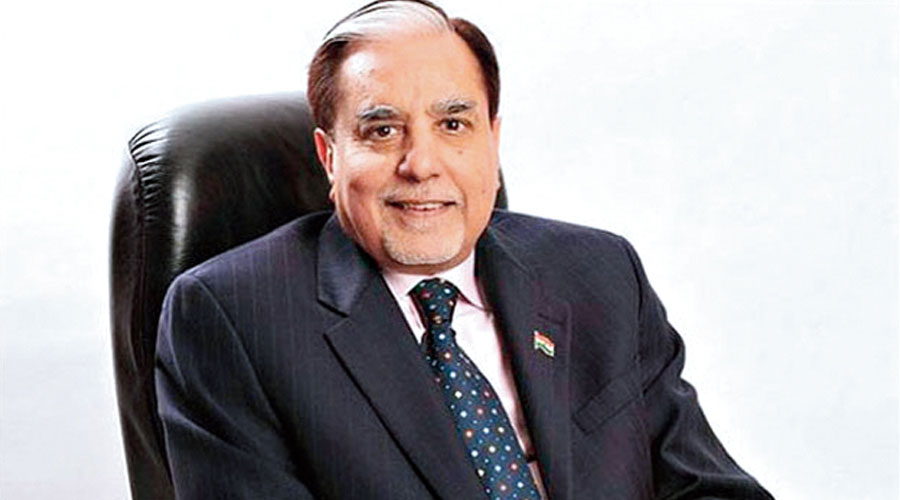 ---
Mumbai
|
Published 23.09.21, 02:12 AM
|
---
Zee and Sony — two of the biggest television networks in the country — have agreed to merge their businesses to create a $2 billion media powerhouse.
The sudden announcement, which was made before the stock markets opened for trading, will enable beleaguered Zee founder Subhash Chandra to fight off an attempt by Invesco, an institutional shareholder, to force his son Punit Goenka out of the company — and retain a 4 per cent stake in the merged entity.
There will be a two-step process to the merger. First, the promoters of Sony Pictures Networks India Private Ltd (Sony India, for short)  will pump capital into the  entity to ensure that it has a cash balance of $ 1.575 billion (roughly Rs 12,000 crore).
The merger of Zee and Sony India — which is expected to close in six to eight months after it receives all regulatory approvals — will give the promoters of Sony India a 52.93 per cent stake in the merged entity and the right to appoint a majority of directors on the board.
The shareholders of Zee Entertainment, which is a listed company, will end up with 47.07 per cent in the new entity.
Punit Goenka will continue as the "initial managing director and chief executive officer" of the merged entity for a period of five years on terms and conditions that haven't been fully disclosed.
But Sony is preparing for Goenka's eventual exit because it has also offered a non-compete agreement to the Zee camp which involves the transfer of an undisclosed number of shares which will ensure that they hold 3.99 per cent in the merged entity, mirroring their current stake in Zee Entertainment.
However, the other shareholders of Zee will see a diminution in their holdings in the new entity — an issue that could turn controversial when Zee shareholders vote on the merger.
Since this is a merger, it will be concluded under company law — which means Sony India will not have to come out with an open offer for minority shareholders of Zee.
Company law does not bar the payment of a non-compete fee. However, 75 per cent of the shareholders will have to pass a merger resolution.
The two sides have agreed to a binding exclusivity period of 90 days during which Sony India will carry out a due diligence exercise and an independent valuation of Zee's business.
The deal will be closed subject to a fairness opinion to be provided by a merchant banker to Zee and subsequent negotiations and finalisation of definitive agreements.
There is an interesting twist in the deal: the Zee founders will have the option to scale up their holding to 20 per cent if they can overcome their current cash crunch and wish to stay on.
Shares of ZEEL zoomed by almost 32 per cent, or Rs 81.45, to close at Rs 337.10 on the Bombay Stock Exchange.
Invesco challenge
The merger is being announced at a time when Punit Goenka is locked in battle with Invesco, one of the longest institutional investors which has a formidable 17.8 per cent stake in Zee through two funds: Invesco Developing Markets Fund and OFI Global China Fund.
Invesco had sought an extraordinary general meeting of Zee shareholders to vote on resolutions to remove Punit Goenka and two other independent directors, Manish Chokhani and Ashok Kurien.
Chokhani and Kurien resigned from the Zee board ahead of the annual general meeting of the company on September 14.
Invesco has also proposed to appoint  six new independent directors to the board of Zee Entertainment.
The Invesco resolutions, which were moved on September 11, must be placed before the shareholders within three months. It wasn't immediately clear whether the shareholders would get to choose between the merger and the Invesco proposal when they next meet.
At an analyst conference call in the evening, top executives of Zee parried all questions in this regard. The company had earlier said that it would take necessary action under the applicable law.