Trade deficit rises to four-month high
The trade deficit in August 2021 was $13.87 billion compared with $8.2 billion in the year-ago period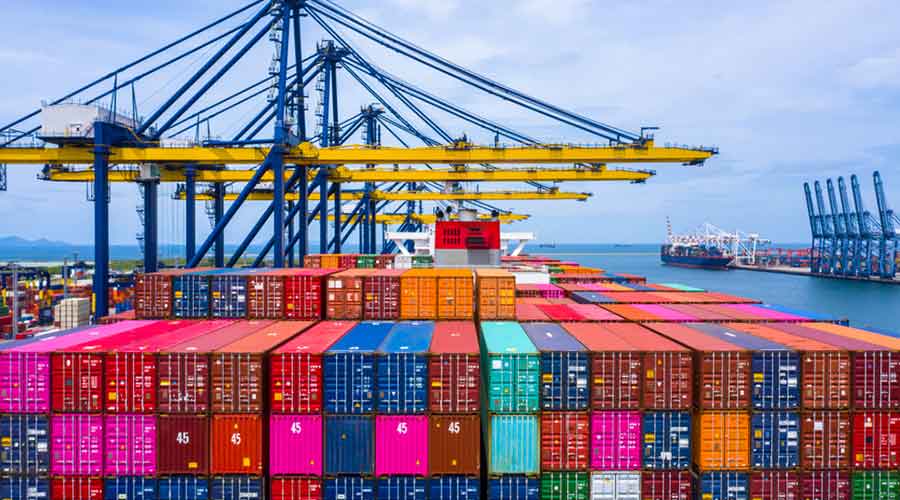 Representational image.
Shutterstock
---
New Delhi
|
Published 03.09.21, 03:31 AM
|
---
The country's exports rose 45.17 per cent to $33.14 billion in August  against $22.83 billion in the same month last year even as trade deficit rose to a four-month high, according to the commerce ministry's provisional data.
Imports in August rose 51.47 per cent to $47.01 billion against $31.03 billion in the corresponding month of 2020. The trade deficit in August 2021 was $13.87 billion compared with $8.2 billion in the year-ago period.
"We are confident that we can reach the export target of $400 billion set for this fiscal," commerce secretary B.V.R. Subhramanyam told reporters. The government was working on finding short-term and long-term solutions to the container crunch, he added.
Aditi Nayar, chief economist, Icra, said, "The trade deficit widened to a higher than anticipated $13.9 billion in August 2021. We expect the current account to record a modest deficit of $4-6 billion in the ongoing quarter. Despite rising mobility, net oil imports were largely stable, benefitting from a moderation in crude oil prices."
Outbound shipments were dominated by higher demand for items such as engineering products, petroleum products, gems and jewellery. The 45 per cent growth can also be partially attributed to a low base in August 2020, due to the disruption caused by Covid-19. However, the base effect is gradually declining.
"Gold imports surged further to a five month high of $6.7 in August 2021, and were responsible for 88% of the rise in the merchandise trade deficit relative to July 2021. Unless a weaker agri outlook restrains demand, gold imports may well touch $40 billion in FY2022. With growing apprehensions related to the spread of the Delta variant, as well as logistical challenges, both oil and non oil exports eased in August 2021 relative to the previous month," she said.
The value of non-petroleum and non-gems and jewellery exports in August was $25.15 billion, up 31.66 per cent YoY and witnessed a 28.53 per cent jump in August 2019.
In case of imports of non-oil, non-gold, silver and precious metals, the growth was 34 per cent YoY at $26.36 billion, but had a marginal positive growth of 2.6 per cent over August 2019.
Continuous growth in exports for 6 months not only augurs well for the economy but goes to show the resilience of exports, FIEO President A Sakthivel said.
He urged the government in "augmenting the flow of empty containers and establishing a regulatory authority to seek justification of freight hike and imposition of various charges by the shipping lines need urgent intervention of the government. The government needs to provide freight support to all exports till 31st March 2022 as freight rates have skyrocketed and are likely to sombre by March 2022."
The exports during April-August 2021 stood at $163.67 billion, an increase of 66.92 per cent over $98.05 billion in the same period a year ago, the data showed. Imports during April-August this fiscal rose by 81.75 per cent to $219.54 billion.