Tea gardens focused on quality manage to arrest decline in prices
Tea prices have softened on the back of higher production in this year compared to 2020 when lockdown forced garden closure, resulting in crop loss and higher prices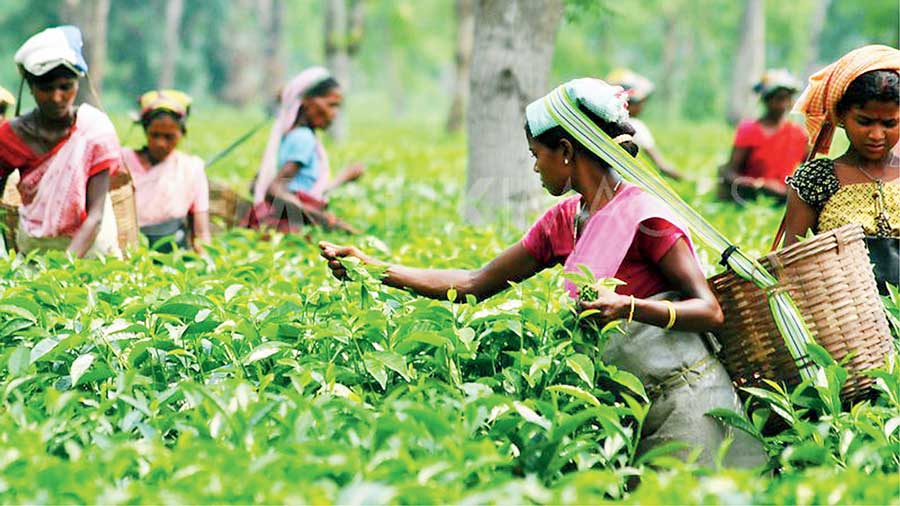 Representational image.
File photo
---
Kolkata
|
Published 17.11.21, 01:45 AM
|
---
Tea gardens that focused on quality have managed to arrest a general decline in prices this year, partly mitigating a steep cost push because of wage hikes in poll bound Bengal and Assam.
Tea prices have softened on the back of higher production this year compared with 2020 when the lockdown forced garden closure, resulting in crop loss and higher prices.
However, top gardens in Assam and Dooars are fetching more than they did around this time last year as packers continue to hunt for quality tea for their blends.
"There were only a handful of Assam gardens fetching over Rs 400 a kg about a month ago. Now there are at least 15-20 gardens touching that figure. And chances are such prices will sustain because quality tea is in short supply," Kavi Seth, chairman of J Thomas, said.
A study conducted by Icra says average prices at north India auction centres were down by Rs 60 a kg (23 per cent) on a year-on-year basis during the first half of this fiscal.
However, realisations of the top 50 CTC gardens declined by only 8.5 per cent in this period compared with 20 per cent for teas produced from the estates' own gardens.
In contrast, the price decline has been most in the bought leaf segment, which was down by Rs 77 a kg, or 33 per cent, the Icra report added.
Atul Asthana, managing director of Goodricke Group, pointed out that he has never seen such prices for Dooars before. Gardens such as Danguajhar and Chulsa have been steady performers for the company this year because they focused on quality.
However, he was quick to point out that only a handful of gardens are doing well and the vast majority is financially struggling on the back of wage cost hikes. There are about 750 gardens in Assam, 350 in Dooars and Terai and 80 in Darjeeling in Bengal. Wage, which contributes nearly two-third of the production cost, has gone up by over 20 per cent earlier this year.
"Not all gardens can produce good quality. Tea is an agricultural product which deals with many variables. While it is good that some of the estates are being rewarded for their quality, the majority is languishing due to unremunerative prices," Asthana said.
Luxmi Tea managing director Rudra Chatterjee said the relentless focus on quality pays off. "Good quality tea will always find a buyer at the end of the day," the Makaibari estate owner, who has multiple gardens in Assam, said.
However, high prices for good quality are usually more pronounced in a market with an over-supply situation. Estate owners have been making representations to the government to allow crop diversification, which in effect may take out poor quality products and combat the excess production of tea which has been the bane for the industry in the last decade.