Tata Steel PAT jumps 37 per cent to Rs 9835 crore
Company's board declares a hefty dividend of Rs 51 per share (510 per cent)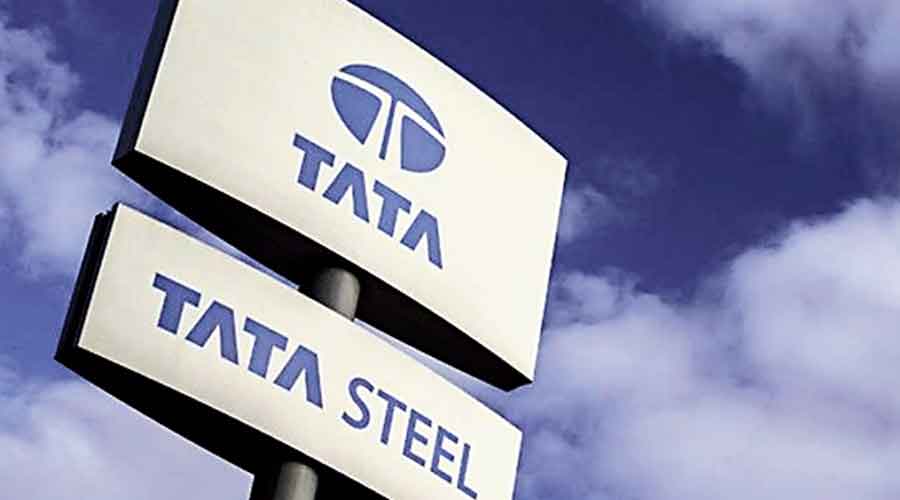 Moreover, the board also announced sub-division of the share from the face value of Rs 10 to Re 1
File Photo
---
Calcutta
|
Published 04.05.22, 01:39 AM
|
---
Powered by strong performance of the European business, Tata Steel Group has reported a 37.3 per cent jump in profit after tax in the fourth quarter and emerged a strong contender to be one of the top three most profitable listed Indian companies for FY22.
The company's profit after tax in Q4 stood at Rs 9,835 crore on a consolidated basis, compared to Rs 7,162 crore in the same period of 2020-21. It reported a profit of Rs 41,749 crore during 2021-22 vis-a-vis Rs 8190 crore in 2020-21, the highest ever by Tata Steel Group and possibly by any Tata companies.
A hefty dividend of Rs 51 per share (510 per cent) has been declared by the board for the shareholders. Moreover, the board also announced sub-division of the share from the face value of Rs 10 to Re 1, subject to the approval of the shareholders.
Taking advantage of the strong cash flow generation, the company's net debt dropped to Rs 51,049 crore as it repaid Rs 15,232 crore of loan. However, Tata Steel Group may accelerate allocating cash for growth going forward while keeping the leverage under check.
"Our capex for the year is going to be Rs 12,000 crore. However, we will revisit this after the first half," Tata Steel Koushik Chatterjee, executive director and chief financial officer, said after the announcement of the result this evening. It had a capex of Rs 10,522 crore this fiscal.
The company announced the 5 MT expansion of Kalinganagar, Odisha would be completed next fiscal with facilities coming on stream in parts from the Q3 of this fiscal. It also expects to conclude the Rs 12,000 crore acquisition of Neelachal Ispat Nigam Ltd during this quarter and take up expansion there.
Europe shines
The quarter and the year was marked by the best ever financial performance of the European business, often blamed for taking the Group's profitability down. While the standalone business recorded a 6.7 per cent dip in PAT in Q4, the European business EBIDTA went up by 264 per cent to Rs 4349 crore.
For the full year, the EBIDTA — a yardstick for underlying business performance — stood at Rs 12,164 crore, the highest ever recorded after acquisition in 2007. "Our European operations delivered robust performance," said T V Narendran, CEO and managing director of Tata Steel.