State Bank of India (SBI) on Saturday beat Street estimates to post a record quarterly profit as provisions for bad loans dropped and core income rose.
The country's largest bank clocked a standalone net profit of Rs 13,264.52 crore for the quarter ended September 30 against Rs 7,626.57 crore in the year-ago period, a rise of 74 per cent. Analysts were expecting the state-owned bank to report net profits of around Rs 10,500 crore.
Provisions for bad loans fell to Rs 2,010.87 crore from Rs 2,699.28 crore in the corresponding quarter of the previous year.
Net interest income (NII-interest earned minus interest paid) rose 12.83 per cent over the previous year to Rs 35,183 crore from Rs 31,184 crore.
SBI's asset quality also showed improvement with the percentage of gross non-performing assets (NPAs) declining to 3.52 per cent from 3.91 per cent in the preceding three months, while the net NPA ratio fell below the 1 per cent mark to 0.80 per cent from 1.00 per cent in the same period.
During the quarter, SBI's gross advances advanced by 19.93 per cent to Rs 30,35,071 crore (25,30,777 crore). Of this, domestic corporate loans showed a rise of 21.18 per cent at Rs 9,17,016 crore (Rs 7,56,764 crore), while domestic retail loans were up 18,84 per cent at Rs 10,74,853 crore from Rs 9,04,473 crore.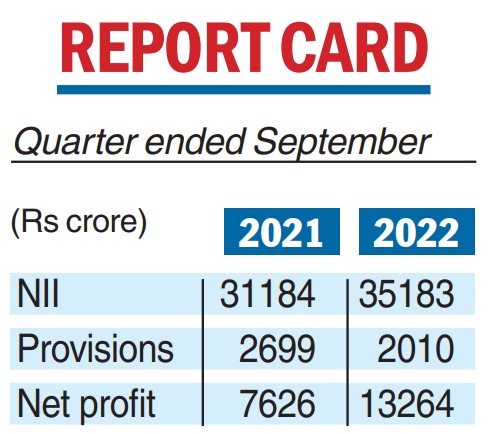 Of the retail loan book, the proportion of home loans stood at Rs 5,94,292 crore against Rs 5,18,703 crore in the same period a year ago.
Dinesh Khara, chairman of SBI, said the global economic activity is experiencing a sharp slowdown, with inflation higher in the developed markets compared with emerging market economies.
However, in such uncertain times, the Indian economy has showed its resilience.
"Indicators of aggregate demand show that onset of festive season and the pent-up demand kept the growth impulses very strong,'' he said.
He added that the bank is likely to post a double digit credit growth of 14-16 per cent in this financial year. Hinting that the bank was not in a rush to raise capital, Khara said internal accruals will take care of its normal business growth.
BoB net up 59%
Bank of Baroda (BoB) posted a stellar set of numbers with its standalone net profit rising 59 per cent to Rs 3,313.42 crore from Rs 2,087.85 crore in the same period a year ago.
BoB's NII grew 34.5 per cent to Rs 10,714 crore. The lender also improved its asset quality, with the percentage of gross NPAs coming down to 5.31 per cent of gross advances from 8.11 per cent in the year-ago period.
The bank's provisions for bad loans and contingencies declined to Rs 1,627.46 crore for the quarter from Rs 2,753.59 crore a year ago.