Staff offers to take over Jet Airways
Jet employees wrote to SBI and laid out their plan to join hands with an external investor to get control of the airline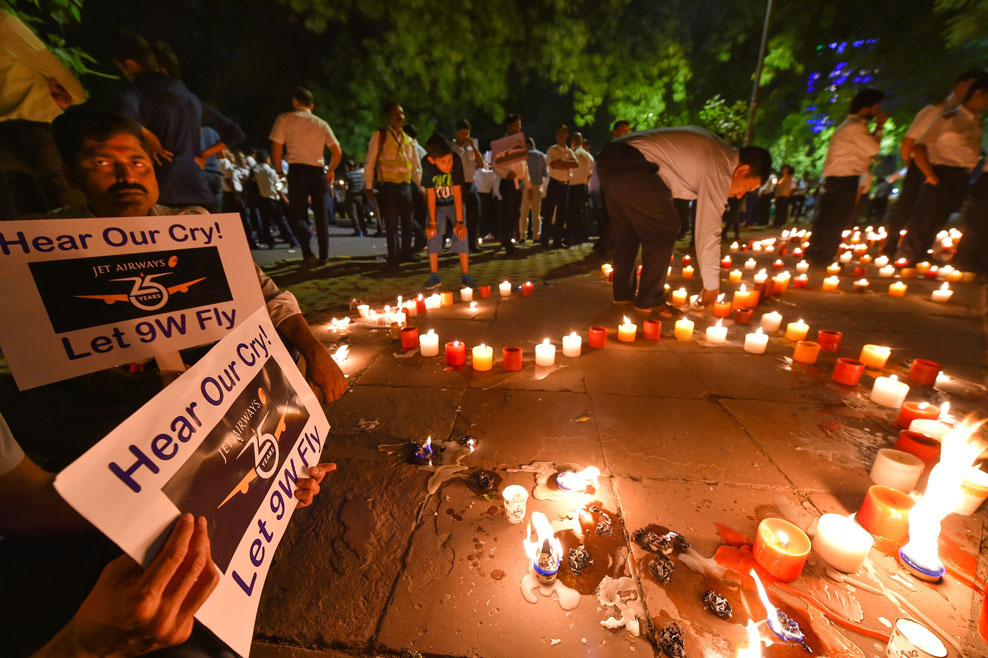 Jet Airways employees display placards and join a candlelight march to make an appeal to save the cash-starved airline following the temporary shutdown of its operations, at Jantar Mantar in New Delhi, Saturday, April 27, 2019.
(PTI)
---
Mumbai
|
Published 29.04.19, 07:27 PM
|
---
A group of Jet Airways employees have thrown their hat into the ring to acquire a majority control of the grounded airline.
They have written to the lenders consortium, led by the State Bank of India (SBI), where they laid out their plan to join hands with an external investor.
"On the basis of extensive discussions with various employee groups across the company, and also with colleagues who have in the past successfully held senior management positions, we would like to suggest that Jet Airways be taken over by a consortium of employees and external investor(s),'' said the letter, which was seen by The Telegraph.
The letter to SBI chairman Rajnish Kumar was written by Ashwani Singh, general secretary — Society for Welfare of Indian Pilots, and Ashish Kumar Mohanty, president —Jet Aircraft Maintenance Engineers Welfare Association. The other signatories to the communication were P.P. Singh, senior vice-president (operations) and accountable manager — JetLite, and B.B. Singh — manager, human resources, Jet Airways.
They pointed out that while it was realistic to know that the employees would not have the cash or credit needed to acquire the airline, they proposed a commitment of Rs 7,000 crores. This includes Rs 4,000 crore coming from the employees and the rest from an external investor.
The letter proposed that the contribution from employees be realised from their future earnings and "increased productivity" whose value it claimed can be quantified in advance.
"According to our initial estimate, the contribution of the employee group over a hypothetical five-year Employee Stock Ownership Programme (ESOP) is likely to be upward of Rs 4,000 crore. In addition, we are also confident of securing an investment commitment of up to Rs 3,000 crore from outside investors,'' the letter said.
According to the group of employees, which also included the two management personnel, the main objective of their proposal was to preserve the Jet Airways brand and deliver strong value to shareholders over a "reasonable" period of time. They further averred that their proposed exercise will need a complete overhaul of the management team of the airline and crafting fresh priorities for the short, medium and long term.
While the team requested the SBI chief to consider the "employee consortium" as one of the bidders, sources said they have investors who are keen to bring in money. However, they declined to disclose their identities.
There are four bidders that include Etihad (which holds 24 per cent in Jet Airways) who are keen to acquire the company and the bidding process will conclude on May 10.
However, there are concerns that the lenders may have to take a large haircut on their Rs 8000-crore exposure and that there could be tepid interest from aspirants as some of its slots have been allotted to rivals.