SpiceJet to operate flights to US
The airline will now need to lease wide-bodied planes to operate such long-haul routes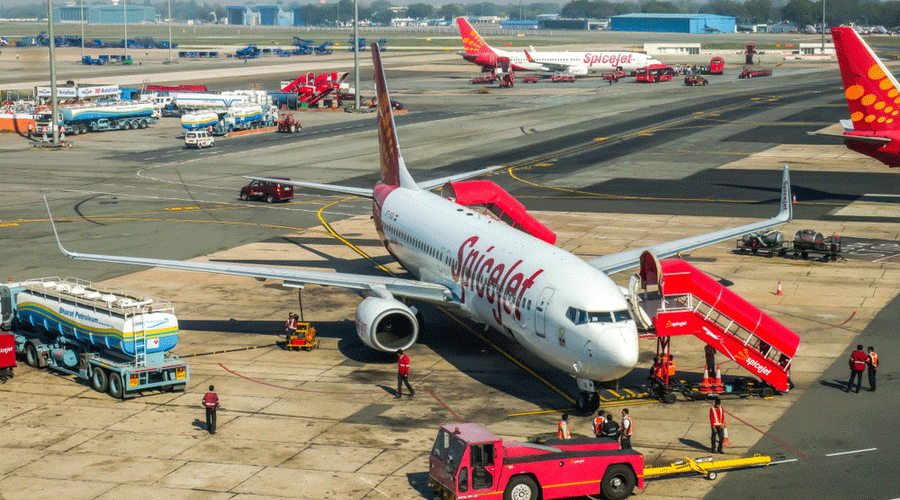 ---
---
Budget carrier SpiceJet on Thursday said it has been designated as the "Indian scheduled carrier", to operate flights to the US.
SpiceJet would be the first Indian budget carrier to operate services to the United States.
In a regulatory filing SpiceJet said it has been designated as an Indian scheduled carrier to operate on agreed services between the two countries. This has been done in terms of the Air Services Agreement between India and the US the filing said.
All international commercial air passenger services are suspended since March 22, in the wake of travel restrictions because of the coronavirus pandemic. However, the airline did not say when the services will begin.
At present, only national carrier Air India is operating flights on the India-US route. Jet Airways, which used to operate flights to the US through Europe, stopped operations in April last year. Apart from Air India, Vistara, a joint venture between Tata Sons and Singapore Airlines, has wide-bodied planes in its fleet.
SpiceJet chairman and managing director Ajay Singh said: "The designation as an Indian scheduled carrier to operate between India and the US would help the airline in planning its international expansion in a much better and calibrated manner."
Fleet rejig
SpiceJet's fleet of 121 planes comprises mainly Boeing 737s and Bombardier Q400s. The low-cost airline has 82 Boeing 737s, two Airbus A320s, 32 Bombardier Q-400s and five B737 freighters.
Before Covid-19 struck, the airline was operating short-haul international destinations in West Asia and Southeast Asia.
The airline will now need to lease wide-bodied planes such as the Boeing 787, Boeing 777 or Airbus A350 to operate non-stop on long-haul routes as narrow-bodied planes are incapable of undertaking such long flights.
It is not clear which aircraft SpiceJet will use to fly to the US.
Sources in SpiceJet said the lease and flight schedules are being worked out and could be finalised soon.
"Wet-lease is a good way to go about it, the terms will be very attractive given the idle aircraft and crew. However, government clearance may take time, and demand is softening while supply is increasing. Highly risky move!" Sanjiv Kapoor, former chief operating officer of SpiceJet, said on Twitter.
Under wet lease, a lessee is provided with crew, insurance and maintenance , along with the leased plane.
SpiceJet shares rose Rs 4 , or 2.21 per cent, to Rs 49.45 on the BSE. Earlier this week, the airline had taken over the staff of Travenues which is engaged in aviation e-commerce and was a subsidiary of online travel platform ixigo.
"India-US repatriation flights were a money-spinner for Air India while they were the only ones carrying passengers in both directions. At those average fares, these were possibly the most lucrative flights in history for them. However, the cash generated from those flights will not come anywhere close to what is required to break even with most of the rest of the flights grounded," he added.
SpiceJet operated over 4,300 cargo flights carrying over 24,000 tonnes of cargo and over 400 charter flights to bring back thousands of stranded Indian nationals back home during the pandemic and has "worked non-stop and contributed in whatever manner possible."
All international commercial air passenger services have been suspended since March 22, in the wake of travel restrictions due to the coronavirus pandemic.
Earlier in June, the US' Department of Transportation had accused the Indian government of engaging in discriminatory and restrictive practices by leaving out US carriers from the government-backed Vande Bharat Mission (VBM) to repatriate stranded Indians from foreign countries, including the US.
Since then, the issue has been somewhat resolved with India allowing US carriers to operate between the two nations. Similarly, Indian private carriers like SpiceJet, apart from Air India, have been allowed to operate in the sector.