Sensex slips below 60000 mark as US retail inflation rattles investors
The 30-share benchmark tanked almost 700 points to a low of 59656.26, but some buying towards the last one hour saw the index recovering to settle at 59919.69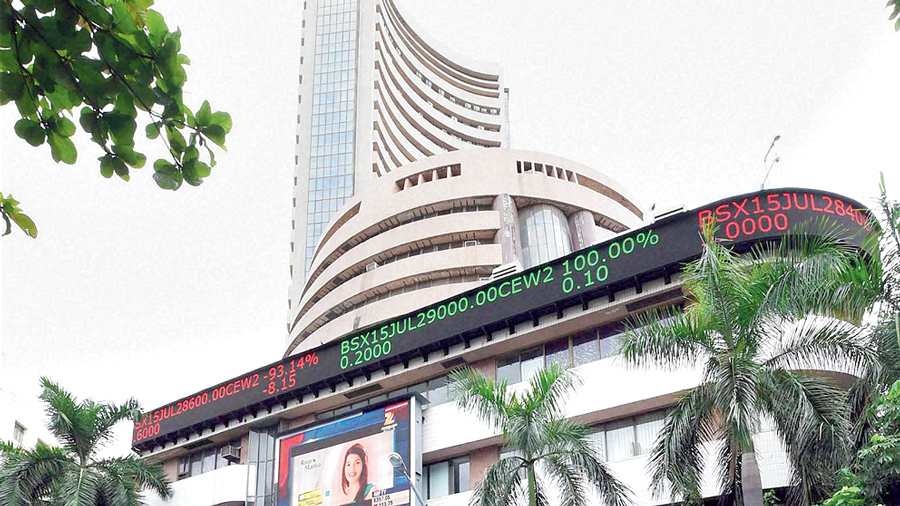 ---
Mumbai
|
Published 12.11.21, 01:31 AM
|
---
The Sensex slipped below the 60000 mark, joining other Asian markets as investors worldwide fear an impending liquidity squeeze by central banks such as the US Fed because of rising inflation.
The 30-share benchmark tanked almost 700 points to a low of 59656.26, but some buying towards the last one hour saw the index recovering to settle at 59919.69, a fall of 433.13 points or 0.72 per cent.
The broader Nifty fell below the 17900 mark to close at 17873.60, down 143.60 points.
The sell-off was triggered by US retail inflation which stood at a 31-year high of 6.2 per cent in October with the US 10-year treasury spiking 12 basis points to 1.57 per cent.
Inflation also gripped China in its talons. The consumer price index rose 1.5 per cent in October from 0.7 per cent in the preceding month, while factory inflation hit a 26-year high.
Indian investors, cowering under lofty valuations and rising commodity prices, are bracing for more corrections, given the inflation spectre in the two largest economies of the world. 
The investors, therefore, gave a short shrift to the assurances by the Centre and the RBI that the fuel duty cuts last week would temper down inflationary expectations.
"Rising inflation is emerging as a threat to the global equity rally, at least in the short-term. Consumer price inflation in the US has risen to a 30-year high. In China, too, producer price inflation has risen to 13.5 per cent. This has the potential to spill over to global commodity inflation," said V.K. Vijayakumar, chief investment strategist at Geojit Financial Services.
The US Federal Reserve still believes the spike in inflation is caused by supply-side issues and, therefore, is transient, Vijayakumar said. But there are many who feel the Fed is behind the curve and entrenched inflation will force it to accelerate tapering — which is the cutting down of bond purchases — and advance rate hikes.
"If this scenario is to unfold, there can be a sell-off and sharp corrections in markets, globally, '' he said.
According to Madhavi Arora, lead economist, Emkay Global Financial Services, the US inflation shocker came on top of strong CPI (consumer price index) report from China showing the pass-through of raw material prices into consumer good.
"Clearly, the transitory for longer theme is gaining momentum. Even as pricing in some services sectors should continue to improve, supply-side problems may take longer to resolve, running the risk of transitory price pressures persisting for longer, especially in core goods,'' she said.
The rupee also came under pressure against the dollar on weak stocks and a stronger greenback in the overseas markets. It ended at 74.52 — a drop of almost 18 paise over the last close. At the bond markets, yields on the 10-year security ended at 6.37 per cent against its previous finish of 6.34 per cent.