RIL acquires Europe's solar panel leader
Reliance New Energy Solar Ltd will acquire the 100% shareholding of REC Solar at an enterprise value of $771 million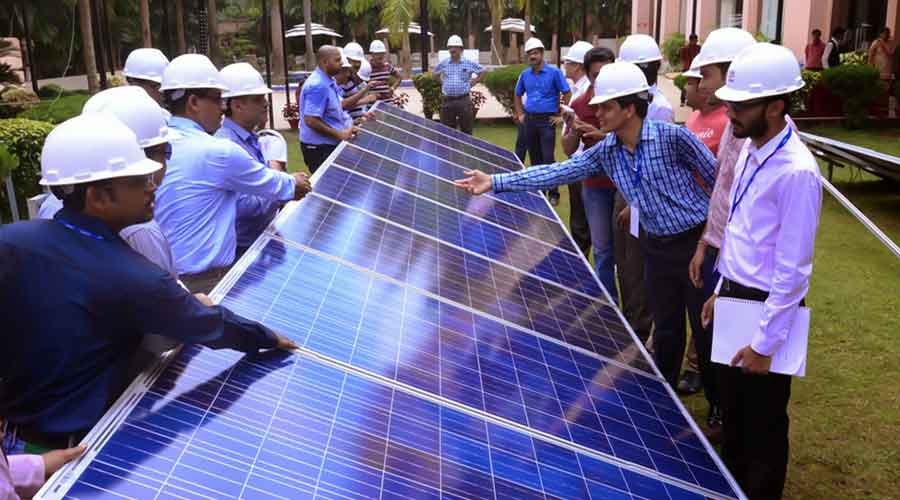 Reliance, which is locking horns with the Gautam Adani-led group in this segment, is planning to invest Rs 75,000 crore in renewable energy over the next three years.
File picture
---
Published 11.10.21, 01:27 AM
|
---
Reliance Industries Ltd (RIL) signalled its ambitions in renewable energy with the announcement on Sunday of its acquisition of REC Solar, Europe's largest solar panel manufacturer for $771 million (Rs 5,782 crore).
The acquisition will be done through Reliance New Energy Solar Ltd (RNESL), Reliance's newly formed 100 per cent subsidiary.
RNESL will acquire the 100 per cent shareholding of REC Solar Holdings AS (REC Group) from China National Bluestar (Group) Co Ltd at an enterprise value of $771 million, Reliance said on Sunday.
Formed in 1996, REC has its headquarters in Norway and operational base in Singapore and regional hubs in North America, Europe, Australia, and Asia-Pacific. According to the group's website, it has manufactured over four crore solar panels, producing energy of 11GW for its customers.
Reliance's announcement is in line with the ambitious plans in clean energy announced by chairman Mukesh Ambani at its annual shareholder meeting in June.
Reliance, which is locking horns with the Gautam Adani-led group in this segment, is planning to invest Rs 75,000 crore in renewable energy over the next three years.
The oil-to-telecom giant is setting up one of the world's largest renewable energy facilities at Jamnagar in Gujarat. It plans to establish four "giga factories" that will manufacture and fully integrate all the critical components of the new energy ecosystem.
In solar energy, RIL is planning to build an integrated factory to make solar photovoltaic modules or solar panels. It will also build an advanced energy storage battery unit, apart from an electrolyser factory to manufacture green hydrogen.
The acquisition of REC Solar comes just days after Gautam Adani said that the group will invest $20 billion in green energy over the next decade.
Reliance said REC is part of a group known for its technological innovations and  long-life solar cells and panels. The 25-year-old company has three manufacturing facilities — two in Norway for making solar grade polysilicon and one in Singapore making PV (photovoltaic) cells and modules.
The combination of REC's strength in research & development and the scale of Reliance will further accelerate technological developments and introduction of new products, the company said.
REC has more than 1,300 employees globally. They will become members of the Reliance group after the successful completion of the transaction.
Reliance said it would strongly support REC's expansion plans including a 2-3 GW facility in Singapore to make cells and modules apart from another such unit in France of 2 GW capacity and a 1 GW plant in the US.
In India, Reliance plans to use REC's technology in their proposed fully integrated factory at Jamnagar, with initial annual capacity of 4GW, which will eventually expand to 10GW.
"It is in line with our strategy of investing in new and advanced technologies and operating capabilities aimed at achieving Reliance's goal of enabling 100 GW clean and green energy before the end of this decade," Reliance chairman and managing director Mukesh Ambani said on the acquisition.