PM focuses on development
Centre seeks state support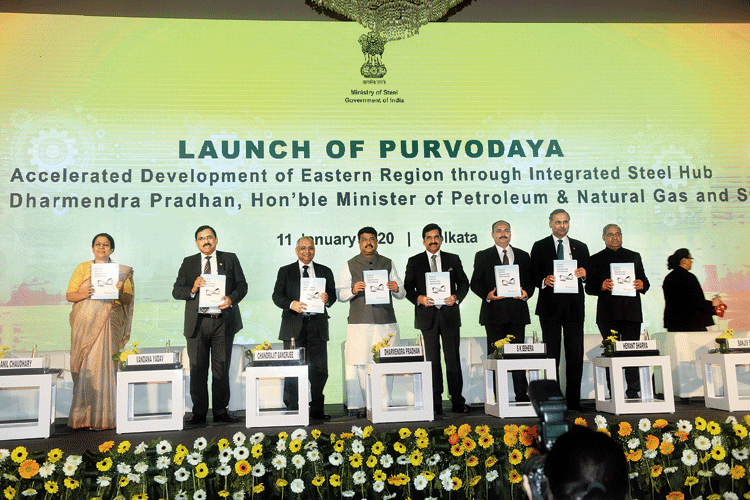 ---
Calcutta
|
Published 11.01.20, 07:08 PM
|
---
Prime Minister Narendra Modi and his cabinet colleague Dharmendra Pradhan on Saturday sought to keep politics and development apart amid the ongoing friction between the Centre and the state over the implementation of the Citizenship Amendment Act.
The Prime Minister on Saturday used the occasion of the inauguration of the Old Currency Building at Dalhousie Square as an exhibition centre to send a message to the culturally inclined Bengalis on the need for a harmonious Centre-state relation to spearhead development.
Modi's arrival in the city comes amid widespread protests over the Citizenship Amendment Act. But he was keen to keep politics at bay and talked about the state's rich art and cultural heritage while mentioning the role of several key personalities from the state such as Rabindranath Tagore, Netaji Subhas Chandra Bose, Iswar Chandra Vidyasagar and Raja Rammohan Roy.
The Prime Minister also sought co-operation from the state in increasing the country's pace of development and promised the Centre's support.
"With your blessings, it is possible to achieve the development goals. The central government and myself will try and provide our support," Modi said, adding that the youth of the state has to play a key role in representing the country abroad.
"This is the right time when from Bengal new and capable leaders can come up in every field who can represent India globally," he said.
Union petroleum and steel minister Dharmendra Pradhan, who was also in the city, called for a consensus on development.
"We may have differences over CAA or NRC but there cannot be any difference over whether potable water should reach every household or over healthcare and education or on how to improve the people's wage and livelihood," Pradhan said at a CII-organised event on Saturday.
"If there is unison in so many things, then why not work together? There should be consensus on development," he said.
Later in the day, Pradhan attended the annual general meeting of the Bharat Chamber of Commerce where he expressed the same sentiment.
"Didi (chief minister Mamata Banerjee) wants to bring a gas pipeline to Calcutta fast. If you want to go to a dharna manch, no problem. But please also help us in building the pipeline."
Modi told the gathering at Old Currency Building that while politics and military strength are temporary, art and culture are permanent features of a society. He also inaugurated galleries at Belvedere House, Metcalfe House and Victoria Memorial. It is part of the plan of the Union ministry of culture to develop cultural spaces in iconic buildings of key cities such as Calcutta, Delhi, Mumbai, Ahmedabad and Varanasi.