Petronet is India's top gas importer with no experience of the upstream business, which is why it is tying up with ONGC Videsh, the overseas investment arm of oil producer Oil and Natural Gas Corporation.
"We want confirmation and confidence of upstream ... we want to mitigate geological risk," Singh said.
ONGC Videsh's managing director N. K. Verma declined to comment when asked by Reuters.
Tellurian is offering a 60 to 75 per cent equity interest in Driftwood Holdings, which comprises Tellurian's upstream company, its pipeline and the upcoming terminal that will be able to export 27.6 million tonnes a year of LNG, its co-founder Martin Houston told Reuters last year.
Singh, however, said that Petronet was also in talks with several other players about buying a stake in assets spanning from drilling to dispensing, saying it was a bold step for the firm.
"But this will deliver gas at cheap prices to India on a longer-term basis. It has merit in this, let us see how things shape up," he said.
A $500-million investment in Driftwood would give the stakeholder rights over a one million tonne/year of LNG over the life of the project, according to a presentation by Tellurian posted on the US company's website.
On a free-on-board basis gas will cost $4.5 per million British thermal units. Tellurian hopes to deliver the first LNG to partners in 2024, the presentation said.
"We are negotiating on the contours offered by them (Tellurian)," Singh said.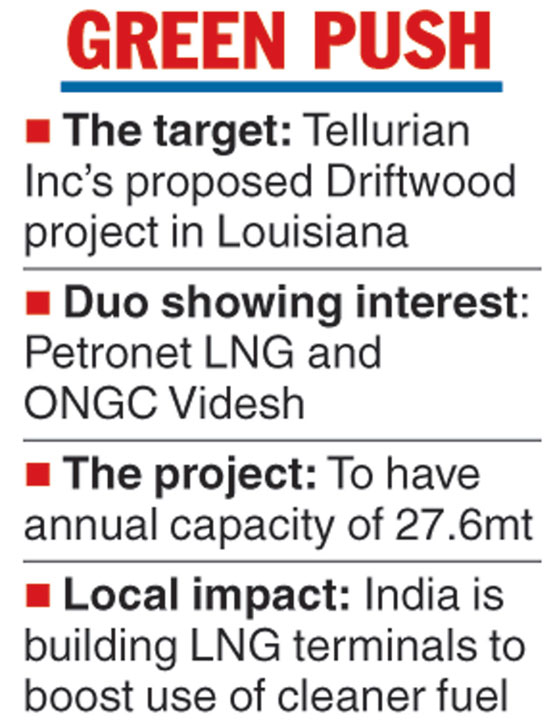 The Telegraph
Petronet LNG and ONGC Videsh are jointly in talks to buy a stake in Tellurian Inc's proposed Driftwood project in Louisiana, Petronet's managing director has said.
"We have moved slightly forward (from the preliminary discussion stage)... we are evaluating it seriously and we are in serious discussion with them," Prabhat Singh told Reuters in a phone interview on Friday.
Tellurian is a natural gas company based in Houston, Texas. To be built in four phases, the Driftwood project will have a production capacity of 27.6 million tonnes per annum.
India is expanding its pipeline network and building new liquefied natural gas (LNG) import terminals to boost use of the cleaner fuel in the country.
Prime Minister Narendra Modi has set a target to raise the share of natural gas in India's overall energy mix to 15 per cent in the next few years from about 6.5 per cent at present.