Nirmala Sitharaman embarks on week-long US trip
The visit which begins on Monday will be the finance minister's first overseas official trip after the Covid-19 outbreak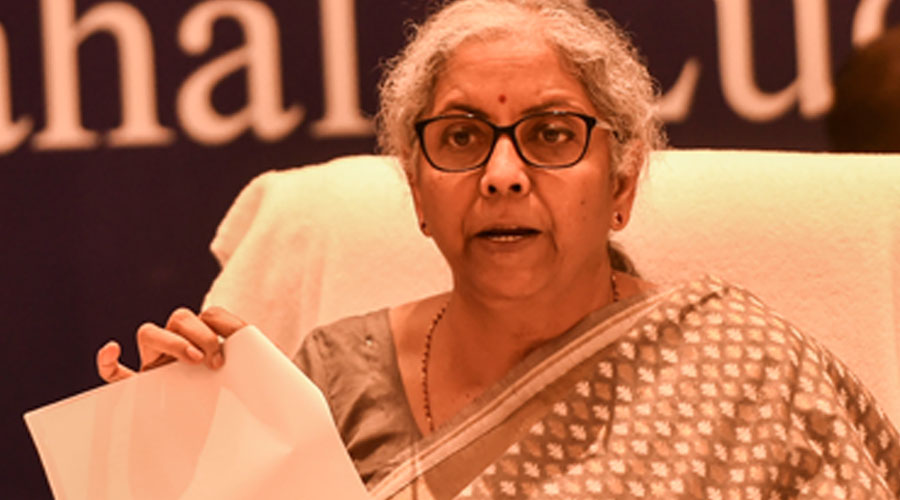 ---
New Delhi
|
Published 12.10.21, 03:58 AM
|
---
Finance minister Nirmala Sitharaman has embarked on a week-long US trip to attend the annual meet of the World Bank and IMF as well as meetings of G20 finance ministers and a meeting of central bank governors.
The visit which begins on Monday will be Sitharaman's first overseas official trip after the Covid-19 outbreak. This is also the first time since the viral outbreak that the World Bank and International Monetary Fund are going for in-person annual meetings.
The finance minister will co-chair the US India Economic and Financial Partnership Dialogue with US treasury secretary Janet Yellen. 
She will also address investors, including large pension funds and private equity players. 
Inflation worry
The finance ministry in its monthly economic report said volatility in the prices of crude oil, edible oils and metal products could pose concerns for India's economy even though inflation is expected to ease in the coming months.
"The volatile prices in the international crude oil markets and upward-bound prices of edible oils and metal products may continue to pose concerns," the report said.
The economy is recovering fast from the pandemic. Strategic reforms and the rapid vaccination drive has placed the country on the path to swift recovery by enabling the economy to "navigate the ravaging waves" of the Covid-19 pandemic, the report said. 
Latest trends in high-frequency economic indicators in August and September also indicate a broad-based recovery evidenced in sustained improvement in power consumption, rail freight activity, e-way bills and robust GST collections, and highway toll collections.
China trade meet
Meanwhile, trade minister Piyush Goyal will have a one-on-one meeting with his Chinese counterpart on Tuesday at a G20 summit in Italy, the government said in a statement.
Goyal will also meet other trade ministers, including those from the United States, South Korea, Australia, South Africa, Brazil and Canada, among others, the statement said on Monday.
Relations between India and China have been strained due to border related issues.
With inputs from Reuters