NCLT order to recover Rs 1200cr from Anil
SBI had invoked the personal guarantee and issued an invocation notice after R-Com and RITL defaulted in payments in January 2017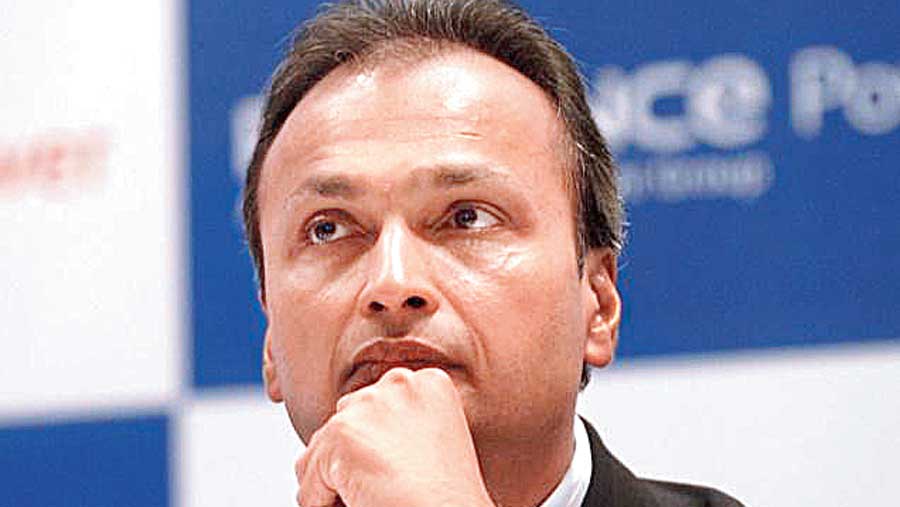 ---
Mumbai
|
Published 22.08.20, 01:03 AM
|
---
The National Company Law Tribunal (NCLT) on Friday set the stage for insolvency proceedings against Reliance Communications chairman Anil Ambani after it appointed a resolution professional to recover Rs 1,200 crore from him under the personal guarantee clause of the bankruptcy law.
Anil Ambani had given a personal guarantee to the loans given by State Bank of India (SBI) to Reliance Communications (R-Com) and Reliance Infratel (RITL) in August 2016. Both R-Com and RITL had defaulted in the payments in January 2017 and the accounts were declared as non-performing accounts. SBI invoked the personal guarantee and issued an invocation notice on Ambani.
The NCLT order given on Thursday said that despite various correspondences between the bank and the personal guarantor no repayment was made on behalf of the latter.
"The applicant (SBI) apprehends that it would not be able to recover the claim amount from the corporate insolvency resolution process (CIRP) or from the borrowers R-Com and RITL,'' the order said. SBI had issued a demand notice dated February 20, 2020, to Ambani demanding payment. When he did not respond, SBI accordingly filed the petitions under Section 95 of the IBC.
According to IBC, the tribunal shall direct the Insolvency and Bankruptcy Board of India (IBBI) within seven days of filing of such application to nominate the name of the RP. The IBBI will have to nominate a resolution professional (RP) within 10 days of receiving such a direction.
The order disclosed that Jitender Kothari has been appointed as the RP.
A spokesperson for Ambani said the industrialist was reviewing the order and was taking advice on filing an appropriate appeal before the National Company Law Appellate Tribunal against the appointment of the RP.