Investors put chips on reforms
Observers are bullish on mid-caps and small-caps even as they point out that investors should adopt a stock-specific approach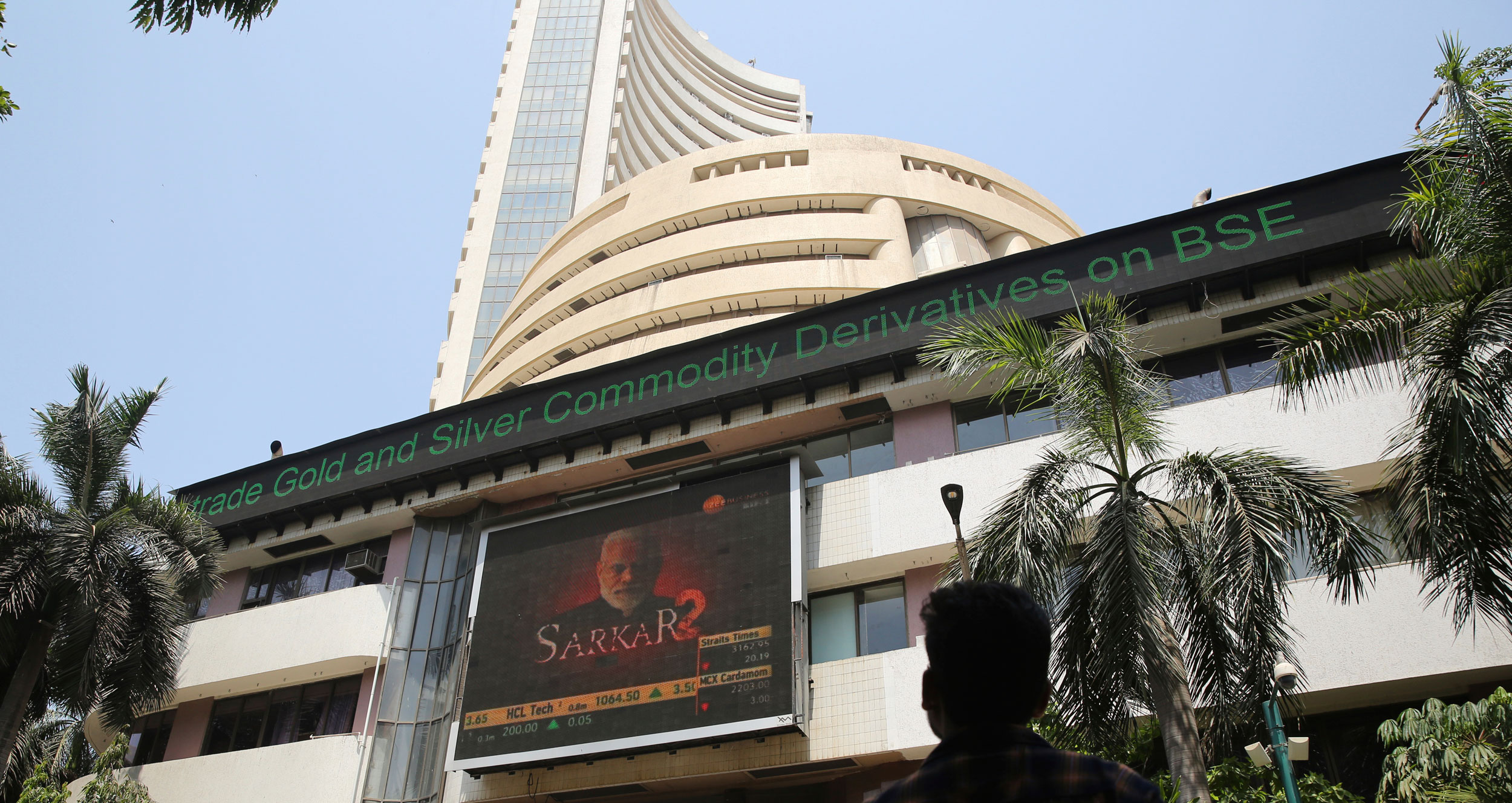 A man watches Indian stock market indices on a display screen on the facade of the BSE building in Mumbai, on May 23, 2019.
(AP)
---
Mumbai
|
Published 26.05.19, 07:24 PM
|
---
Investors are putting their money on reforms as they play a market ruling at record highs, with stocks flush with high valuations.
The expectation among brokerages is that the Narendra Modi-government in its second term will concentrate on reviving economic growth through a mix of corporate tax cuts and rationalisation in GST rates.
It is also expected to increase its thrust in infrastructure, address the liquidity problem of non-banking finance companies (NBFCs) and improve the credit flow to MSMEs. The new government is also seen as continuing with its earlier policy of spurring the merger of PSU banks.
On Friday, the benchmark Sensex had closed at a record high of 39434.72 after a gain of more than 623 points on hopes the government, armed with a massive majority, will continue its reform measures.
Though most brokerages ruled out major disruption such as demonetisation or the GST during Modi's second term, they differed in their views on the path ahead for key indices.
Some like Morgan Stanley expect the Sensex to hit the 45000-mark by June 2020, while others like Motilal Oswal and Edelweiss predict moderate returns.
Observers are, however, bullish on mid-caps and small-caps even as they point out that investors should adopt a stock-specific approach.
After a new government is in place over the next few days, market circles say it will be back to fundamentals for the bourses that include corporate earnings, crude oil prices, the progress of the monsoon, the upcoming monetary policy and the cabinet.
"We believe that, unlike BJP's first term, where prudence came at the cost of growth, the policy priority in the second term will be reigniting growth with prudence as secondary. We expect a mix of rural reflationary policies (via fiscal support and productivity enhancement), infrastructure spending, tax simplification and social investment (housing for all)," analysts at Nomura said in a note.
They pointed out in agriculture, the government is likely to expand the scope of the income transfer scheme for small and marginal farmers to all, apart from a number measures to increase productivity, irrigation and a social security net.
Brokerage JM Financial Institutional Securities feels there will not be significant policy changes under the new government and it will stick to its policy orientation aimed at increasing the formalisation of the economy (tighter enforcement of GST, RERA, Benami Act) and infrastructure spending, apart from fixing the rural economy.
Fiscal health
Observers are, however, worried about the fiscal health as the Centre could take steps to ease farm distress. It is felt that the fiscal deficit target of 3 per cent of GDP by 2020-21 could take a hit.
Focus will also be on the Bimal Jalan committee report on the RBI's economic capital framework.
"The manifesto of the BJP suggests expansion of the PM Kisan Yojana, incremental costs of which are estimated around 0.6 per cent of the GDP. Even as this would leave the interim budgeted GFD-to-GDP target as 3.4 per cent in the 2019-20 budget estimate, we expect fiscal consolidation on hold due to the economic slowdown," analysts at JM Financial added.
Focus will also be on the Bimal Jalan committee report which is expected to submit its recommendations next month. The committee, headed by former RBI governor Bimal Jalan, was appointed in December last year to review the RBI's economic capital framework. The panel was asked to study global practices and suggest if the RBI was holding reserves and a buffer capital in excess of its requirements.
Some of the other focus areas, the report said, is likely to be urban development, transport (road, railways, airports and ports), energy and digital connectivity.