Insurance companies count losses
Analysts say impact on HDFC Life and SBI is estimated at around 10 per cent and 5 per cent, respectively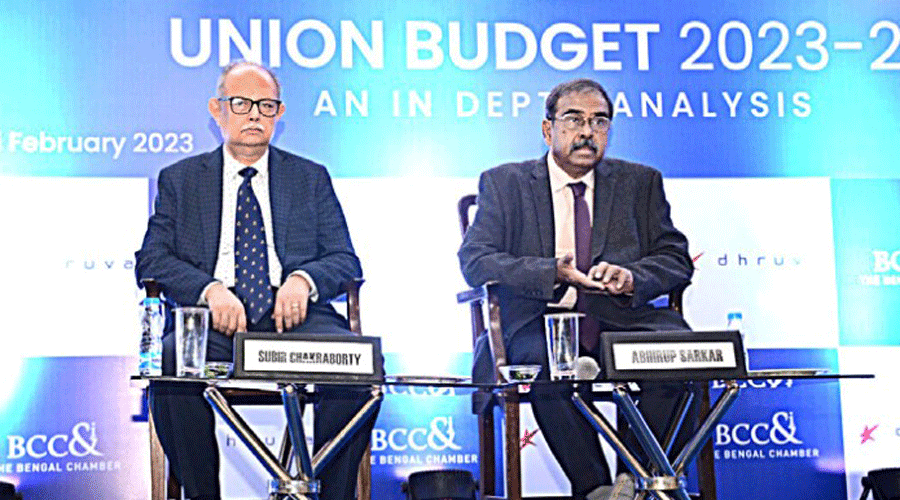 Subir Chakraborty (left), president of BCC&I, and eminent economist Abhirup Sarkar during a post-budget discussion organised by the BCC&I in Calcutta on Thursday.
The Telegraph
---
Calcutta
|
Published 03.02.23, 02:16 AM
|
---
Insurance companies may see a 10-12 per cent negative impact on the value of their new business in the medium-term after the twin budget shocks of tax on maturity and surrender proceeds on high-value policies and a nudge towards a new tax regime without exemptions that are likely to affect the sales of low-ticket policies.
Exemptions under Section 10(10D) of the income tax act allowed the life insurance maturity and surrender proceeds to be tax-free subject to certain conditions, making up for the illiquidity of the policies, which attracted the rich.
The budget has now proposed to tax income from non unit linked policies (Ulips) issued on or after April 1, 2023 and having a premium or aggregate premium above Rs 5 lakh in a year. The gains are to be taxed at a marginal tax rate by clubbing in ''income from other sources''.
ICICI Prudential on Thursday told the bourses its share of business of non-Ulip policies with an annual premium of Rs 5 lakh and above was around 6 per cent of the total annual premium equivalent (APE) for the first nine months of 2022-23.
Max Life in its disclosure said its share was around 9 per cent of individual APE during the same period.
Analysts said the impact on HDFC Life and SBI is estimated at around 10 per cent and 5 per cent, respectively.
"The Rs 5 lakh cap is likely to affect the growth of around 10 per cent of the premium base of HDFC Life and MAX Life, and around 5 per cent of premium base for SBI Life and ICICI Prudential. However, the 80C-related impact is likely to be slightly higher for SBI Life (among private life insurers). On net, around 15 per cent of the overall premium for these players could be under severe growth risk, leading to a 3-4 per cent hit to growth expectations," Emkay Global said in a report on the sector on Thursday.
"In the immediate term, non-par guaranteed products could see a fire sale over the next two months. Overall, it would be interesting to see how insurers deal with distribution costs and opex, as they attempt to keep their products competitive. On net, we see a 10-12 per cent reduction in the medium-term VNB (value of new business)," Emkay said.
ICICI Securities also said high ticket non-par products could see strong sales in the remaining period of 2022-23 as the exemption benefit goes away after April 1, 2023.