Forex reserves hit 15-month low as central bank struggles slow descent
'If the market is determined to take rupee to 85 to $1, you can't fight it,' says ex-BJP finance minister Yashwant Sinha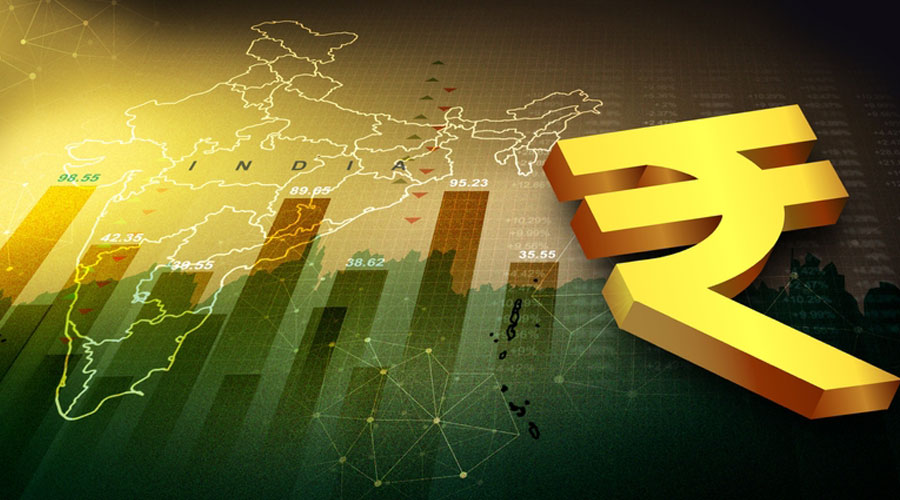 Representational image.
Shutterstock
---
New Delhi
|
Published 16.07.22, 12:42 PM
|
---
India's foreign exchange reserves have fallen to a 15-month low reflecting the cost of braking the decline of the rupee against the super-charged dollar that is going from strength to strength.
The rupee hit a new record low for a fifth straight session Friday, falling to 79.96 against the dollar, just a whisker away from the important 80 level, but the currency then edged higher to close at 79.91.
India's foreign exchange reserves fell by $8.1 billion to $580 billion as of the week of July 8, the central bank reported. It was the second consecutive weekly fall in the reserves which now are enough to cover 10 months of imports, and the lowest level in 15 months. 
The data comes as the rupee has been testing the key market level of 80 per dollar, driven primarily by US interest rate tightening; the flight to safe-haven assets amid worries about Russia's invasion of Ukraine; and a global economic recession. The greenback is riding at two-decade highs against a basket of currencies.
Speculation over Fed rate hike
The dollar ceded some of its gains during the day as investor fears that the US Federal Reserve would hike interest rates by an extremely strong 100-basis points receded. Two Federal Bank governors spoke out in favour of a 75bp increase in order not to deliver too big a shock to US economic growth.
But the Federal Reserve's overall tone remains hawkish after US data showed that inflation had accelerated to a fresh four-decade high of 9.1 per cent in June. 
India's forex reserves remain much higher than the $300 billion they hit in 2012-13 when the rupee last hit the buffers, undermined by a broad-based rally in the dollar and worries about Indian economic weakness.
'Orderly evolution'
The Reserve Bank of India's goal is to ensure "an orderly evolution" of the rupee, central bank governor Shaktikanta Das said this week. The central bank is not targeting any specific level for the rupee, aiming only to defend the currency against any major speculative attacks.
"You can never fight the market. If the market is determined to take the rupee's value to 85 to $1, then you can't fight it," said Yashwant Sinha, who served as finance minister under BJP prime minister Atal Behari Vajpayee. The rupee has weakened from 58.44 to the dollar when Prime Minister Narendra Modi came to power in 2014 to nearly 80 to the dollar now, Sinha, who is the opposition's presidential candidate, noted.
The Reserve Bank has been intervening on foreign exchange markets, selling dollars and buying rupees, to smooth the rupee's descent, seeking to avoid what it calls "jerky" movements. Analysts say it is impossible for central banks anywhere in the world to defy broad-based trends in the movement of a currency without burning through their foreign exchange reserves.
Several years of relative stability
The rupee has shed some 7 per cent against the dollar since the start of the calendar year, slammed by the selling of $27 billion in Indian stocks by foreign investors this year along with the strength in the dollar propelled by US rate hikes.
The rupee's decline comes after several years of relative currency stability.  But the Indian currency hasn't performed as badly as some other Asian currencies like South Korea's won which has slid by more than 10 per cent since the beginning of 2022.
The central bank, which has already raised its key lending rate known as the repurchase rate or repo by 90 basis points, is seen hiking interest rates again at its regularly scheduled meeting in August to fight inflation, though analysts say it may hold an emergency meeting to increase rates before next month's session.
Retail inflation eases marginally
Positive news for the bank came this week as retail inflation eased marginally to 7.01 per cent in June from 7.04 per cent in May as prices of vegetables slipped. But inflation remains stubbornly above the bank's upper tolerance level of six per cent. 
Analysts at Yes Bank expect the rupee to touch the 81-per-dollar level by the end of this fiscal year in March 2023. Abhay Gupta, a strategist at Bank of America, also has a year-end forecast of 81 per dollar. He explained that, "the fundamental outlook (for the rupee) has deteriorated further, primarily due to higher (prices for) oil and other commodities." 
Das said the global economy faces "an extremely uncertain period amidst the simultaneous interplay of various headwinds – a lingering war and enduring COVID; the sharp rise in energy and other commodity prices (denominated in US dollars); strains in global supply chains; and worsening food security."
The strong increase in commodity and other import prices has hit India's current account deficit which is expected to widen to 3.3 per cent in this financial year from 1.2 per cent last year. The current account records the trade of goods and services of an economy with other countries.
For consumers, a weaker rupee means higher costs of everything imported from food to fuel and costlier foreign travel. For manufacturers, it means increased prices of imported parts and other goods and services.