Applications invited to post of chief economic adviser
Krishnamurthy Subramanian made a surprise announcement earlier this month that he would step down in early December and return to academia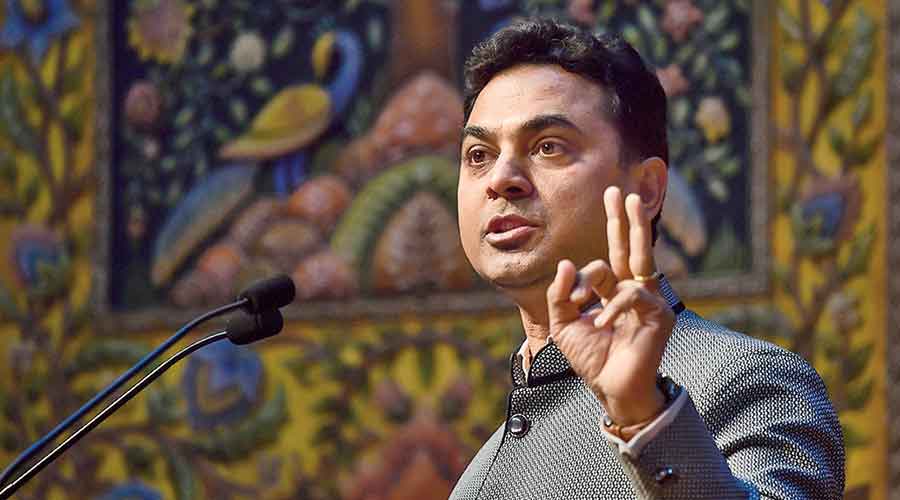 Krishnamurthy Subramanian.
File photo
---
New Delhi
|
Published 27.10.21, 01:21 AM
|
---
The finance ministry has invited applications to the post of chief economic adviser in place of Krishnamurthy Subramanian who now will be in office for a little more than a month till December 6.
The timing of the sudden resignation of IMF chief economist Gita Gopinath led to speculation that the Modi government could pick her, but her US citizenship could pose a hurdle. 
Among the other names doing the rounds is Sanjeev Sanyal, who is the principal economic adviser in the finance ministry.
Subramanian made a surprise announcement earlier this month that he would step down in early December and return to academia after completing his three-year term on the job. 
Subramanian, an ISB Hyderabad professor, had taken over as CEA on December 7, 2018, nearly five months after his predecessor Arvind Subramanian stepped down citing "pressing family commitments". The next CEA will just have a few months to prepare the Economic Survey of FY22 to be tabled in Parliament on the last working day of January.
The vacancy comes at a time the economy is coming out of its pandemic-induced shell, and the next incumbent has the challenging task to draw up a vision document in the Survey with the ravages of the pandemic and the economic recovery in the backdrop.
The chief architect of the last three Economic Surveys, Subramanian had come out with interesting concepts such as "Thalinomics", "V-shaped economy" and "virtuous investment cycle".
According to the eligibility criteria set out by the ministry, a doctorate in economics or finance is desirable but not essential, though a master's degree is required. The maximum age limit for applying for the post is 56 years. The notification did not specify the tenure of the position.
The candidate should also have at least six years of experience in economic research, including one-year administrative experience in central or state governments, state-owned entities, the RBI or recognised universities or autonomous bodies.
The post is open to government officials as well as those from academia, research, regulatory bodies and private financial institutions.
The last day for the submission of applications will be 15 days from the publishing of the advertisement, which will be mid-November. "The selection committee reserves the right to invite and short-list suitable individuals from outside the list of applicants for the posts," the notification said.
The eligibility criteria is similar to the one floated when the Centre was seeking a replacement for Arvind Subramanian. The search committee, headed by former RBI Governor Bimal Jalan had picked Subramanian.