Vegetable segment inflation at 20.73 %
Factory show dismal, food prices pinch
RBI rate cut to bolster the shrinking economy delayed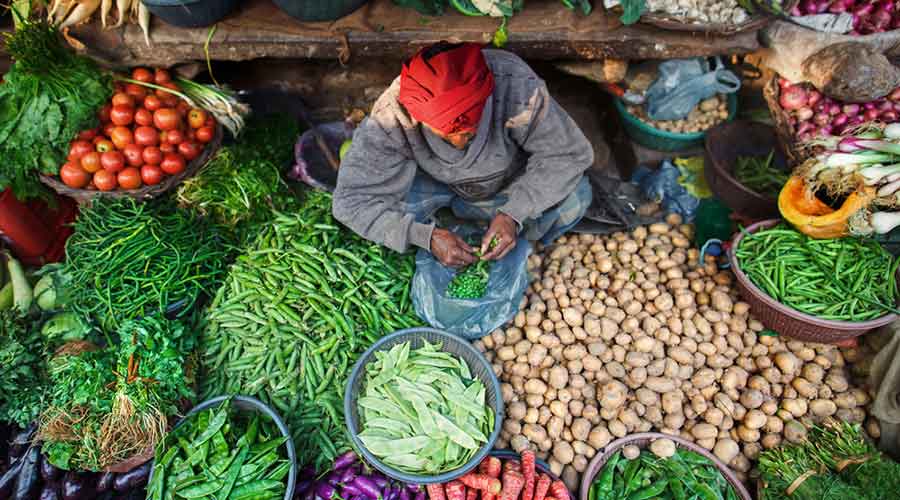 ---
New Delhi
|
Published 13.10.20, 04:49 AM
|
---
In a double whammy for the economy, industrial production declined 8 per cent in August, while retail inflation rose to an eight-month high of 7.34 per cent in September, further delaying a rate cut by the central bank to bolster the shrinking economy.
Lower output in the manufacturing, mining and power generation sectors dragged down industrial output, which had contracted 1.4 per cent in August 2019.
Production of the manufacturing sector fell 8.6 per cent, while the output of the mining and power segments was down 9.8 per cent and 1.8 per cent, respectively.
"It may not be appropriate to compare the IIP in the post pandemic months with the IIP for months preceding the pandemic," the ministry of statistics and programme implementation said in a statement.
The output of capital goods, which is a barometer of investment, fell 15.4 per cent in August against a contraction of 20.9 per cent earlier.
Consumer durables output also declined 10.3 per cent against a contraction of 9.7 per cent in August 2019.
Consumer non-durable goods production fell 3.3 per cent compared with a growth of 3.1 per cent a year ago.
Meanwhile, the contraction in IIP in July has been revised to (-)10.8 per cent from the (-) 10.4 per cent provisional data released last month. The May IIP has been revised marginally to a 33.4 per cent contraction from a 33.9 per cent decline.
Price pinch
According to data released by the National Statistical Office, the Consumer Food Price Index (CFPI) crossed the double-digit mark and was 10.68 per cent in September.
The inflation in the vegetable segment was 20.73 per cent in September, significantly up from 11.41 per cent in the preceding month. The rate of price rise in protein-rich eggs was 15.47 per cent in September compared with 10.11 per cent in August.
Economists said food prices soared because of a pick-up in demand ahead of the festival season and supply-side disruptions caused by the coronavirus lockdown.
The Consumer Price Index (CPI)-based inflation was 6.69 per cent in August and 3.99 per cent in September 2019.
Retail inflation has remained above 4 per cent, the middle-point of the RBI's target of 2-6 per cent, for a year. The previous high in the CPI was witnessed at 7.59 per cent in January 2020.
"Our concerns on stagflation appear to be getting stronger and while the RBI has communicated its decision on continuing with an accommodative environment well into next fiscal, such increasing levels of inflation will clearly be a concern for policymakers," said Suman Chowdhury, chief analytical officer, Acuite Ratings & Research.