Wow! Momo to sell groceries
The service will be rolled out in Mumbai and Bhubaneswar from next week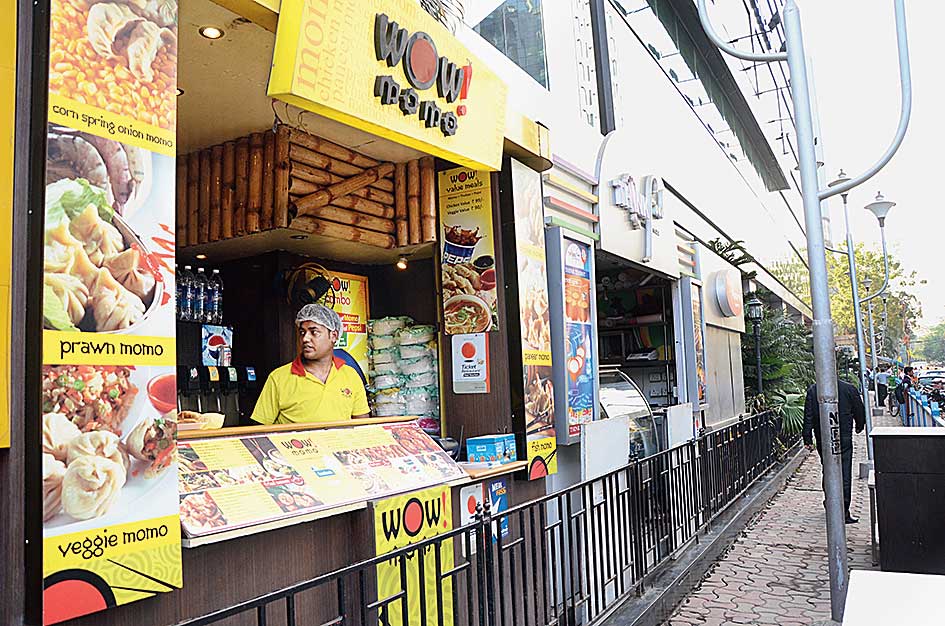 ---
|
Calcutta
|
Published 22.04.20, 11:02 PM
---
Fast food chain Wow! Momo will home-deliver FMCG and grocery items from some of its stores to use up idle real estate and remain in the customer mindspace. The food chain's sales have dropped to a fifth of the average sales during the lockdown period.
The company has tied up with ITC, Nestle, P&G and Emami for the products and online delivery platform Swiggy for the distribution. The company plans to kick off the service in Calcutta with 30 stores along with some stores in Delhi, Bangalore and Chennai.
The service will be rolled out in Mumbai and Bhubaneswar from next week.
"We have to reinvent our business model in this very challenging time, especially for a start-up like ours. We have to take care of the employees, use them gainfully and make some money in the process, if possible," Sagar Daryani, CEO and co-founder of Wow! Momo, said.
Out of the 345 stores the Calcutta start-up had, including kiosks, dine-in and malls, only 100 are in operation now. However, they are doing only a fraction of the business, leaving more than half of the workforce idle.
Monthly sales plummeted to Rs 3-3.5 crore compared with Rs 16.5 crore on an average as it is only catering to order-in segments. Restaurants, cafes and malls are all closed during the lockdown.
Paying a monthly wage bill of Rs 4 crore for 2,700 odd employees — only 1,000 are working now— has been a big worry for the senior management forcing them to come out with a new revenue model.
Wow! Momo will follow an asset light model, operating as an online market place for the selected brands instead of holding inventory of products. It would procure the items from the companies, bring them to the central warehouse and distribute among the operational stores.
"We will return the unsold items to the companies in a 14-day cycle. The risk of breakage and leakage would be on us," Daryani said.
The revenue generated from the sale will go to the companies, after deducting the charge of distribution by Swiggy and a commission for Wow! Momo. Several stores have on boarded food delivery platforms operated by Swiggy and Zomato as consumers prefer to stay home.