Bank mergers on the plate
Policy changes may open up all sectors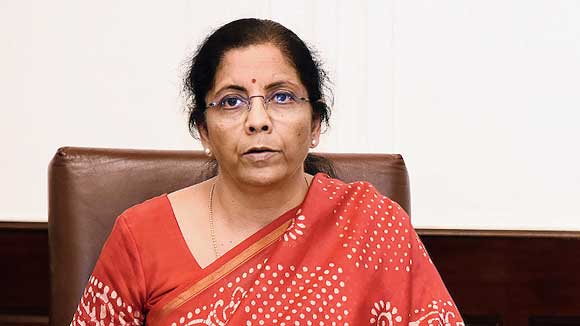 ---
|
Mumbai
|
Published 17.05.20, 07:33 PM
---
The new PSU policy which limits the role of state enterprises has opened up the possibility of more mergers of state-owned banks.
A key highlight of the proposed policy is that the Centre will open all sectors to the private sector and PSUs will have an important role in "defined areas". Sitharaman disclosed that the list of strategic sectors where there will not be more than four such units will be notified.
At the press conference, the finance minister said that if there are more than four such PSUs, they would be merged to bring them down to the desired number.
At present, there are a dozen PSU banks in India and this comes after a recent big-bang merger involving the amalgamation of 10 such lenders into four banks. In 2017, there were 27 banks in India. The current list includes State Bank of India, Punjab National Bank, Canara Bank, Union Bank of India, Indian Bank and Bank of Baroda.
Then there are six independent lenders — Bank of India, Central Bank of India, Indian Overseas Bank, Uco Bank, Bank of Maharashtra and Punjab & Sind Bank
Though the finance minister evaded a direct reply on whether the latest move would lead to more bank mergers in the future by saying that the announcement was not linked to banks, observers are not ruling out the possibility of more mergers in the months ahead.
If the government does go ahead with the plan, it could lead to protests from unions fearing job losses even as the bank managements will be confronted with other challenges.
The Centre has been pushing bank mergers, pointing out that it would enable them to enhance their competitiveness. Consolidation would also allow the merged entities to support larger ticket-sized lending, apart from having more financial capacity. It has also cited other factors such as cost efficiency and better financial inclusion through wider reach for these mergers.
Market circles said they will wait for the government to announce the list of strategic sectors and whether the rejig would also include the banking sector. They however, welcomed the move.
"A welcome announcement was about the notification of a list of strategic sectors requiring the presence of PSEs in public interest. If this bold announcement is quickly transmitted into action, it could unlock a lot of value," said Dhiraj Relli, MD and CEO of HDFC Securities.