Australia promises not to step up sugar war
Canberra not to press ahead at WTO with its sugar lobby's demands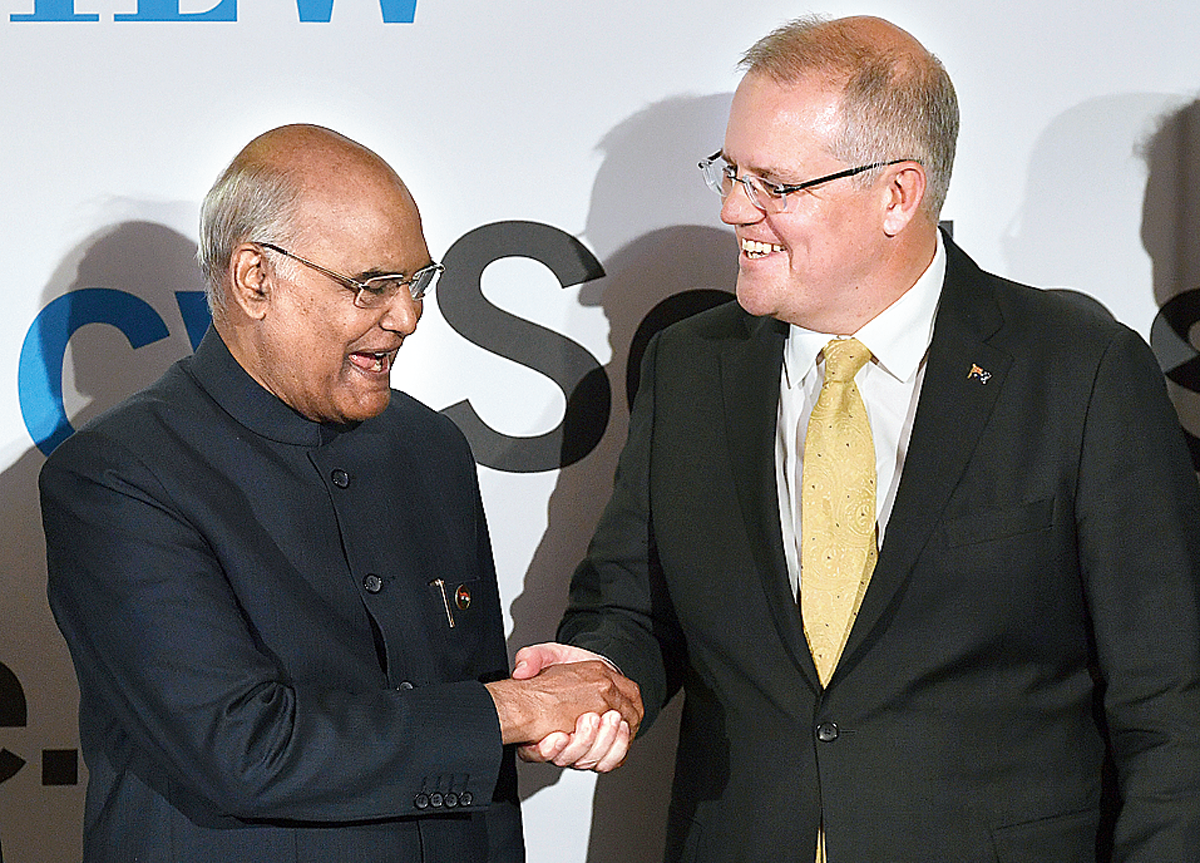 Ram Nath Kovind with Scott Morrison in Sydney on Thursday.
AP picture
---
Sydney
|
Published 22.11.18, 09:39 PM
|
---
Australia will not intensify its sugar war with India despite its farms and mills facing closure because of Indian subsidies as it looks to build a larger strategic relationship with the country.
"WTO disputes happen between friendly nations. Australia and Canada have disputes over wine. But that does not stop two mature nations from talking to each other and continuing good relations," said Australian minister for trade, tourism & investment Simon Birmingham.
Australia has filed a counter notification against India at the World Trade Organisation, pointing to high fixed cane prices in India which it feels subsidises sugar beyond the 10-per-cent levy allowed by the global trade body. India, on its part, says the base year price for calculating subsidies is dated and needs to be changed to reflect realities.
However, Australia is softening its stand at the WTO. A second notification which the powerful Australian Sugar Milling Council (ASMC) wanted to bring against the Narendra Modi-government's recently announced subsidies to mills has been shelved.
"Indian ministers have said they want to make India a bigger sugar exporter than Brazil ... the impact of India's latest export subsidies could shut down some of our mills," said David Rynne, director at the ASMC.
India is likely to end the cane year by producing over 31.5 million tonnes (mt), far more than the 28mt demand at home. Australians and global marketers fear the excess sugar will be exported, resulting in plunging world prices of the sweetener.
However, Indian commerce ministry officials said global prices had been falling for some time and sugar mills have been struggling to sell their small export quotas abroad.
Fear of China dominating the region has driven not only Japan to build closer defence and economic relationships with India but also brought on board an indifferent Australia into seeking a more strategic relationship with the sub-continent.
Sheba Nandkeolyar, board member of the Australia-India Council, said, "The strategic relationship with India is important for us and often influences trade and business relations."
"It's possible to settle our sugar dispute outside (WTO). I have had numerous conversations with my counterpart Suresh Prabhu," Birmingham said on the sidelines of the India Business Summit in Sydney.
However, much of the goodwill also flows from hopes of a multilateral trade deal which would propel Australia's exports to India valued at Australian $ 14.63 billion in 2016 making it the continent's sixth largest export destination, into bigger league. Said Jason Clare, Australia's shadow trade minister "trade between India and Australia has not boomed as expected ... we need to work on that."