Aramco to invest $15bn in Reliance Industries Limited
BP to put up $1bn in fuel retail arm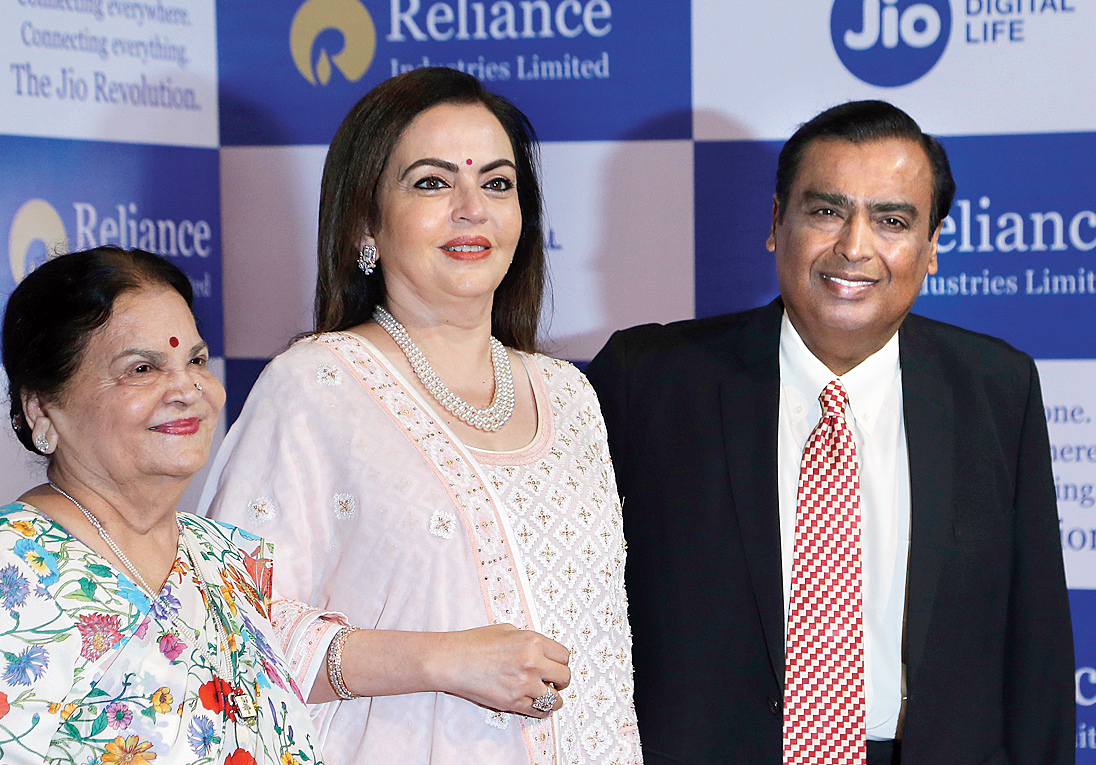 Mukesh Ambani with wife Nita and mother Kokilaben in Mumbai on Monday.
AP
---
Mumbai
|
Published 12.08.19, 11:13 PM
|
---
Reliance Industries Limited (RIL) is set to divest a 20 per cent stake in its oil-to-chemicals business to Saudi Aramco, enabling the Indian conglomerate to shed debt, while giving Aramco improved access to a fast growing market.
Saudi Aramco is offering Reliance $15 billion for the stake — one of the largest foreign direct investments into India. RIL will get another $1 billion, or Rs 7,000 crore, from a joint venture with BP that will retail auto fuels and ATF in the country.
The twin mega deals were announced by Mukesh D. Ambani, chairman and managing director of RIL, at the company's 42nd annual general meeting (AGM) here on Monday. The deals are expected to play a key role to make RIL a zero net-debt company over the next 18 months.
A statement from RIL said it would form a long-term partnership with Aramco in the oil-to-chemicals (O2C) business. Reliance had reported revenues of Rs 5.7 lakh crore in the previous year in this segment.
Under the deal, Aramco will pick up a 20 per cent stake at an enterprise value of $75 billion for the division.
According to a Bloomberg analysis, the Ambanis have driven a hard bargain and extracted a higher price than warranted from Aramco for the right to establish a beachhead — just the opposite of what everyone seems to believe. The proposed investment by Saudi Aramco is subject to customary approvals.
BP investment
Last week, RIL had announced a joint venture with BP that will take over its existing fuel retail network in the country and access its aviation turbine fuel (ATF) business. The company had not disclosed financial details of the deal. On Monday, Ambani said RIL would get Rs 7,000 crore from BP.
Sources said Aramco's proposed investment in RIL is its largest outside Saudi Arabia. Ambani did not disclose details on how the deal with Saudi Aramco will be structured, RIL executive director P.M.S. Prasad later told reporters it was likely to be completed by March 2020.
"Within five years, the oil-to-chemicals business will be carved out as an unlisted subsidiary of Reliance and will operate as a business division of RIL with the Aramco having 20 per cent economic interest," he said.
The unlisted subsidiary will hold a 51 per cent stake in the petroleum retail venture with BP.
Saudi Aramco will also supply 500,000 barrels of crude oil per day on a long term basis to RIL's Jamnagar refinery.
Ambani, whose 82 minute speech dwelt on "New Reliance for New India", said the Saudi investment is the biggest foreign investment in the history of Reliance and among the largest in India.
"This signifies perfect synergy between the world's largest oil producer and the world's largest integrated refinery and petrochemicals complex… Since its inception, our Jamnagar refinery has been processing Saudi oil every single day for 20 years. Now we have transformed our longstanding relationship of two decades into a partnership of growth potential for many more years,'' he said.
Meanwhile, Reliance Jio has entered into a long-term alliance with Microsoft to accelerate digital transformation with the launch of new cloud data centres, Ambani told shareholders. He said that Jio was setting up a pan-India Edge Computing and Content Distribution network starting with tens of thousands of nodes.