Ambani-Adani war set to erupt in green energy sector
While the former announced to invest Rs 75,000 crore over the next three years, the latter will invest over Rs 1.47 lakh crore over the next 10 years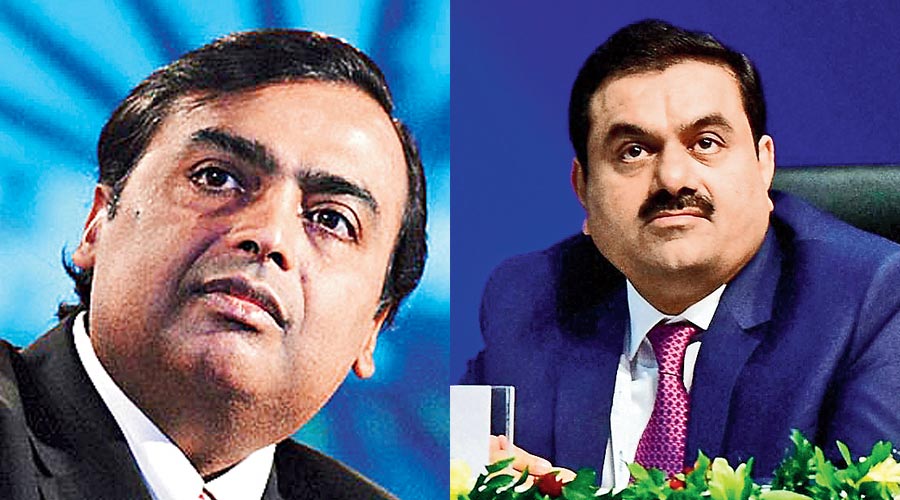 ---
Mumbai
|
Published 22.09.21, 01:20 AM
|
---
An Ambani-Adani war is set to erupt in the verdant fields of green energy. 
Gautam Adani on Tuesday said the Adani group would invest $20 billion (over Rs 1.47 lakh crore) over the next 10 years. 
Adani said his investments would spawn renewable energy generation, component manufacturing and transmission & distribution. He was speaking at the JP Morgan India Investor Summit.
Mukesh Ambani in June at the Reliance AGM had announced that Reliance Industries will invest Rs 75,000 crore in renewable energy over the next three years. However, this number could rise later as India's richest man chases his dream of making new energy a "global business''.
Speaking at the summit, Adani disclosed that over 75 per cent of the group's planned capital expenditure until 2025 is in green technology. He pointed out that the conglomerate will triple its renewable power generation capacity over the next four years to 63 per cent from 21 per cent. 
"No other company in the world is building on this scale. By 2030, Adani will be the first Indian company to power all its data centres with renewable energy. To be sustainable when it comes to green energy, a structure should be developed keeping in mind the state and scale of a developing nation and their contribution towards this global movement,'' he said.
Adani, who has interests ranging from port and energy to airports, clearly wants to tap the opportunities to combat climate change at a global level, which he said will equate to trillions of dollars over the next two decades.
The Adani group had earlier aimed to become the top solar company in the world by 2025 and a leader in renewable energy globally in a decade.
"Adani's integrated value chain, scale, and experience will put the country on the path to be the producer of the least expensive green electron anywhere in the world...We will be the first port business that is ahead of its target to get to net zero (carbon emission) by 2025,'' he said.
The group's initiatives in renewable energy are led by listed entity Adani Green Energy, which has a market cap of Rs 1.75 lakh crore. 
Adani Green is targeting a generation capacity of 25GW by 2025. It has a renewable energy portfolio of 15.4GW and is setting up additional capacity of 8.1GW in solar energy, 1.2GW in wind and 2.2GW in hybrid power. 
Last month, the company raised $750 million as equity funding for the renewable projects under construction. 
Apart from such renewable energy projects, the group is also looking to manufacture lithium ion battery in the country.
RIL also has ambitious plans in the green energy segment. At the shareholders meeting, Ambani had disclosed that it has started work on developing the Dhirubhai Ambani Green Energy Giga Complex on 5,000 acres at Jamnagar. 
This will be amongst the largest such integrated renewable energy manufacturing facilities in the world.
Reliance will have four "giga factories" that will manufacture and fully integrate all the critical components of the new energy ecosystem. 
In solar energy, RIL will build an integrated factory to make solar photovoltaic modules or solar panels. It will also build an advanced energy storage battery unit. The company is planning to set up an electrolyser factory to manufacture green hydrogen.