Adani firms steeped in debt: Fitch
Report highlights group's strong relationship both with banks and the Narendra Modi-led government at the Centre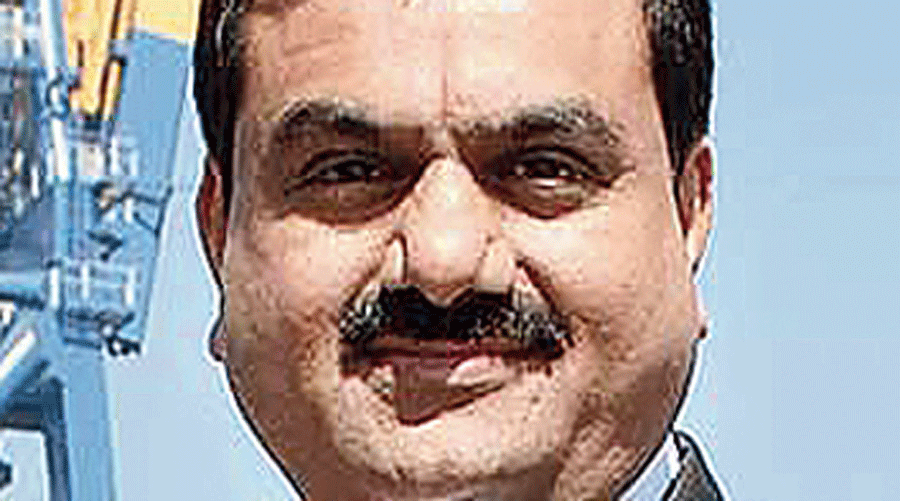 ---
Mumbai
|
Published 24.08.22, 02:46 AM
|
---
The Adani group is "deeply overleveraged" with the group predominantly using debt to invest aggressively across existing as well as new businesses, CreditSights, a Fitch Group unit, said on Tuesday. The report highlighted the group's strong relationship both with banks and the Narendra Modi-led government at the Centre and warned potential strong competition with Reliance Industries to achieve market dominance could lead to imprudent financial decisions being made.
Mukesh Ambani's Reliance by contrast has followed a strategy of equity infusion in its expansaion plans. "In the Adani Group's favor, we take comfort in its solid banking relationships with both domestic and international banks, which have been willing to lend the group large amounts for both its existing businesses and new ventures."
"We also believe there are policy tailwinds supporting the development of such infrastructure assets, and note that founder Gautam Adani enjoys a strong relationship with the ruling Modi administration." "Overall, we remain cautiously watchful of the group's growing expansion appetite, which is largely debt-funded," the report added.
"We see little evidence of promoter equity capital injections into the group companies, which we feel is needed to reduce leverage in their stretched balance sheets," the report added. In its  report titled "Adani Group: Deeply Overleveraged", CreditSights said: "In the worst-case scenario, overly ambitious debt-funded growth plans could eventually spiral into a massive debt trap, and possibly culminate into a distressed situation or default of one or more group companies."
Adani has kept the merger and acquisition juggernaut rolling by announcing this month the acquisition of DB Power for Rs 7,200 crore, the inland container depots of Navkar Corporation in Gujarat for Rs 835 crore and the toll roads portfolio of Macquarie Asia Infrastructure for Rs 3,110 crore. These came after the gigantic acquisition of ACC and Ambuja Cements from Holcim for $10.5 billion in May.
On Tuesday, the Adanis announced an open offer for a 26 per cent stake in NDTV after indirectly acquiring 29.18 per cent through the conversion of warrants. Though the group has not disclosed the source of funding for its other purchases, it borrowed $5.25 billion to buy Holcim's Indian operations from global banks such as BNP Paribas and Citi. Last month, the group reportedly approached the State Bank of India (SBI) for loans worth Rs 14,000 crore to build a PVC plant in Mundra.
"Over the past few years, the Adani Group has pursued an aggressive expansion plan that has pressurised its credit metrics and cash flows," Credit Sights said. ``This has understandably caused concerns about the group as a whole, and what implications it could have on the group companies that are bond issuers,'' CreditSights added. According to the credit research provider, most of theprojects or ventures are majority funded by borrowings typically in the ratio of 3:1debt/equity.
In India, the borrowing costs for infrastructure projects are as high as 9-11 percent which add a large interest burden on the entities. Further, since the businesses do not make profits in the initial few years, they don't have the ability to repay the debt immediately. In such cases, they rely on rolling over or refinancing the obligations in the initial few years, which are in turn dependent on maintaining solid banking relationships and on capital market conditions.