ACs, solar cells to get Rs 10,500cr incentives
The PLI scheme for solar PV modules is aimed at adding 10,000 MW manufacturing capacity of integrated solar PV modules entailing direct investment of Rs 17,200 crore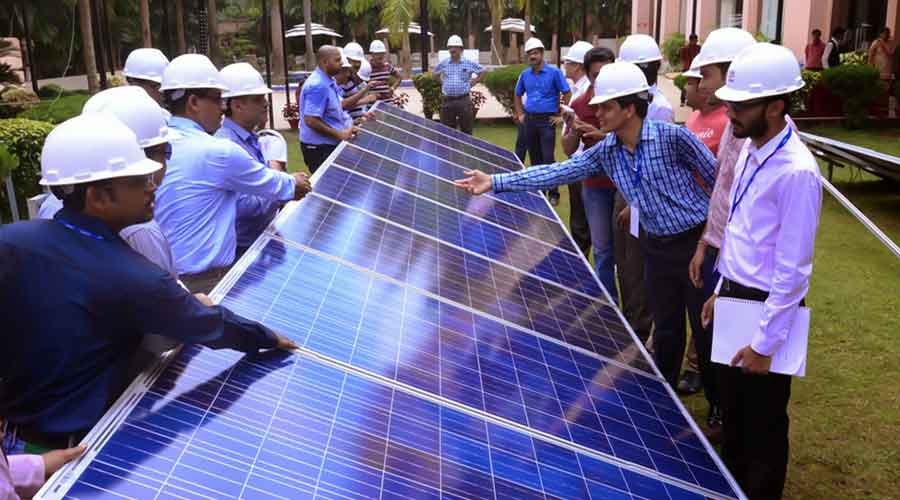 ---
---
The government on Wednesday approved production-linked incentive (PLI) schemes worth over Rs 10,500 crore to boost domestic manufacturing capacity of solar PV modules and white goods such as air conditioners and LED lights.
The PLI scheme for solar PV modules is aimed at adding 10,000 MW manufacturing
capacity of integrated solar PV modules entailing direct investment of Rs 17,200 crore.
The PLI scheme is likely to create direct employment of around 30,000 and indirect employment of 1.2 lakh, according to the government.
An outlay of Rs 4,500 crore has been cleared by the cabinet for this proposal.
Solar energy capacity addition depends largely upon
imported solar PV cells and modules as the domestic manufacturing industry has limited operational capacities, it added.
The move will reduce import dependence in a strategic sector such as electricity.
Solar PV manufacturers will be selected through a transparent competitive bidding process.
The PLI will be disbursed for five years.
Manufacturers will be rewarded for higher efficiencies of solar PV modules and also for sourcing their material from the domestic market. Thus, the PLI amount will increase with increased module efficiency and increased local value addition.
LED Lights
The government has approved a budgetary outlay of Rs 6,238 crore for the PLI scheme for air conditioners and LED lights.
"The scheme for white goods shall extend an incentive of 4 per cent to 6 per cent on incremental sales of goods manufactured in India for a period of five years to companies engaged in manufacturing of air conditioners and LED lights," an official statement said.
Bharti-Dixon tieup
Bharti Enterprises and consumer durable manufacturer Dixon Technologies (India) have inked a pact to form a joint venture to avail the government's production-linked incentive (PLI) on manufacturing of telecom and networking products.
Dixon's wholly-owned subsidiary Dixon Electro Appliances Pvt Ltd or any firm identified by the two parties will be the joint venture entity.
The new firm will manufacture telecom and networking products such as modems, routers, set top boxes, internet-of-things (IoT) devices, among others, for the telecom sector, including Bharti Enterprises' subsidiary and operator Bharti Airtel Ltd.
"The said joint venture will file necessary applications with the ministry of communications or any other nodal agency to avail benefits under the PLI scheme of the government," said Dixon Technologies in the statement on Wednesday.
As per Dixon, post execution of mutually acceptable agreements by the parties, the JV company will be 74 per cent owned by Dixon and 26 per cent by Bharti Enterprises.
Commer Minister Piyush Goyal said the scheme would help in increasing value addition from 25 per cent to 75 per cent in the AC segment and 40-45 per cent in LED lights. About Rs 35 lakh crore worth of additional output is expected from 13 sectors, which avail PLI benefits in the next five years, he added.
Selection of companies for the scheme will be done to incentivise manufacturing of components or sub-assemblies, which are not manufactured in India presently with sufficient capacity. Mere assembly of finished goods will not be incentivised, the statement said.
"Companies meeting the pre-qualification criteria for different target segments will be eligible to participate in the scheme. Incentives shall be open to companies making brownfield or greenfield Investments," it said, adding thresholds of cumulative incremental investment and sales of manufactured goods over the base year would have to be met for claiming incentives.
The scheme, it said, is expected to be instrumental in achieving growth rates that are much higher than the existing ones for AC and LED industries, develop complete component eco-systems in India and create global champions manufacturing in India.
They will have to meet the compulsory BIS (Bureau of Indian Standards) and BEE quality standards for sales in the domestic market and applicable standards for global markets.
It is estimated that over five years, the scheme will lead to an incremental investment of Rs 7,920 crore, incremental production worth Rs 1,68,000 crore, exports worth Rs 64,400 crore, earn direct and indirect revenues of Rs 49,300 crore and create additional four lakh direct and indirect employment opportunities.