Special Chhath for Bihar ministers
The coming cabinet expansion will be the last before the Lok Sabha polls and the last before the 2020 Assembly elections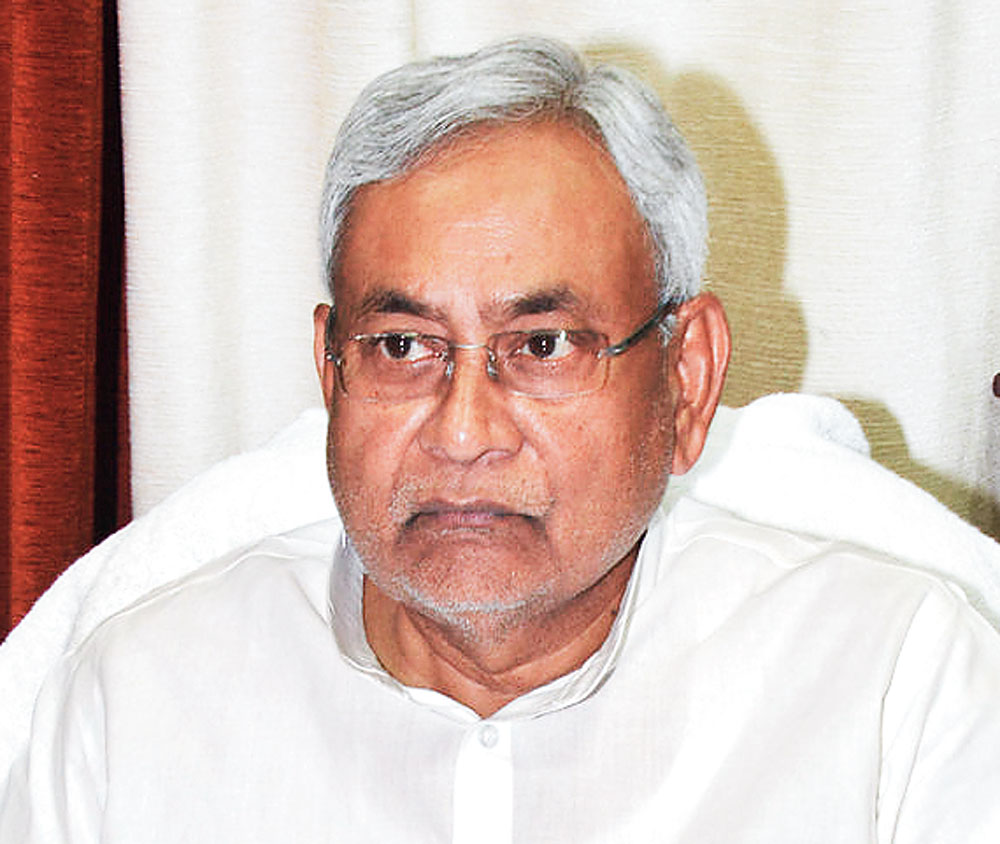 Chief minister Nitish Kumar
Telegraph file picture
---
Patna
|
Published 05.11.18, 05:42 PM
|
---
Ministerial aspirants in the JDU and BJP have more reasons to pray to the Sun God this Chhath, because they know that the cabinet expansion expected after the festival would be the last one before the country goes to the polls next year.
Janata Dal United insiders said they expect the cabinet expansion after Chhath ends on November 14, drawing curtains on the long festive season that started with Durga Puja. The coming expansion will not just be the last before the coming Lok Sabha polls but also the last before the 2020 Bihar Assembly elections.
At present, there are 28 ministers including the chief minister in the Bihar cabinet. The Assembly has 243 seats and based on that, the ministry can expand to 36 keeping the 15 per cent cap in mind.
There is talk in the BJP about introduction of another "Patna face". Patna is the citadel of BJP. In the 2015 Assembly polls — which chief minister Nitish Kumar fought in alliance with the RJD and Congress — the party won all six seats in Patna Saheb.
Nand Kishore Yadav, the road construction minister, is the only Patna Saheb face in the ministry right now. BJP sources indicate that Kumhrar MLA Arun Kumar and Bankipore MLA Nitin Navin may be considered because they come from the Kayastha caste, which has a considerable population in Patna. It is also because the BJP realises that they may face their own MP, Shatrughan Sinha, also a Kayastha, as a Grand Alliance candidate.
There are JDU leaders, out of the ministry looking to make a comeback as well. MLA Shyam Rajak was a minister before 2015 polls but he was dropped after Grand Alliance formed the government.
Rajak's name is among the ministry expansion probables, so is former education minister Ashok Choudhary who switched over to the JDU from the Congress.
JDU MLAs Lesi Singh and Ranju Geeta are featuring as a replacement for Manju Verma who was forced to quit after her husband Chandeshwar Verma's name figured in the Muzaffarpur shelter home abuse scandal.
There are talks of JDU trying to balance the "Luv Kush" equation too, by inducting a Kushwaha in the cabinet. Gopalganj MLA Ram
Sewak Singh's name is being floated. There is also talk on inclusion of a member from the upper caste. "A few ministers may be dropped to be groomed as Lok Sabha candidates," said a JDU leader.