NDA ignores RLSP hard talk
Upendra Kushwaha's party may not get any seat in the likely expansion of the Bihar cabinet either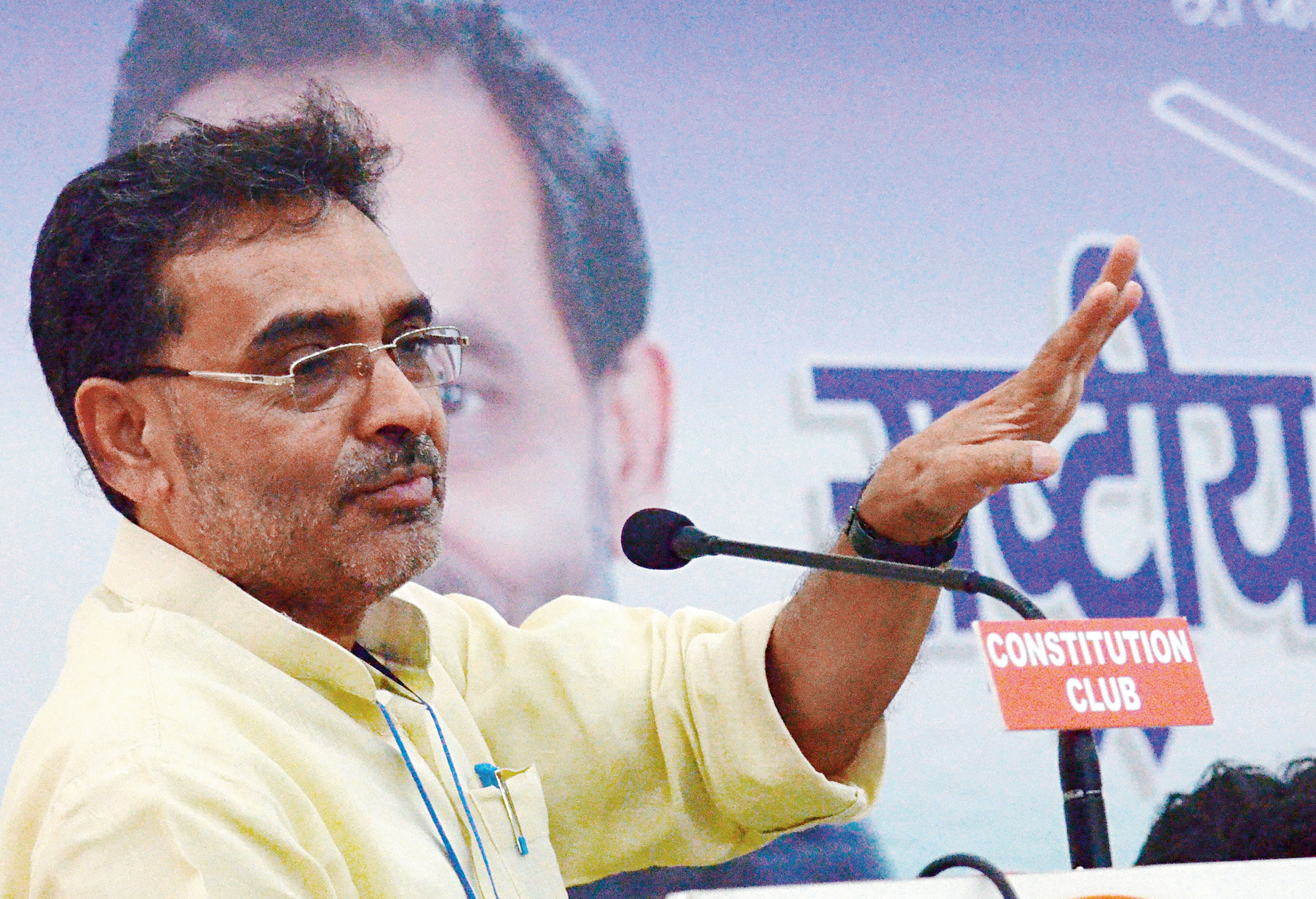 Upendra Kushwaha
Telegraph file picture
---
Patna
|
Published 01.11.18, 06:28 PM
|
---
Upendra Kushwaha's RLSP is not going to get much out of the hard bargain it is trying to drive over seat sharing in Bihar for the coming general elections, indications from the NDA camp suggest.
The Union minister's party may not get any seat in the likely expansion of the Bihar cabinet either.
"One cannot do much if any leader has high ambitions," a senior BJP functionary told The Telegraph on Thursday, responding to Kushwaha's recent comments about seat sharing and on chief minister Nitish Kumar. "Our party has always given a fair treatment to Upendra Kushwaha and also made him a minister at the Centre. Even the seats being offered to him have been decided keeping the ground realities in mind. We are confident that he would continue to remain in the NDA," the BJP leader added.
The BJP leader said the RLSP would not be offered more than two seats. The JDU also seemed in no mood to offer much to the RLSP in the proposed expansion of the state cabinet.
"When we had joined NDA in 2017 our party had 11 MPs but we neither pressed for any berth in the Union cabinet nor complained," JDU secretary general K.C. Tyagi said while commenting on Kushwaha's statement that the RLSP got nothing when the NDA government was formed in Bihar.
On Kushwaha's remark that Nitish had reached a saturation point in leading the government in Bihar, Tyagi said the JDU would contest 2020 Assembly elections projecting Nitish as its face. "When Nitishji became the chief minister of Bihar in 2005, he had set many goals for the development of the state. Many such goals have been achieved but many other works still need to be completed," the JDU leader said.
Other JDU leaders tore into Kushwaha.
"The post of chief minister is not like rasgulla and mutton-rice where desire is fulfilled after eating it. One does not become chief minister out of choice; one becomes chief minister by the will and wish of the people. Nitish Kumarji is chief minister because people of Bihar have showed faith in him," said JDU spokesperson Ajay Alok. "Nitish will continue till he is physically and mentally fit. The post of chief minister has never been important for our leader and he has showed in the past by resigning. But the continuous mandate for the last 15 years shows that the people want him to continue and till the people's expectation is there he will continue irrespective of his choice because he does not have a choice."
JDU MLA Shyam Rajak said: "The people of Bihar trust Nitishji and until he makes the Bihar the top state of the country the people will not let him go."