In Mahabodhi to pray, devotees become prey
A dozen Gaya teens, mostly beggars, mingled with devotees in monk robes to rob them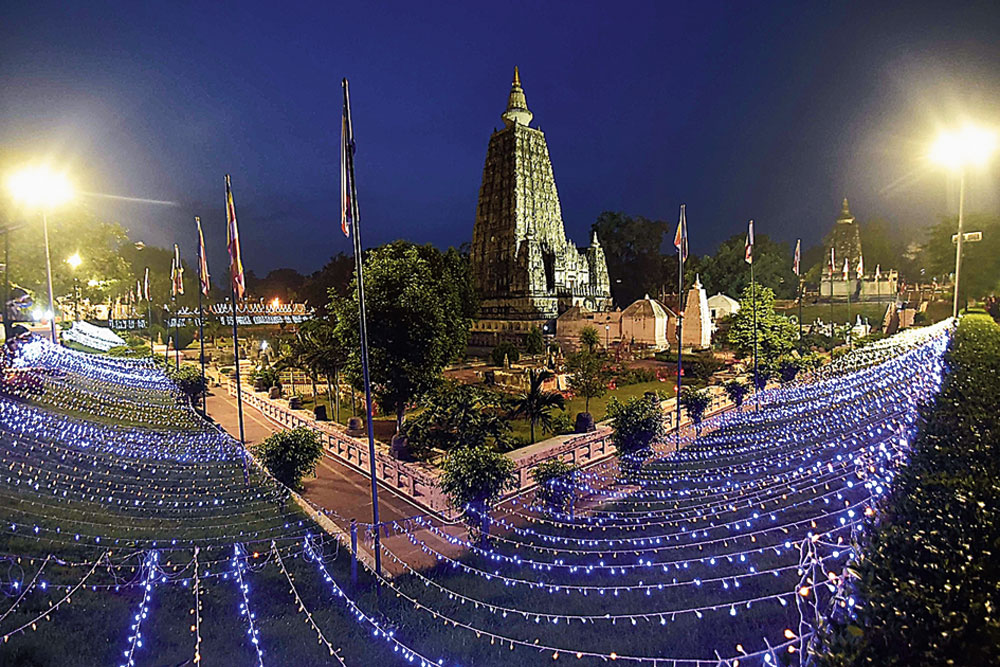 ---
|
Gaya
|
Published 26.11.18, 08:35 PM
---
Around a dozen teenagers, most of them beggars, managed to enter the Mahabodhi Mahavihara on Monday morning by donning monk robes.
The robed impersonators, besides duping gullible Buddha followers from abroad, are believed to have stolen wallets and other valuables of the visitors.
Several complaints of theft have been received from the shrine premises in recent days.
The intruders also sought money from visitors in the Buddha's name. Ven Manoj, a monk deputed on the shrine premises, caught the impersonators.
Gaya district magistrate Abhishekh Singh said a complaint has been registered with the police and action will be taken as per the provisions of CrPC 109. "CrPC 109 mandates seeking a personal bond from an offender," said Singh, who is also ex officio chairman of the Bodhgaya Temple Management Committee.
Confirming the incident, shrine management committee secretary N. Dorje said the teenagers needed counselling. Showing benevolence, the shrine committee did not forward the intruders to remand homes.
Dorje said steps were being taken to stop the entry of fake monks into the shrine.
"A database of all genuine monks is being made and such monks will be issued tamper-proof identity cards," said the secretary.
Dorje hoped that Bodhgaya-based monasteries, including foreign ones, would cooperate in the cleansing exercise to weed out fake monks. Such incidents, he said, give a bad name to the place revered across the world as the seat of the Buddha's enlightenment.
According to the reports, a sizeable number of children bunk schools in the tourist season and pick up the begging bowl to seek alms from tourists and other Buddha followers at many points in the holy city. A few years ago, a school run by the Sri Lankan monastery inside the Mahabodhi Society reported a significant decline in student attendance during the tourist season.
The fake monks are believed to enjoy the patronage of some regular monks and share the "alms" and other benefits with their patrons. During questioning, one of the fake monks told officials that he had regularly been entering the shrine and used to pay Rs 500 per month to his patron.
A few years ago, a regular monk was caught stealing an envelope containing cash offered by a devotee.