How the young make Chhath their own
Younger generation looking forward to the festivities of the 4-day festival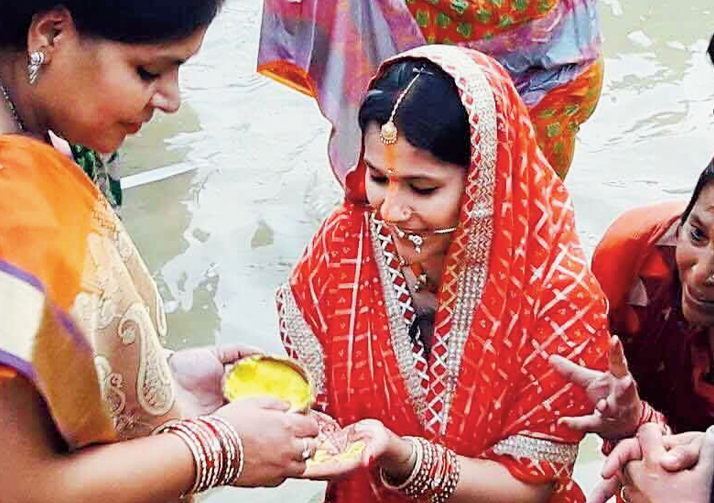 Sunchika Pandey at last year's Chhath celebrations.
(Telegraph picture)
---
Published 12.11.18, 12:06 PM
|
---
The four-day festival of Chhath is not just about the holy bath but is a gratifying dedication to the Sun God — the driving force behind Planet Earth — and like everyone else, the younger generation, too, looks forward to the festivities.
For Mumbai-based professional Sunchika Pandey, 35, Chhath is emotional and scientific. "For me it's more emotional than religious. I started doing Chhath because it brings my family together and this is what we have grown up with. It's a very happy time of the year," said Sunchika, a consultant for content writing with the Mumbai police.
She has been visiting Ranchi to observe Chhath with her mother the past three years. "In spite of a hectic schedule I prefer performing the rituals because this is also a cultural exercise for my seven-year-old daughter who is growing up in Mumbai. Interestingly, the concept of community living is something that schools in Mumbai stress upon while we have grown with it."
She said with time, observing the rituals has become easier too. Everything is available in the market and elders are more acceptable to professional commitments of the younger generation. Sunchika, for example, will fly to Delhi on November 12 (kharna) for a meeting and fly back to Ranchi the same day to continue her vrat (fast). "Initially, women weren't allowed to move out. But we have to juggle between one city and another because of professional commitments," she said.
For some, Chhath is a long-cherished dream. Monalisha Singh, a 28-year-old homemaker from Bistupur in Jamshedpur, grew up watching her mother performing Chhath in Patna and always wanted to be a vrati. This will be the second time she will perform the rituals. She got the chance after three years of marriage last year, because her mother-in-law couldn't do it anymore.
"I was waiting for the day I would take up this tradition. We have grown up with this festival and it is a part of our life," said Monalisha.
"This is considered to be the most difficult fasts of all and needs immense willpower. There is no scope of change except that I do not go to the river ghat because it's too filthy. Chhath is a festival of pure devotion and hygiene. We have started creating an artificial waterbody in our courtyard and offer arghya there," she said.
"We follow rest of the rituals strictly. Till now we don't buy readymade clay chulhas and we prefer to make them at home. Nothing has changed much for me and I prefer it this way," said Monalisha.