Gift of life from brain-dead youth
Patna police create green channel to rush organs to Delhi and Calcutta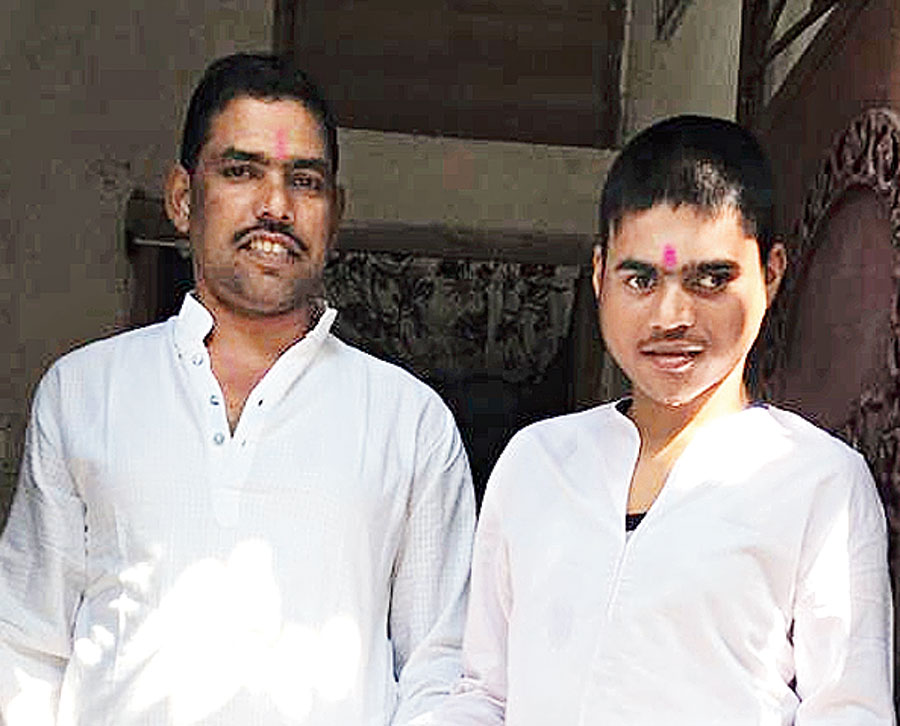 An earlier picture of Saurabh (right) with his father
File picture
---
Patna
|
Published 24.09.18, 08:23 PM
|
---
A liver and heart were harvested from a brain-dead patient at a government hospital on Monday and a green corridor created to safely transport those to the airport to be flown to hospitals in other cities for transplant surgeries the same day.
Doctors at Indira Gandhi Institute of Medical Sciences (IGIMS) pulled it off with assistance from Delhi-based Institute of Liver and Billiary Sciences (ILBS) and Calcutta-based Rabindranath Tagore International Institute of Cardiac Sciences. While the liver was to be used for a liver transplant at ILBS, the heart was for a transplant at the Calcutta hospital.
Surgery to harvest the organs from the brain-dead patient started around 9.30am. The heart was extracted first, around 3.30pm, and the liver around 4.30pm. Both organs were sent to the airport through a green corridor that the city police created within five minutes. "We must thank Patna senior superintendent of police (SSP) for arranging the green corridor in such a short time," IGIMS medical superintendent Dr Manish Mandal said. "One side of the stretch from the hospital to the airport, around 1.5km long, was freed of vehicles so that the harvested organs could be rushed to the airport." While a harvested liver can be kept for six hours, a heart can be kept for 24 hours. The patient was twice declared brain-dead on September 23, once in the morning and again in the evening.
"This is part of the process but the real challenge lay in ensuring the donor's organs were working properly and fit for use even after he was declared brain dead. We kept monitoring the patient since Sunday evening. Doctors had to ensure the donors' heart, lungs, kidney, liver and other organ function properly till extraction of the organs," Mandal said.
IGIMS doctors said they had found a recipient for the liver but on checking his parameters, he was not found apt. The IGIMS administration then took permission from Regional Organ and Tissue Transplant Organization (ROTTO) in Calcutta for harvesting the donor's organs and sending them to the two cities.
There is more to the IGIMS story. The donor's mother, Sarita Sinha, herself a kidney patient who is on dialysis, motivated her family to ensure her brain-dead son's organs are donated to save other lives before he breathed his last.
"The donor is 19-year-old mentally challenged Saurabh Pratik. The boy used to wait for his father every evening after which both had dinner. But on September 19, his father did not return till 7pm," Mandal said.
"On hearing a vehicle arrive, he went to the balcony to check, but accidentally fell off the third floor. He suffered head injuries and was admitted to a private hospital in Kankerbagh on September 21. Doctors said there was little scope of his recovery. When his mother realised this she contacted us and indicated she wanted Saurabh's organs donated. She is a housewife and her husband Shashibhushan Prasad a teacher at a government school in Nalanda."