Bihar CM has cabinet hopefuls on tenterhooks
Nitish says his comment on expansion after Dussehra could also mean any time up to 2019 Dussehra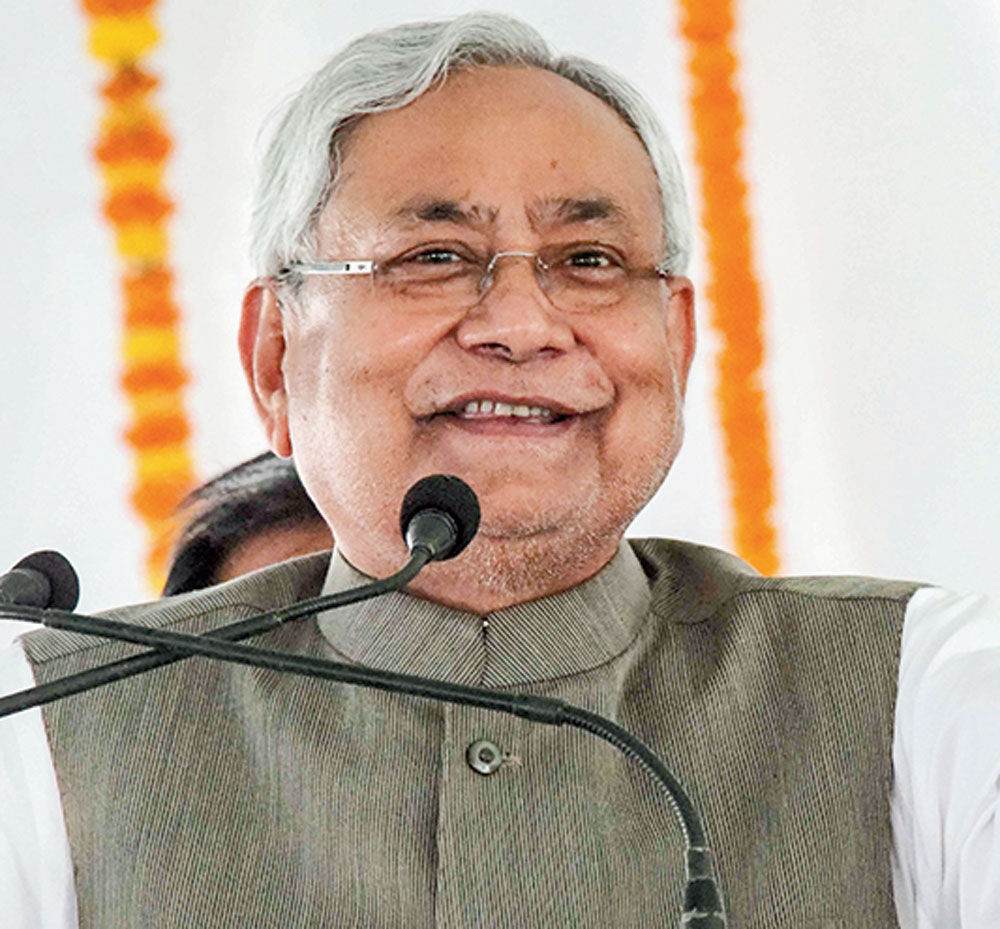 Nitish had inducted 29 ministers in his new cabinet when he formed a new government with the National Democratic Alliance (NDA) in July 2017
Telegraph file picture
---
Patna
|
Published 06.11.18, 06:05 PM
|
---
Chief minister Nitish Kumar on Tuesday dropped a cryptic one-liner that put a question mark over the much-awaited cabinet expansion.
At the state executive meeting of the Janata Dal United (JDU) in September this year, Nitish had said new ministers will be inducted after Dussehra, which sparked speculation. On Tuesday, at the 11th foundation day celebrations of the Bihar State Disaster Management Authority (BSDMA), the chief minister was bombarded with questions on the expansion.
"I had said that the cabinet will be expanded after Dussehra. This means it will happen before next year's Dussehra," Nitish quipped.
However, authoritative sources said the expansion could happen anytime after Chhath.
Nitish had inducted 29 ministers in his new cabinet when he formed a new government with the National Democratic Alliance (NDA) in July 2017. One of those ministers, Kumari Manju Verma, who held the social welfare portfolio, had to resign in August this year after her husband's name cropped up in the Muzaffarpur shelter home rapes case. So there are 28 state ministers, including Nitish and the deputy chief minister.
Article 164 (1A) of the Constitution limits the strength of a state cabinet, including the chief minister, to 15 per cent of the tnumber of members of the Assembly. Hence, Bihar can have 36 ministers including the CM — which leaves room for eight in the cabinet.
Both JDU and BJP leaders have been saying that induction of more ministers is the need of the hour given the development work going on in the state, and the trend of appointing minister in-charges for each of the 38 districts.
Sources said that Nitish's focus in the cabinet expansion would be on maintaining what he calls "social balance" (read caste equation). He could induct five ministers with a focus on the Dalits and in all probability one could be from the upper castes.
One would definitely be from the Kushwaha caste to which Manju belongs, the sources said. The rest could be from the Scheduled Castes, whom Nitish is trying hard to woo with welfare schemes especially in light of their purported anger and frustration with the BJP.
JDU general secretary Shyam Rajak and former education minister Ashok Choudhary — both Dalits — are top contenders, and MLC Neeraj Kumar is also among the probables, the sources said. Though poll strategist-turned-JDU vice-president Prashant Kishor has ruled himself out from the race, Nitish could yet draw him into the cabinet.
"Nitish could induct one person from the upper castes, in all probability a Bhumihar — a caste which is angry with the BJP," a senior JDU minister said. It will be a politically smart move; the caste had been at the forefront of the battle against Lalu Prasad."