Aryabhatta varsity sets dress code for convocation
Students and others to wear Malaviya pagadi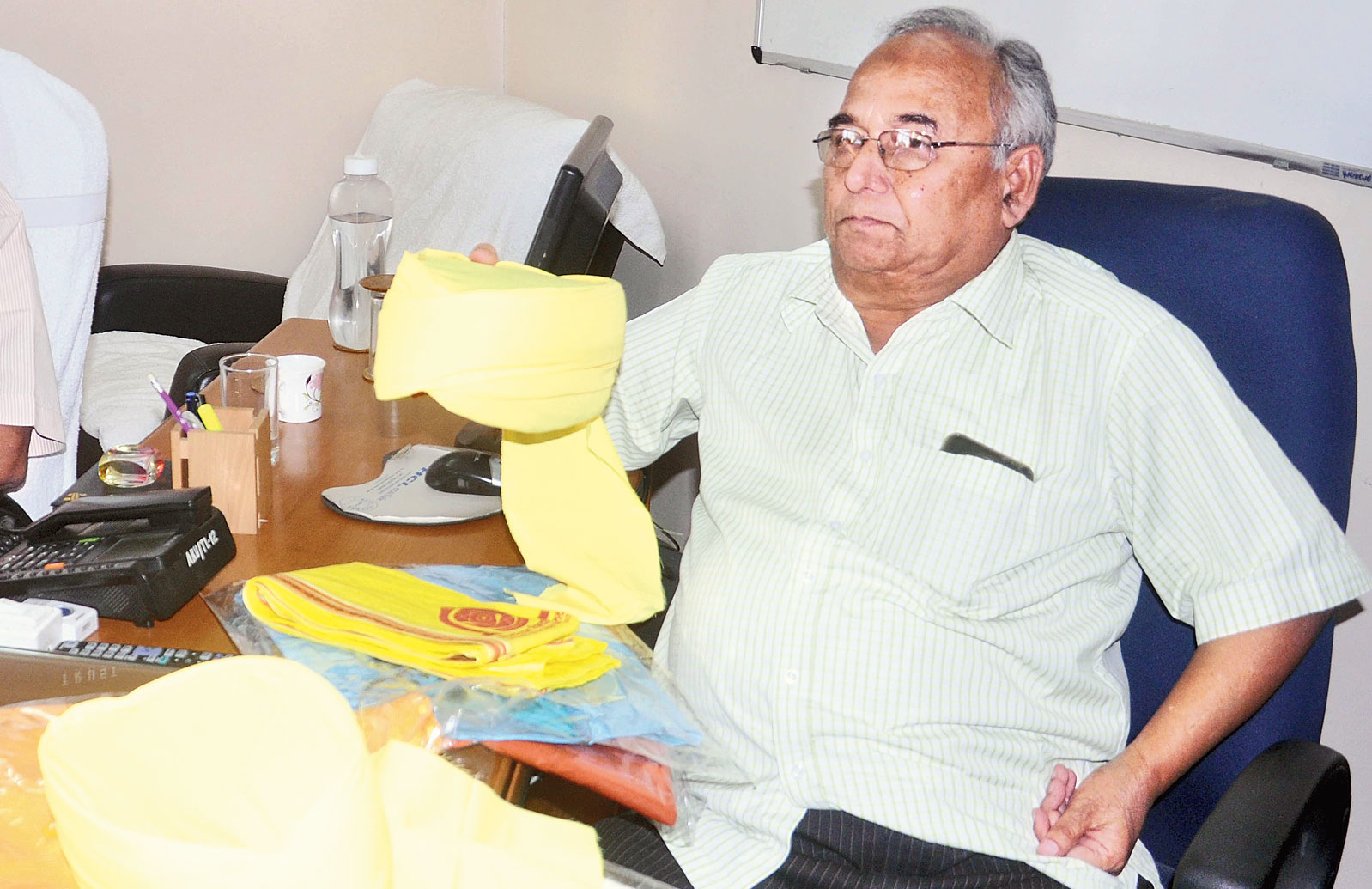 AKU pro-VC, SM Karim shows the Malaviya pagadi (turban) which the students and other guests will wear at the AKU convocation, on Wednesday.
Manoj Kumar
---
Patna
|
Published 26.09.18, 06:48 PM
|
---
Aryabhatta Knowledge University (AKU), which would organise its fifth convocation on September 28, will be the first state university to introduce convocation dress code for participants as approved by the Raj Bhavan.
Graduating students, chief guest, dignitaries attending the convocation will wear Malaviya pagadi (turban), popularised by late Madan Mohan Malaviya, educationist and founder of Banaras Hindu University (BHU), who was posthumously awarded the Bharat Ratna in 2014 by the Narendra Modi government.
University vice-chancellor Arun Kumar Agarwal said: "Three years back we introduced traditional attire for convocation replacing ceremonial caps, seen as a legacy of the colonial rule, but this year according to the chancellor's office directive, graduating students and other guests will wear Malaviya pagadi laced with Sujani artwork that originated in Bihar."
All the guests, including the chancellor, will wear angavastram, bearing the university's logo. However, for graduating students there is no jacket. Men graduates have to wear white kurta pyjama or white dhoti kurta. Women graduates have to wear salwar (white) and kurta (lemon yellow) or sari (lemon yellow).
Agarwal said: "Jacket laced with sujani artwork have been made from weavers of Gujarat, while the pagadi has been ordered from Varanasi. The kurta pyjama, dhoti and sari have been prepared by artists from Bihar."
To attend the convocation, students have to pay Rs 2,200, which include charges for the dress, however, unlike other convocations where graduating students had to return their convocation robe, students can keep them this time.
Governor Lal Ji Tandon last month approved the dress code for participants at the annual convocation of all state universities replacing the "colonial convocation robes" with "Indian attire".
AKU pro-vice-chancellor S.M. Karim said: "The convocation will be held on September 28 at Bapu Sabhaghar of Samrat Ashoka Convention Centre. Governor Lal Ji Tandon will be the chief guest. Other guests include education minister Krishna Nandan Prasad Verma, health minister Mangal Pandey and secretaries of education, health, science and technology departments."
This year a total of 5,103 students will be awarded degrees, which include 15 gold medallists. The highlight of this year's convocation is that out of 15 students getting gold medals, 10 are women. In the past one year, 81 engineering, medical, BEd, MEd and other examinations have been organised and 64 results have been published on time.
AKU established in 2010 has government and private medical, engineering and BEd colleges under its roof. At present, there are 104 colleges, which include eight government medical colleges, a dental college, 19 government engineering and 12 private engineering colleges among others.