Unsettling visions: Finding order in a pandemic
Mixed Media brings together six artists, each with his/her unique style and medium of expression — stitching, photography, design, recycling, painting with natural colours on textile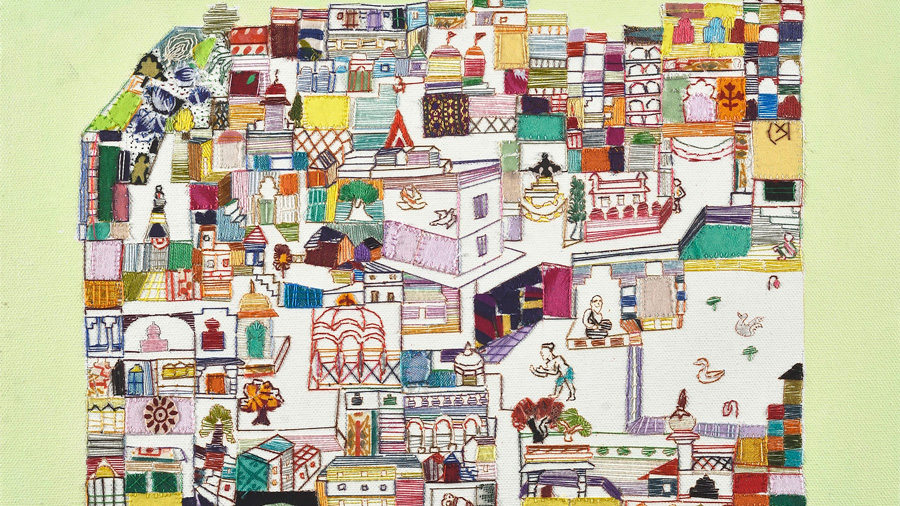 ---
---
A sense of foreboding hangs in the air both outside and inside CIMA Gallery, which is hosting Mixed Media (on view till September 6 both at the gallery and online), its first exhibition since the pandemic. If the world outside has changed irreversibly, inside the secure space of the gallery hangs art that has for long been reflecting the fallouts of the careless abandon with which we live, unconcerned about the consequences of our actions.
Mixed Media brings together six artists, each with his/her unique style and medium of expression — stitching, photography, design, recycling, painting with natural colours on textile. But each of these artists is searching for a sense of order that has been upended by the new normal. Shreyasi Chatterjee seems to find this order amidst the chaos of everyday life, with nature thriving in the background. While her works freeze a moment in time, they are also buzzing with activity — the dichotomy is best expressed in Boxes Little Boxes. This suggestive disjunction exists in her style too; although her stitches are intricate and precise — reminiscent of the brushwork of a miniaturist — they appear to be spread across the canvas with a quaint whimsy. Chatterjee shows that discernibly divergent forces can coexist harmoniously.
The fragility of nature is balanced perfectly with bold, dark, fluid calligraphic strokes à la Franz Kline on delicate handwoven silk sheets painted with muted natural pigments in Vishal Bhand's works. There is almost a zen-like tranquillity to this equilibrium, the delicate leaves, barks and unknown creatures soothing the viewer who has been left unsettled by the peek into darkness that Soham Gupta provides in his Angst Series (an entry from the Venice Biennale, 2019). A sense of vulnerability and loneliness is punctuated with moments of joy and spontaneity. While the photographic image may silence their agony, the Caravaggesque figures emerging out of the inky blackness of night in Gupta's photographs speak volumes about the vicissitudes of life on the streets. This clever juxtaposition of works — presentation is the key to the success of any exhibition — makes Mixed Media particularly disquieting. Just when the viewer is lulled into a sense of comfort, grim reality intrudes.
There is a kind of comfort in Ina Kaur's bricolage — she made her own paper, putting together bits from earlier works lying around in her studio — and the soothing shades of her mutating cellular spheres with their constantly shifting loops. On the one hand, the circles suggest a sense of continuity and interconnectedness of all memory. Yet, the shifting shapes within them show that even though people may be caught in the same situation, each person's predicament is singular.
Kingshuk Sarkar challenges reason with his unlikely alliances — sturdy bones are crocheted in fine thread on to softest tussar silk and mosquito nets. Tracings of bones, blood, entrails combined with the earthy shades of his canvases send a subliminal message of violence lurking under the surface in the natural world. Rashmi Bagchi Sarkar uses a similar palette of naturally made shades where the menace is neither apparent, nor immediate — it is violence that years of conditioning has made mundane. Women — compared to flightless, but stunning, birds like swans — are portrayed as many-armed goddesses, but they are not slaying demons; instead, they are torn between responsibilities and chores. The tea-stained canvases and the motif of hands evoke the tireless labour of millions across the world.