Want India-Pakistan to resolve their conflicts: Saudi Arabia
Saudi Arabian crown prince Mohammad bin Salman is travelling to India to discuss counter-terrorism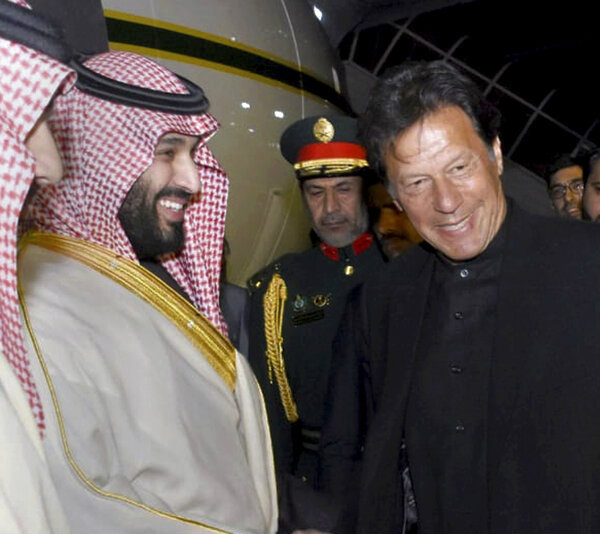 Pakistan Prime Minister Imran Khan welcomes Saudi Arabia's crown prince Mohammed bin Salman upon his arrival at the Nur Khan airbase in Rawalpindi, Pakistan, on Sunday.
AP
---
Islamabad
|
Published 18.02.19, 12:16 PM
|
---
Saudi Arabian crown prince Mohammad bin Salman talked about his kingdom's "brotherly relationship" with Pakistan, a day before he travels to India to discuss counter-terrorism.
Saudi minister of state for foreign affairs Adel bin Ahmed Al-Jubeir, addressing a joint press conference with Pakistan foreign minister Shah Mahmood Qureshi, said terrorism was a common enemy, and Pakistan, Saudi Arabia and the US were working jointly to eradicate it.
To a question about India-Pakistan relations, the Saudi minister said both countries were facing similar challenges, including the scourge of terrorism.
'We want both countries to resolve their conflicts and have peaceful relations,' he said.
The minister said Saudi Arabia was working with Pakistan for reconciliation between the Taliban and the Afghan government.
'Saudi Arabia wants peaceful solution of the Afghan crisis,' he said.
Talking about investment, he said Saudi Arabia was investing in Pakistan and not giving money in charity.
He said Saudi Arabia will invest $10 billion to set up an oil refinery in the port city of Gwadar which was part of resolve to strengthen ties on key areas security, trade and economy.
'We want to see Pakistan as an economically stable country,' he said.
Iran is harbouring terrorist groups and should be the last country to accuse others of terrorism, Saudi minister of state for foreign affairs Al-Jubeir said, adding that Iran was supporting terrorism and Saudi Arabia was its victim.
'Iran should be the last country to accuse others of terrorism,' he said in response to a query about Tehran accusing Islamabad of harbouring a jihadist group behind a deadly suicide attack in which 27 Iranian soldiers were killed on Wednesday. Earlier in the day, Pakistan conferred its highest civilian award, Nishan-e-Pakistan, on the Saudi crown prince for his 'outstanding support' in reinvigorating the ties between the two countries.
The award was presented by Pakistan President Arif Alvi at a special ceremony held at the President House in Islamabad.
Pakistan Prime Minister Imran Khan, members of prince Salman's delegation, diplomats, senior officers and Cabinet ministers attended the ceremony.
The crown prince arrived at the President House in traditional presidential chariot along with Imran. A special contingent of presidential security guards escorted the chariot.
President Alvi, foreign minister Shah Mehmood Qureshi and information minister Fawad Chaudhry received him on arrival.
'Saudi Arabia and Pakistan have been indispensable partners for a very long time. We have been together for centuries. Our friendship is bound in religion and culture,' Alvi said.
'Even though there is geographical distance between us, we are very close in our hearts. The recent visit of the Prime Minister and your visit have cemented the friendship between us,' he said.
The President also hosted a luncheon for the royal guest. A formal meeting was held between the President and the crown prince, along with their respective delegations.
The two sides expressed the desire to further promote and deepen the bilateral ties.
'I was honoured to meet the President of Pakistan. I thank you for honouring me with Pakistan's highest award,' the prince said in his address.
'The brotherly relationship between the kingdom and Pakistan focus on the principle of Islamic solidarity. It is a model to be emulated by other nations. Our (countries' relations) go back 67 years that witnessed continuous development that rendered itself beneficial for both countries.
'The founding fathers for both countries established these relations on the principles of truthfulness, common understanding and mutual respect that go back to the first days of the establishment of Pakistan, post-World War II,' he said.
Pakistan Prime Minister Imran Khan said the future of the bilateral cooperation was very exciting. 'The future is exciting for both Pakistan and Saudi Arabia after joining hands,' he said.
Prince Salman arrived in Pakistan on Sunday amid heightened security and arrangements in Islamabad and Rawalpindi.