US troops restore order inside Kabul airport
With the runways cleared of civilians, US Marines and other foreign soldiers stood guard as evacuation flights began taking off in the ghostly predawn hours from Hamid Karzai International Airport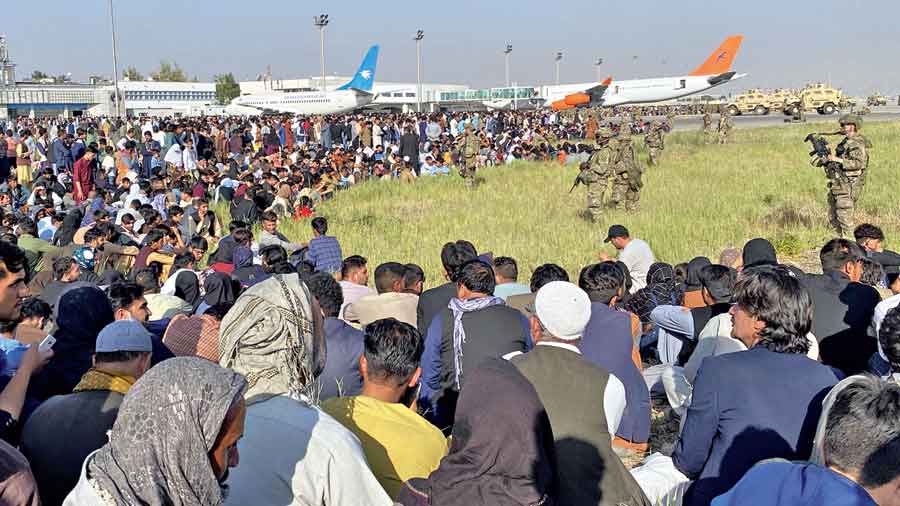 US soldiers (right) guard along a perimeter at the Hamid Karzai International Airport in Kabul on Monday.
AP/PTI
---
New York
|
Published 18.08.21, 01:13 AM
|
---
A day after Afghans swarmed Kabul's main international airport in the desperate hope of fleeing their country, military flights resumed evacuating foreign nationals on Tuesday morning as thousands more US troops arrived to oversee a frantic escape from the Taliban takeover of Afghanistan.
With the runways cleared of civilians, US Marines and other foreign soldiers stood guard as evacuation flights began taking off in the ghostly pre-dawn hours from Hamid Karzai International Airport, the last exit point from a country over which the Taliban now hold near-total control.
Yet as the American military seized air traffic control to prioritise military flights evacuating western citizens — and a limited number of Afghans who work for foreign missions — most Afghan civilians were left with little immediate hope of escaping the return of an Islamist militant group that once ruled Afghanistan with terror and brutality.
The US embassy said that it was helping American citizens leave Afghanistan, but urged people to stay away from the airport.
 "Please do NOT come to the airport until you are notified by the Embassy," it said on Twitter.
Taliban fighters had swept into Kabul, the capital, on Sunday, capping a stunning march across Afghanistan in the closing moments of the US's 20-year military mission in the country. Thousands of Afghans flocked to Kabul's airport, and on Monday they rushed the boarding gates, mobbed the runways, clambered atop the wings of jets and even tried to cling to the fuselage of departing US military planes.
At least half a dozen Afghans were killed in the chaos, some falling from the skies as they lost their grasp, and at least two shot by American soldiers trying to contain the surging crowds.
The contingent of 2,500 US Marines guarding the airport halted flights for several hours on Monday. Another 3,000 Marines were expected to be there to aid in the evacuation effort.
New York Times News Service