US releases report on climate threat to security
Global tensions will rise as countries argue about how to accelerate reductions in greenhouse gas emissions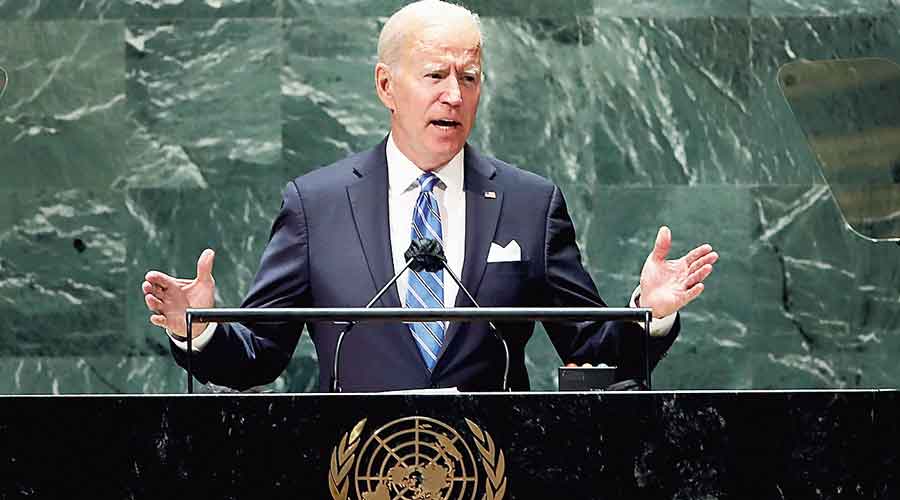 ---
Washington
|
Published 22.10.21, 01:44 AM
|
---
Worsening conflict within and between nations. Increased dislocation and migration as people flee climate-fuelled instability. Heightened military tension and uncertainty.
The Biden administration released several reports on Thursday on climate change and national security, laying out in stark terms the ways in which the warming world is beginning to pose significant challenges to stability worldwide.
The documents, issued by the departments of homeland security and defence as well as the National Security Council and director of national intelligence, form the government's most thorough assessment yet of these and other challenges, as well as how it will it will address them.
The timing of the release seems intended to give President Biden something to demonstrate that his government is acting on climate change as he prepares to attend a major UN climate conference in Glasgow known as COP26.
In recent weeks Biden has struggled to advance his stalled climate agenda in Congress. As a result, he risks having little progress to point to in Glasgow, where the administration had hoped to re-establish US leadership on addressing warming.
The reports "reinforce the President's commitment to evidence-based decisions guided by the best available science and data," the White House said on Thursday.
Among the documents released was a National Intelligence Estimate, which is meant to collect and distill the views of the country's intelligence agencies about particular threats.
The report, the first such document to look exclusively at the issue of climate, said that risks to American national security will grow in the years to come. After 2030, key countries will face growing risks of instability and need for humanitarian assistance, the report said.
The document makes three key judgments. Global tensions will rise as countries argue about how to accelerate reductions in greenhouse gas emissions; climate change will exacerbate cross-border flash points and amplify strategic competition in the Arctic; and the effects of climate change will be felt most acutely in developing countries that are least equipped to adapt.
The document also states that China and India, with large populations, will play key roles in determining how quickly global temperatures rise.
When it comes to the odds of countries around the world meeting the commitment made at the 2015 climate conference in Paris to keep the rise in global temperatures to less than 2 degrees Celsius, the intelligence report said the odds were not good.