US on Russia foreign minister's lips as Vladimir Putin meets PM Modi
Sergey Lavrov publicly acknowledges the fact that India had stood up to the United States' efforts to undermine the S-400 deal despite the threat of sanctions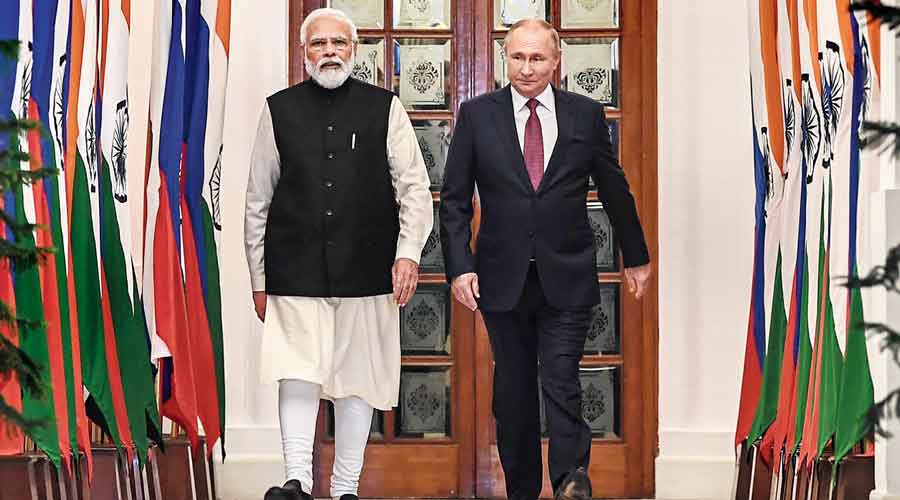 ---
New Delhi
|
Published 07.12.21, 01:53 AM
|
---
Visiting foreign minister of Russia Sergey Lavrov on Monday openly criticised the US-led moves in the Asia-Pacific, of which India is also a part, ahead of Russian President Vladimir Putin's meeting with Prime Minister Narendra Modi.
At the same time, Lavrov publicly acknowledged the fact that India had stood up to US efforts to undermine the S-400 deal with Russia despite the threat of sanctions.
Talking to reporters about the first 2+2 dialogue with India, Lavrov said: "We focussed on developments in Asia-Pacific where over past years elements of instability have been accumulating, which could undermine the universal framework of cooperation. We expressed our concern about the activities taking place in this region under the slogan of Indo-Pacific strategies where we see non-inclusive blocks — the latest example is AUKUS, a military-technical alliance between Australia, the UK and the US.''
Specifically, he said, there are a number of questions on the plans to supply to Australia or make in Australia nuclear-powered submarines. "There is a question whether these plans comply with the IAEA (International Atomic Energy Agency) norms and non-proliferation rules.
"From a regional perspective, to what extent will Australia stick to its obligation on the nuke weapons free zones in the Southern Pacific."
Responding to a question on how India responded to Russia's concerns about these new formats evolving in the Asia-Pacific, Lavrov said: "India distanced themselves from AUKUS. They are part of Quad. India focuses on economic, infrastructure and transport projects within this framework."
Asked about Lavrov's remarks on the Indo-Pacific strategy at a briefing on Putin's meeting with Modi for the 21st India-Russia Annual Summit and the 2+2 dialogue, foreign secretary Harsh V. Shringla said: "Discussions at 2+2 were quite extensive… We discussed the Indo-Pacific and India's security concerns. As far as the Indo-Pacific is concerned, there was a sense that we are cooperating quite extensively already with Russia on areas that involve the  Vladivostok-Chennai maritime corridor…, we have also discussed with
Russia on extending cooperation in the Indian Ocean Region."
He confirmed that India's situation with China in eastern Ladakh was discussed during the meeting. but did not divulge any details.
On the S-400 deal, Lavrov said: "We witnessed attempts on the part of the US to undermine this cooperation and to make India obey the American orders, to follow the American vision of how this region should be developed. Our Indian friends clearly and firmly explained that they are a sovereign country and they will decide on whose weapons to buy and who is going to be partner of India… in this and other areas."
Shringla asserted that "we conduct an independent foreign policy". pointing out that the S400 deal is a legacy contract, which was in the works even before the US enacted CAATSA (Countering America's Adversaries Through Sanctions Act).
To a specific question on whether CAATSA was discussed, he said no.
In all, 28 agreements/MoUs were signed during the annual summit spanning a wide spectrum of areas of cooperation; both government-to-government and business-to-business. The MoUs cover trade, energy, culture, IPR, accountancy, cyber attacks in banking sector, manpower, geologic exploration and education besides a programme of cooperation in defence for 10 years.