US blocks Egypt aid
The financial aid was temporarily frozen as the state department demanded that the country do more to protect rights of critics, women and members of civil society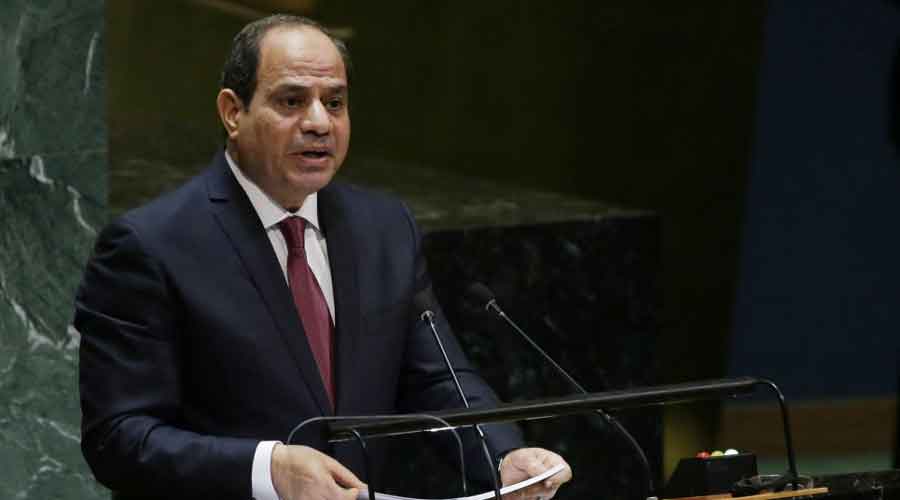 Egyptian President Abdel Fattah al-Sisi.
Twitter
---
Published 30.01.22, 01:49 AM
|
---
Citing human rights concerns, the US will not give Egypt $130 million in annual security assistance, officials said on Friday, even as the Biden administration continues to approve billions of dollars in military sales to the West Asian ally.
The financial aid was temporarily frozen in the fall as the state department demanded that Egypt do more to protect the rights of political critics, journalists, women and members of civil society. It was the first time that a secretary of state did not issue a formal national security waiver to provide the aid, and was aimed at pressuring officials in Cairo to release political prisoners and stop persecuting critics.
Since then, Egypt has failed to convince the Biden administration that steps the country has taken were enough to protect human rights — and, in turn, preserve the funding.
"It sends the important message abroad that we will back up our commitment to human rights with action, and gone are the days where dictators receive blank checks from America," Senator Christopher S. Murphy, Democrat of Connecticut, said in a statement on Friday.
Secretary of state Antony J. Blinken spoke by phone with foreign minister Sameh Shoukry of Egypt on Thursday, but the state department had not made a final decision on whether to withhold the assistance as of Friday afternoon, said Jalina Porter, a department spokeswoman.
But other department officials, who spoke to reporters on condition that they not be named in keeping with department protocols, said Blinken was expected to divert the funding to other national security priorities — and away from Egypt.
The Egyptian government has not officially responded. President Donald J. Trump also froze military aid to Egypt in 2017, but released it the following year. Murphy said the Biden administration had outlined a "list of narrow and wholly achievable human rights conditions" for Egypt to meet to receive the financial assistance before a January 31 deadline.
New York Times News Service