Television footage released of Meghan in a sari
Duchess is the first royal to be photographed wearing the Indian garment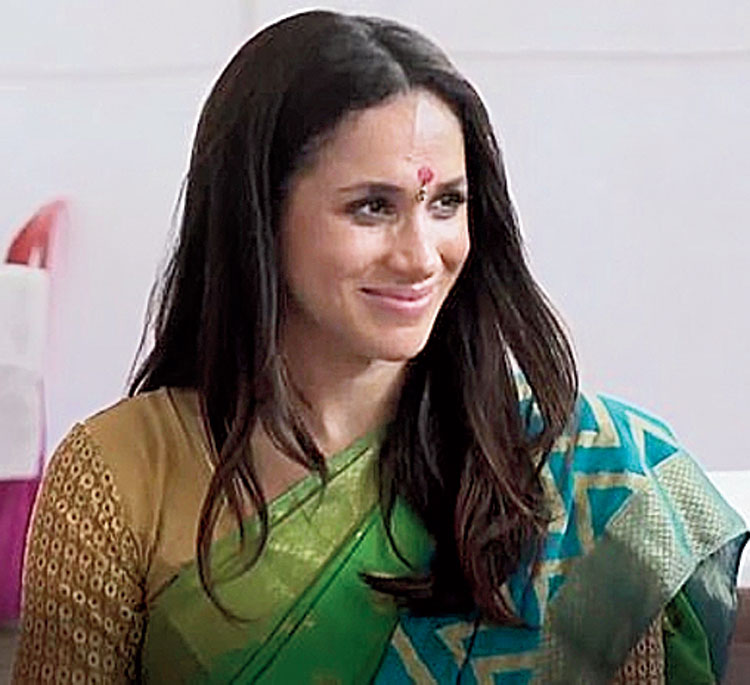 ---
|
London
|
Published 19.04.19, 07:40 PM
---
Never before seen footage of Meghan Markle in a sari from her trip to India in January 2017 has been shown on ITV in the UK with images widely published in British newspapers.
This is significant because in her new incarnation as the Duchess of Sussex, following her marriage to Prince Harry last year, Meghan has become a fashion icon and many items of clothing that she wears tend to sell out within hours.
"The Duchess looked stunning in a bright green and blue sari as she sat and talked with local women," the Daily Mail gushed. Senior members of the royal family, including the Queen, Kate, Duchess of Cambridge, and Camilla, Duchess of Cornwall, have never been photographed wearing a sari.
The late Diana, Princess of Wales, experimented with a salwar kameez on a visit to Pakistan.
The question now is whether Meghan's example will encourage British women to try out a sari. Many senior politicians, among them the Prime Minister Theresa May, routinely wear saris when attending Indian functions.
If Meghan were to wear a sari now as the Duchess of Sussex, it would almost certainly set a fashion trend. In early 2017, when she was an actress in an American soap, news was just coming out of her romance with Harry.
She visited Delhi and Mumbai as ambassador for a charity, World Vision, and allied herself to causes such as the need to provide young girls with proper hygiene facilities so that they would not be forced to drop out of school.
The footage shows a smiling Meghan being greeted at a school with rose petals, having a bindi put on her forehead, chatting to local charity workers, planting a flower and making a statement to camera: "What we found is that the enrolment at this school went up three times once the latrines were built so that girls had access to clean hygiene and bathroom facilities while they're at school."
She added that some girls were forced to drop out of school because they did not have "bathrooms available to care for themselves".
When she got engaged, Buckingham Palace made her give up all her previous charities as part of the process of "knocking her into shape" but Meghan diplomatically got round the ban by inviting several members of the one of the charities she interacted with — the Myna Mahila Foundation in Mumbai — to her wedding. It was also one of seven charities Harry and Meghan nominated for donations in place of sending them wedding gifts.
ITV said that the charity that "the Duchess of Sussex worked with before she got married to Prince Harry has released new video of Meghan in India".
This would suggest that the footage of her in a sari has not been leaked to make money but probably done at her suggestion to emphasise her feminist credentials.
As the months have gone by, Meghan has started doing things more and more her own way. If reports are correct, she has chosen a lady doctor to deliver her first baby which is expected either at the end of April or early May.
The services of the Queen's gynaecologists, who are in usually charge of royal births, have been dispensed with.
They will have only a look on role in case of an emergency.
Meghan also appears to have opted for a home birth at Frogmore House in Windsor, which Harry and Meghan have made their new home, having shifted from Kensington Palace, which remains the residence of William and Kate and their three children.
The Sussexes, anxious to establish a separate identity, now have their own Instagram account.