Syria army deploys in Kurd militia-held areas
Ex-US allies invite troops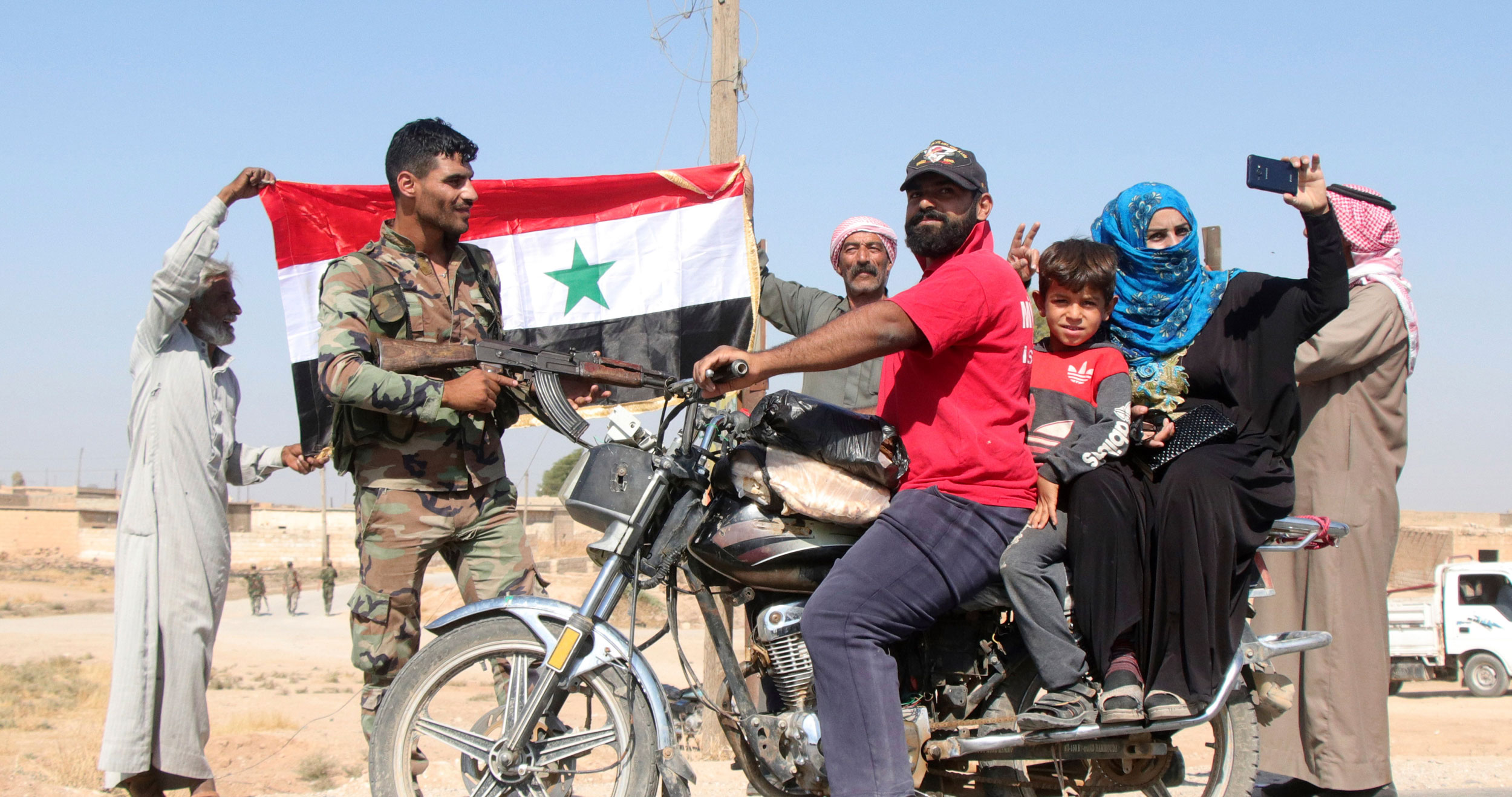 People wave the national flag in Tal Tamer, northeastern Hasakeh province, on Monday.
(AP)
---
Beirut
|
Published 14.10.19, 11:30 PM
|
---
Russia-backed Syrian forces wasted no time in taking advantage of an abrupt US retreat from Syria on Monday, deploying deep inside Kurdish-held territory south of the Turkish frontier less than 24 hours after Washington announced a full withdrawal.
Washington's Kurdish former allies said they invited in the government troops as an emergency step to help fend off an assault by Turkey, launched last week after President Donald Trump moved his troops aside in what the Kurds call a betrayal.
Washington's decision to abandon a policy it had pursued for five years gives Turkish President Tayyip Erdogan and Russia's Vladimir Putin free hands to shape the battlefield of the world's deadliest ongoing war.
In particular, the Syrian army deployment is a victory for President Bashar al-Assad and his most powerful ally Russia, giving them a foothold in the biggest remaining swathe of the country that had been beyond their grasp.
They will now face Turkish armed forces along a new front line hundreds of miles long.
Syrian state media reported that troops had already entered Tel Tamer, a town on the strategically important M4 highway that runs east-west around 30km south of the frontier with Turkey.
State television later showed residents welcoming Syrian forces into the town of Ain Issa, which lies on another part of the highway, hundreds of miles away.
Ain Issa commands the northern approaches to Raqqa, former capital of the Islamic State "caliphate", which Kurdish fighters recaptured from the militants two years ago in one of the biggest victories of a US-led campaign.
Much of the M4 skirts the southern fringe of territory where Turkey aims to set up a "safe zone" inside Syria. Turkey said it had seized part of the highway. An official of the Kurdish-led Syrian Democratic Forces (SDF) said clashes were ongoing.
Ankara says it aims to defeat the Kurdish YPG militia which it views as a terrorist group because of its links to Kurdish separatists in Turkey. A "safe zone" would be set up in Syria to resettle refugees, 3.6 million of whom are in Turkey.
"We are determined to continue the operation until the end, without paying attention to threats," Erdogan said in a speech during a visit to Azerbaijan. "Our battle will continue until ultimate victory is achieved."
The US exit leaves Turkey and Russia, as well as Iran, Assad's main West Asia ally, as Syria's undisputed foreign power brokers.
Ankara and Moscow both predicted they would avoid conflict in Syria, even as the front line between them will now spread across the breadth of the country.
"There are many rumours at the moment. However, especially through the embassy and with the positive approach of Russia in Kobani, it appears there won't be any issues," Erdogan said when asked about the prospect of confrontation with Russia.
Kobani, on the Turkish border, is one of the first Kurdish-held cities where reports emerged of possible Syrian government deployment.
Kremlin spokesman Dmitry Peskov dismissed the suggestion that Russia could clash with Turkish forces.
The fighting has raised western concerns that the Kurds would be unable to keep thousands of IS fighters in jail and tens of thousands of their family members in camps.
The region's Kurdish-led administration said 785 Islamic State-affiliated foreigners escaped a camp at Ain Issa over the weekend.