Ukraine crisis: Russian strike takes war close to Nato doorstep
Russia carried out aerial assault against the base 19km from the frontier with Poland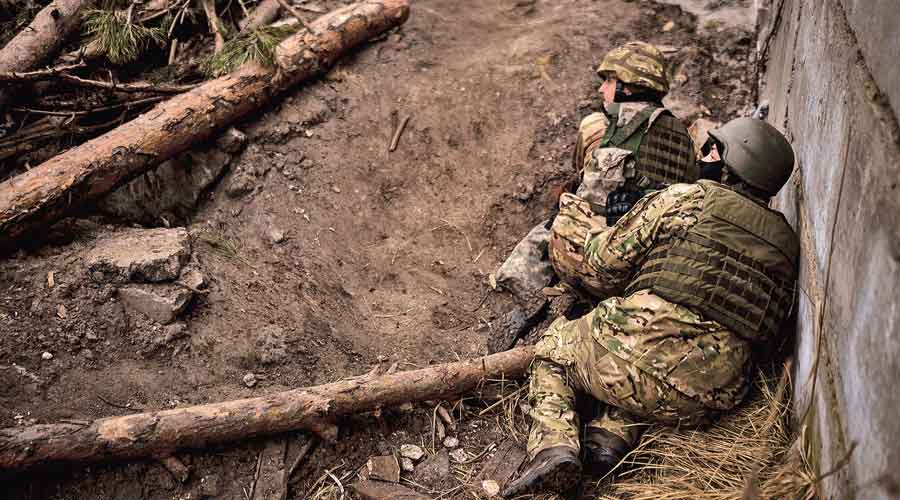 Ukrainian soldiers take cover from incoming artillery fire in Irpin on the outskirts of Kyiv on Sunday.
AP/PTI
---
Novoyavorivsk, Ukraine
|
Published 14.03.22, 02:18 AM
|
---
Russia took direct aim on Sunday at a hub for western arms shipments and fighters in Ukraine, launching a barrage of airstrikes at a military base near the Polish border that killed at least 35 people and brought the war perilously closer to Nato's doorstep.
A day after warning that weapons flowing into Ukraine from western allies were "legitimate targets", Russia carried out the aerial assault against the base 19km from the frontier with Poland, where American troops are deployed to bolster Nato's defences.
Russia's defence ministry said the air strike had destroyed a large amount of weapons supplied by foreign nations that were being stored at the sprawling training facility, and that it had killed "up to 180 foreign mercenaries".
Ukrainian officials said that Russian warplanes fired about 30 missiles, 22 of which were intercepted by Ukraine's air defences.
Besides being a transit point for arms for Ukraine, the base, known as the International Peacekeeping and Security Centre, was a training ground for up to 1,000 foreign fighters as part of the new International Legion that Ukraine has formed to help fight Russia.
US President Joe Biden's national security adviser, Jake Sullivan, described the strike as a sign that Russian forces were expanding their targets in Ukraine because they were "frustrated by their lack of ability to take some of the major cities".
Talks hope
Despite the violence, both sides said they thought progress could be made at bilateral talks, although they gave no details of what might be agreed.