Sunak unveils $30bn boost to fight crisis
He pledged that the National Health Service would have however many "millions or billions" it required to tackle the illness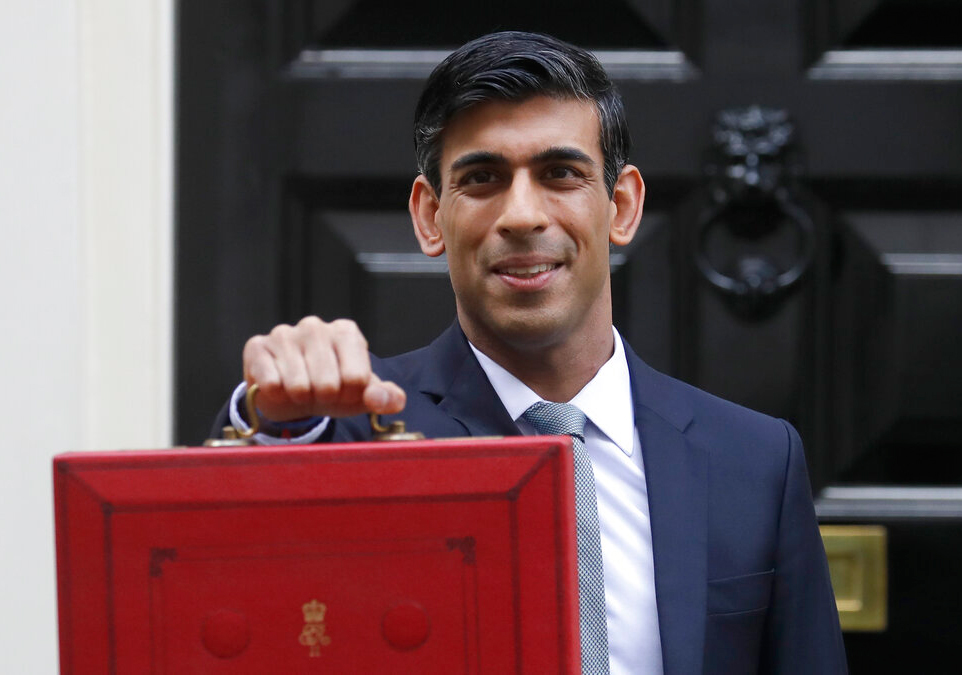 Britain's chancellor of the exchequer Rishi Sunak holds the budget box outside 11 Downing Street on Wednesday.
(AP)
---
London
|
Published 11.03.20, 08:24 PM
|
---
After less than a month in office, the new British chancellor of the exchequer, Rishi Sunak, gave a very assured and confident performance in presenting his first budget on Wednesday when he unveiled a staggering £30 billion stimulus to the economy to counter the effect of the coronavirus crisis.
He pledged that the National Health Service would have however many "millions or billions" it required to tackle the illness.
"Whatever it takes, whatever it costs, we stand behind our NHS," he said, to loud cheers from Tory MPs.
It was an occasion when Rishi appeared to stamp his authority on the Commons.
The Financial Times noted that this would be the "biggest rise in borrowing for 30 years and end to austerity", adding that the chancellor's statement "marked the end of a decade of austerity, with significant increases in capital and day-to-day spending, financed primarily by extra borrowing".
But first, as Rishi left his official residence at 11 Downing Street, he posed, for a historic photograph with the chancellor's red leather case that contained his hour-long budget speech. He was accompanied by his treasury team.
Commenting on the fact that the 39-year-old chancellor is married to Infosys founder N.R. Narayana Murthy's daughter, Akshata, a Financial Times reader joined the debate about the merits of budget: "Marrying a billionaire's daughter makes you rich. It doesn't make you smart, articulate, driven, entrepreneurial, or charming. He seems to be most of those things as well."
A more sarcastic dig in the Left-wing Guardian suggested Rishi was auditioning to be party leader one day – which perhaps, subconsciously, he was.
Most creditably, he spoke in language that ordinary people up and down the country will be able to understand.
The Tory peer, Jitesh Gadhia, appeared to reflect the mood in the party as he told The Telegraph: "He was brilliant. Rishi passed this first big test with flying colours but being chancellor also means being prepared to take tough decisions — and he will face many of those in the coming months and years ahead."
Gadhia, who, like Rishi, has been an investment banker, explained: "The new chancellor more than rose to the occasion with a comprehensive package of measures to provide near term economic security for households and businesses but also laying the foundations for future prosperity."