Revealed: House's impeachment plan
Chuck Schumer proposed a trial beginning on January 7 that would give each side a fixed amount of time to present its case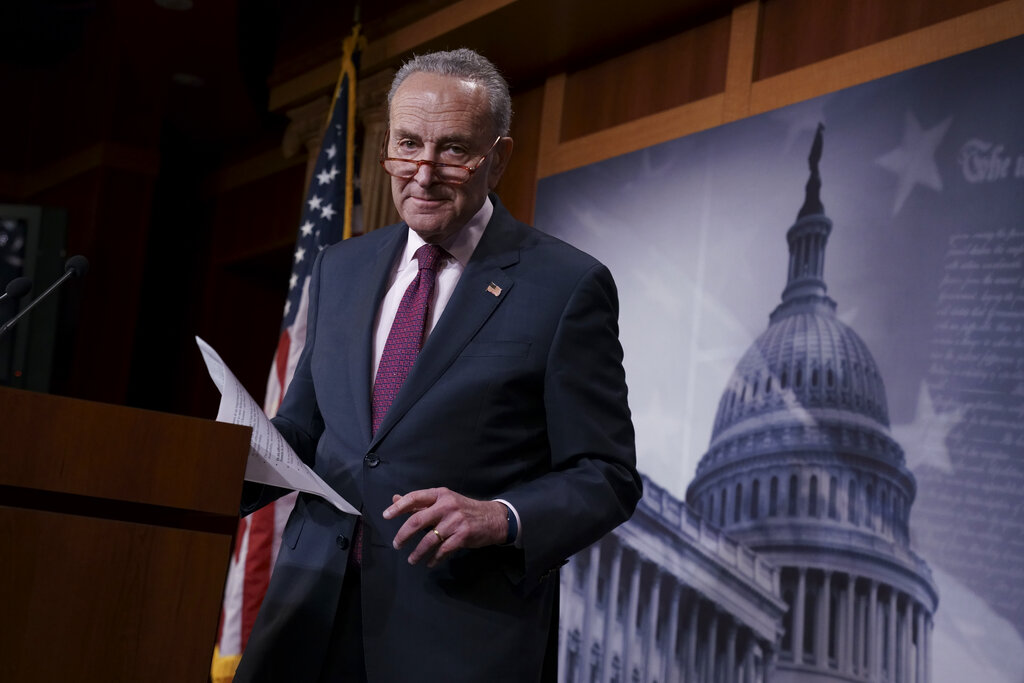 Senator Chuck Schumer, the Democratic leader
AP
---
Washington
|
Published 16.12.19, 07:56 PM
|
---
As the House prepared to make President Trump only the third President in American history to be impeached, the Senate's top Democrat on Sunday laid out a detailed proposal for a Senate trial "in which all of the facts can be considered fully and fairly" — including subpoenas for documents the White House has withheld and witnesses it has prevented from testifying.
Senator Chuck Schumer, the Democratic leader, presented the proposal in a letter to his Republican counterpart, Senator Mitch McConnell, in an opening move to force Republicans to negotiate over the shape and scope of the proceedings.
McConnell had said last week that he was "taking my cues" from the White House, prompting Democrats to accuse him of abandoning his duty to render "impartial justice" in the trial.
In the letter, Schumer proposed a trial beginning on January 7 that would give each side a fixed amount of time to present its case, and called for four top White House officials who have not previously testified — including Mick Mulvaney, Trump's acting chief of staff, and John R. Bolton, the president's former national security adviser — to appear as witnesses.
Schumer also called for the Senate to subpoena documents that could shed light on the events at the heart of the charges against Trump: his campaign to enlist Ukraine to investigate his political rivals.
And he set forth a specific timetable for each side to present its case, modelled on the one used when President Bill Clinton was tried in 1999. Clinton's trial lasted about five weeks.
"Senate Democrats believe strongly, and I trust Senate Republicans agree, that this trial must be one that is fair, that considers all of the relevant facts, and that exercises the Senate's 'sole power of impeachment' under the Constitution with integrity and dignity," Schumer wrote.
"The trial must be one that not only hears all of the evidence and adjudicates the case fairly; it must also pass the fairness test with the American people," the letter went on. "That is the great challenge for the Senate in the coming weeks."
McConnell, of Kentucky, has voiced support for a short trial, even though Trump has privately pushed for a longer process that would allow him and his allies to mount an aggressive defence against what he has repeatedly called "a hoax" being perpetrated on the American people.
McConnell met on Thursday with Pat A. Cipollone, the White House counsel, to lay the groundwork for the proceedings.