Qamar Javed Bajwa wanted me dead: Imran Khan
Imran has blamed Prime Minister Shehbaz Sharif, interior minister Rana Sanaullah, and Major General Faisal Naseer of the ISI for hatching a plot to assassinate him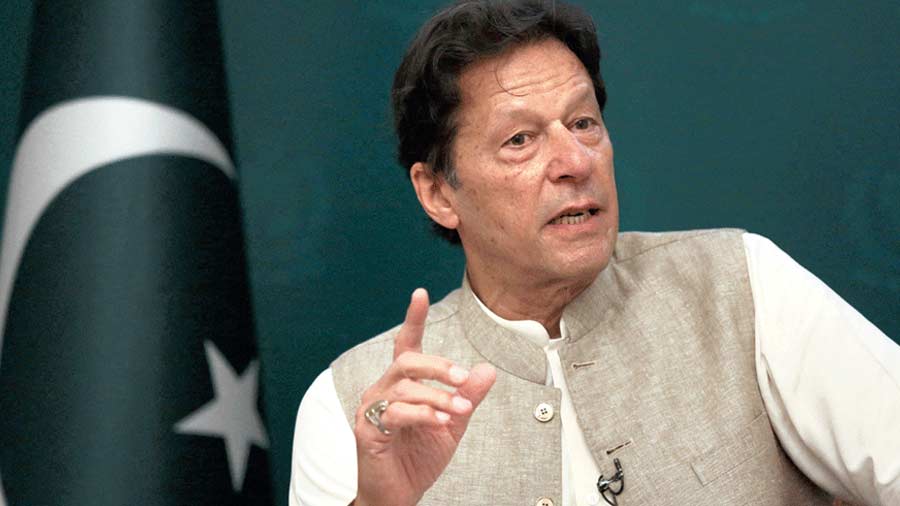 ---
London
|
Published 08.01.23, 12:29 AM
|
---
Imran Khan has accused Pakistan's former army chief of plotting his murder before declaring a state of emergency. Khan, Pakistan's deposed Prime Minister, made the startling allegations in an asyet unaired interview with Pakistan's Bol News.
In it, he claims that General Qamar Javed Bajwa, who stepped down as head of Pakistan's all-powerful military in November, "wanted him dead".
After previewing its interview, the channel then appeared to remove social media posts and online stories publicising it, leading to speculation it may have been pressured into pulling the story.
However, Khan appeared to double down on his claim and accused Pakistan's military of aiding an assassination attempt on him in November, in which he was shot four times in the legs while at a rally in the city of Wazirabad.
"I cannot believe that those tasked to protect Pakistan's borders are involved in giving a 'cover-up' to the assassination attempt on my life," Mr Khan told a news conference this week.
The gunman had claimed to be an Islamist and said he had acted alone but Khan's team disputed this.
Khan has blamed Prime Minister Shehbaz Sharif, interior minister Rana Sanaullah, and Major General Faisal Naseer of the ISI for hatching a plot to assassinate him. He suffered bullet injuries in the right leg on November 3 when two gunmen fired a volley of bullets at him and others standing on a container-mounted truck in the Wazirabad area, some 150-km from Lahore, where he was leading the long march to press for snap polls.
"Prime Minister Shehbaz Sharif and interior minister Rana Sanaullah could not have made my assassination plan on their own had they not got the support of the powerful circles (military establishment)," Khan said, adding that even the police and intelligence officers who come under the Punjab government of PTI received orders from somewhere else (establishment) to protect the arrested shooter and twist facts.
Khan, the chairman of the Pakistan Tehreek-e-Insaf party, said that "two to three people" were behind the plot to assassinate him.
"I know that the country's armed forces are giving sacrifices for the country […] but there are black sheep in every institution."
The Daily Telegraph and Reuters