President Volodymyr Zelensky of Ukraine heads to Washington
Visit first for Ukrainian President since war began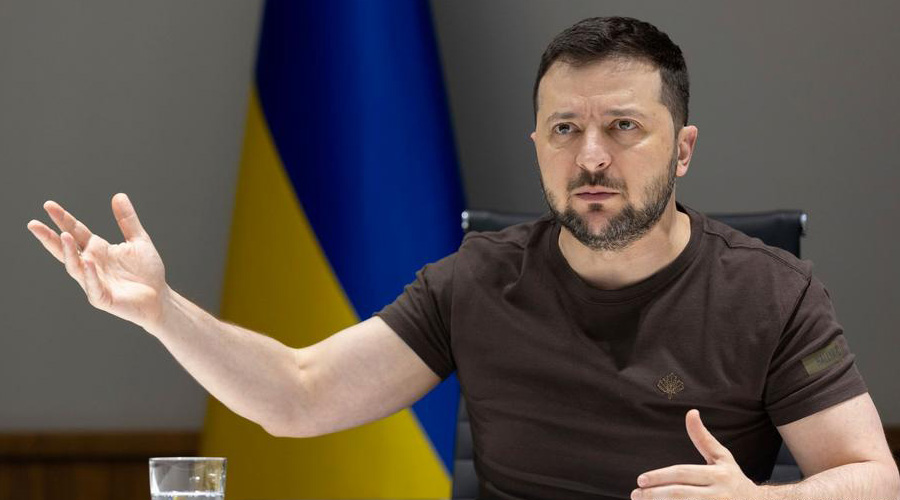 Ukrainian President Volodymyr Zelensky
---
Washington
|
Published 22.12.22, 01:40 AM
|
---
President Volodymyr Zelensky of Ukraine will meet President Biden at the White House on Wednesday and later deliver a prime-time address to a joint session of Congress, a daring trip abroad intended to reaffirm American support for his country, White House officials announced late on Tuesday night.
"Three hundred days ago, Russia launched a brutal assault against Ukraine," Karine Jean-Pierre, the White House press secretary, said in a statement confirming Zelensky's trip to Washington.
"The visit will underscore the United States' steadfast commitment to supporting Ukraine for as long as it takes, including through the provision of economic, humanitarian and military assistance."
Senior administration officials, who spoke on the condition of anonymity because of concerns about Zelensky's safety, said the risks involved in such a visit — with the wartime leader leaving his country for the first time since Russia invaded Ukraine in February — were high, and that planning for his arrival had been conducted under intense secrecy.
Zelensky will arrive in the US almost 10 months after President Vladimir V. Putin ordered Russian troops into Ukraine and as Congress considers approving nearly $50 billion in aid to help Ukraine's forces battle Russia next year. That would bring the total amount of American aid to more than $100 billion.
"He's a national and global hero — I'm delighted to be able to hear from him," Senator Mitt Romney, Republican of Utah, said Tuesday after hearing of Zelensky's visit.
The Ukrainian President's trip comes as Russia's assault heads into a second, brutal year.
Russia's hopes for a quick defeat of Ukraine failed, but have given way to a series of grinding and devastating attacks on civilians that have left major cities without heat or electricity in the bitter cold of Ukraine's winter.
During his meeting with Biden at the White House, Zelensky is set to accept the latest American pledge of military assistance: a highly sophisticated Patriot missile battery that senior administration officials said would provide Ukraine with far better defences against air attacks from Russian missiles and drones.
The missile battery will be part of a nearly $2 billion package of security assistance that will also include other support for Ukraine's air defences.
White House officials said the announcement of the new security package by the American President — with Zelensky by his side — was meant to send a powerful message to Putin and other world leaders, along with people in Ukraine and America, that Biden would not waver in his efforts to help Ukraine defeat its Russian aggressors.
New York Times News Service